PlacidWay Alliance Partnership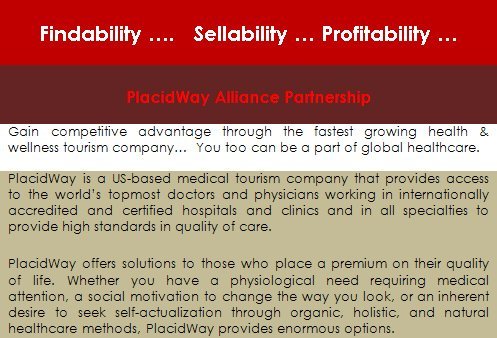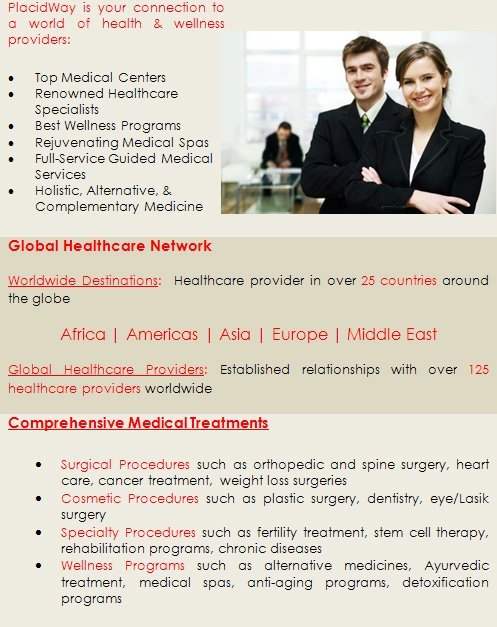 ---
Global Healthcare Consumers
Healthcare Consumers: Reaching one million unique visitors annually through PlacidWay and its affiliate websites
www.PlacidWay.com – Recognized a one of the top medical tourism websites.
www.PlacidBlog.com – An evolving blog site on medical tourism topics.
www.PlacidSolutions.com – Industry best practices, global strategic solutions.
www.PlacidSonora.com – industry specific targeted solution.
Global Visibility: over 25 million monthly website impressions – through ads, social media, publications, PRs, and various other promotions.
---
Experience and Credentials
PlacidWay provides you with quick access to the world's topmost doctors and physicians working in internationally accredited and certified hospitals and clinics in all specialties to provide high standards in quality of care.
Carefully researched medical centers meet or exceed the demands of international patients by providing technologically advanced healthcare infrastructures coupled with revitalizing tourist attractions.
PlacidWay guides through this refreshing experience in order to help regain health and vitality at an affordable cost.
---
Medical Tourism – Thinking beyond local boundaries.
Expand your business through the fastest growing health & wellness tourism company..you too can be a part of global healthcare.
---
PlacidWay Advantage:
International standards

Global reach – providers and consumers

Well-defined processes

Extensive marketing reach

Most comprehensive international patient coordination experience

Thorough understanding of industry's key success factors

Customized market solutions
PlacidWay is the ultimate resource for the health and wellness tourism industry.
PlacidWay helps improve top line performance, enhance competitive position, and achieve the most productive organizational alignment among people, processes, and systems.