Event Dates : -
International Conference on Arthroplasty
December 4-5, 2017
Madrid, Spain
The 10th International Conference on Arthroplasty will take place from 4th to 5th December 2017 in Madrid, Spain. The conference's theme is Current trends in Arthroplasty.
The conference is open to participants to all over the world and gives them an opportunity to share the knowledge and scientific progress in the field of Arthroplasty. The main aim of this meeting is to exchange new scientific and clinical data in the field of Arthroplasty uniting among the specialists, doctors, researchers, and other partnered wellbeing experts under one rooftop.
Conference Highlights
Arthroplasty has certainly become one of the most dynamic and innovative subjects in the field of surgery. Recent advances in the arthroplasty technique developments for various disorders have revolutionized practices in Arthroplasty. Many of the musculoskeletal disorders affect the joints, bones, and their surrounding muscles and tendons, but often also other organs of the body. Here are the conference's highlights:
Arthroplasty
Orthopaedic trauma
Bone and fracture healing
Treatment of fractures
Complications of fractures
Injuries around the elbow
Injuries around the shoulder, fracture humerus
Infections of bones and joints
Metabolic bone disease
Joint replacement surgery
Bone tumours
Fractures in children
Peripheral nerve injuries
Injuries of the forearm and wrist
Hand injuries
Injuries around the hip
Fracture shaft of femur
Injuries around the knee
Injuries to the leg, ankle, and foot
Infections of the hand
Treatment of orthopedic disorders
Pelvic fractures
Tuberculosis of bones and joints
Intervertebral disc disorders
Back pain and management
Arthritis and related diseases
Degenerative disorders
Arthroscopic surgery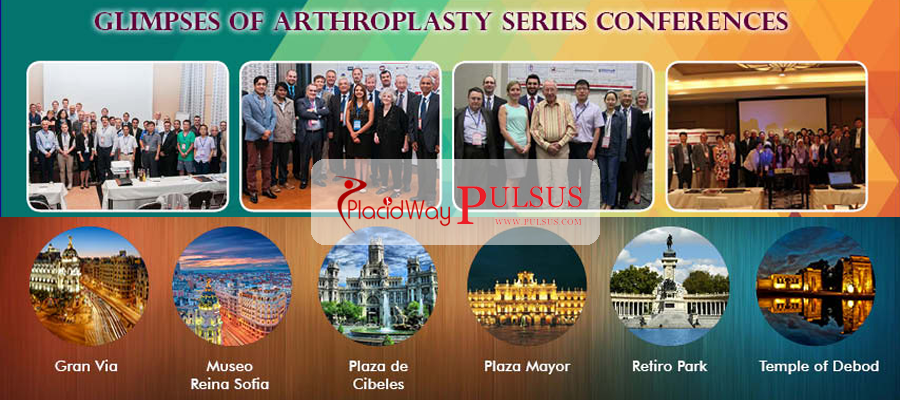 Target Audience
The event will bring together renowned scientists, physicians, surgeons, professors, instrumentalists, medical and Industrial professions, young researchers, students and business delegates under a single roof.
Arthroplasty Surgery Students, Scientists
Arthroplasty Surgery Researchers
Arthroplasty Surgery Faculty
Medical Colleges
Arthroplasty Associations and Societies
Business Entrepreneurs
Training Institutes
Manufacturing Medical Devices Companies
Why Attend?
Doctors, patients, and healthcare providers consider the prevention from orthopedic disorders as an essential tool to improve the general health status of the population. The number of people suffering from the disorders is expected to increase in future according to a recent statistical survey.
If you want to find out how you can take part at the International Conference on Arthroplasty, please contact us!
International Conference on Arthroplasty, Arthroplasty, Orthopedic Trauma, Orthopedy, Joint Replacement Surgery, Back Pain Management, Chronic Pain, Degenerative Disorders, Arthroscopic Surgery, Madrid, Spain