Event Dates : -
The International Conference on Applied Chemistry
San Antonio, USA
November 27-28, 2017
Theme
Exploring the Research Challenges and Advancements in Applied Chemistry
The International Conference on Applied Chemistry will take place on November 27-28, 2017 in San Antonio, USA. This international conference anticipates hundreds of delegates including keynote speakers, Plenary Speakers, Poster Presenters and Students from around the world. This conference creates an ideal platform to share expertise addressing current technologies involved in Applied Chemistry. It will be a wonderful opportunity for all the delegates as it provides an international networking opportunity to collaborate with the world class Applied Chemistry associations.
Applied Chemistry 2017 provides the chance for Scientists, researchers, Practitioners and Scholars to present and discuss the most recent innovations, trends, and concerns, practical challenges encountered and the solutions adopted in the fields.
Applied Chemistry 2017 is an international platform for presenting research about chemistry and related fields thus contributes to the dissemination of knowledge for the benefit of both the academia and business. This event brings together the top professionals in the field along with the highly affiliated professors to explore the advancements and latest applications achieved in the field of chemistry.
The conference discusses applications employed in various fields of chemistry like Organic Chemistry, Inorganic Chemistry, Surface Chemistry, Organometallic Chemistry, Polymer Chemistry, Physical Chemistry, Medicinal Chemistry, which mark the support for the advanced and much needed research by their study on various topics. The scientific program will focus on current advances in the research and use of chemistry and related with particular focus on its roles and applications in various fields.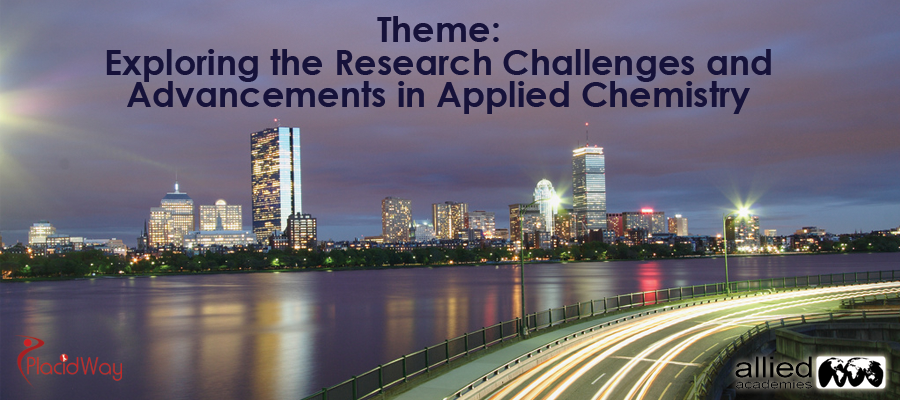 Conference Highlights
Fundamentals & Principles of Applied Chemistry
Applied Biochemistry
Applied Physical Chemistry
Applied Surface Chemistry
Applied Inorganic Chemistry
Catalytic Chemistry
Applied Polymer Chemistry
Applied Medicinal Chemistry
Organometallic Chemistry
Thermodynamics Of Applied Chemistry
Isolation Techniques
Applications Of Applied Chemistry
For more information about the International Conference on Applied Chemistry or if you want to register, please contact us!

The International Conference on Applied Chemistry, Congress, Health Travel, Medical Centers, Healthcare Groups, Healthcare, San Antonio, USA