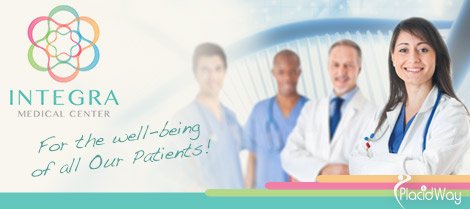 Alzheimer's Disease Treatment with Placenta Cells in Nuevo Progreso, Mexico
Degenerative diseases such as Alzheimer's disease have had success in being treated with placenta cell therapy. Understanding the way that placenta stem cells work has been Dr. Gonzales' life work which he has developed into a therapy for patients suffering from Alzheimer's disease.
Treating Alzheimer's disease
Because Alzheimer's affects the cells in the patient's brain, and slowly making him/her lose important functions such as memory and personality, scientist have long tried to cure the disease. A definitive cure has not yet been found, yet specialists in neurology have been amazed by the progress. The effects in Alzheimer's sufferers has also brought relief to their families, who are seeing improvements in behavior and remembering abilities.
Placental stem cells active in treating Alzheimer's symptoms
Placental stem cells therapy is a type of adult cell therapy that uses the processed regenerative cells in the placenta. The placenta is donated by carefully selected young mothers who meet very particular and rigorous screening test by Integra's specialists coordinated by Dr. Omar Gonzales ensuring the therapy's effectiveness and long lasting, non-toxic properties.
Placenta cells composition:
Natural Growth Factors
(HGH)

Endothelial Growth Factor
(effective in circulation)

Neuron Growth Factor
(enhancing brain functions & neuron connections)

Hepatocyte Growth Factor
(improving liver function)

Immune-modulating proteins
(TNF, ILs - effective in anti-inflammation, regeneration, revitalization, anti-tumor & antiviral activity).
Placenta Cells Therapy Features
The tissue full of regenerative cells
10 fold active cells compared to umbilical cord blood
Several injections are made
the patient takes advantage of the full biological power
Low Level Laser therapy is applied
LLT activates the cells, promoting healing and tissue repair
The cells boost regeneration
revitalization of the basic functions of all organs is achieved
Gradual absorbtion by the blood
including the lymphatic capillary systems
Migration locally & systemically
to the main organs: brain, heart, liver, kidneys, lungs, etc.
A final evaluation of the patient is made after each injection, making sure the patient is ready to go back to the place where they are staying overnight
The patients goes home on the day following the implantation procedure.
The Price of Placental Stem Cell Therapy at IMC in Nuevo Progreso, Mexico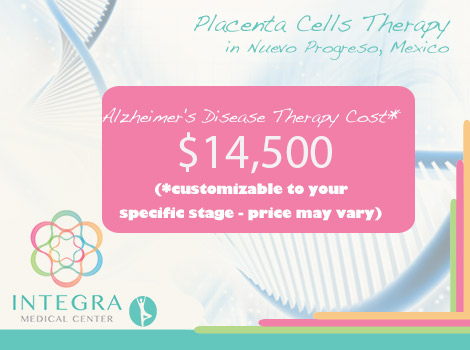 Why Placenta Cell Therapy by IMC Mexico?
23 years of experience in placental stem cell therapies

Unique methodology – customized treatment for each patient

NO Pain - Local anesthesia is used for the minimal incisions are made in specific areas.

The placental stem cells are placed under the skin and closed with one stitch that heals quickly

The whole procedure takes less than 40 minutes and daily activities are not affected

Rigorous screening of all donor mothers
Click below to fill in the form and be one step closer to a better life!

This service is free for you and you will get all the information you need regarding Alzheimer's disease treatment with placental cells at Integra Medical Center in Nuevo Progreso, Mexico.