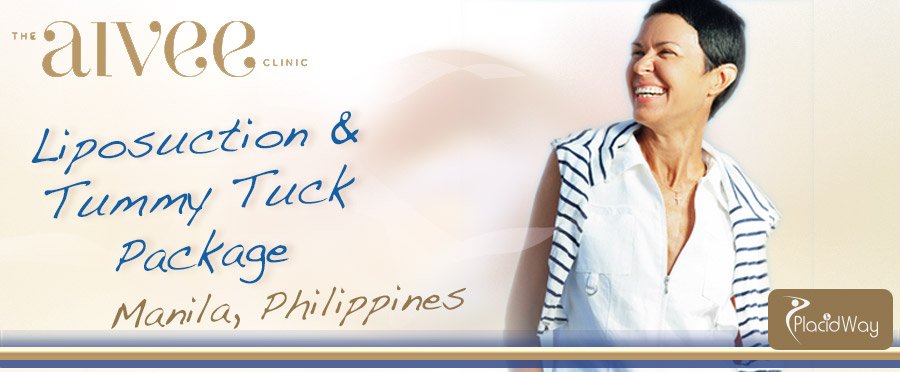 Best Liposuction and Tummy Tuck Package at Aivee Institute
Are you tired of fighting those stubborn fat deposits on your body? Do you have a healthy diet and exercise regularly but that bulge just won't go away? Then you may have to consider having liposuction and a tummy tuck procedure, two of the most popular and common plastic surgeries in the world.
Despite good health and a reasonable level of fitness, some people may still have a body with disproportionate contours due to localized fat deposits that simply cannot be removed by exercise and diet.

Aivee Institute's personal affinity for luxurious surroundings and comfort correspond with what the majority of her patients want. The cosmetic clinic with the most luxurious interiors provides the best aesthetic treatments gathered from multiple philosophies around the world. Therefore, their special Liposuction and Tummy Tuck Package is the best in Philippines

STAGE ONE PROCEDURE AT AIVEE INSTITUTE:
Liposuction of The Upper, Lower Tummy, Love Handles and Bra Line
Liposuction slims and reshapes specific areas of the body by removing excess fat deposits, improving your body contours and proportion, and ultimately, enhancing your image.
Recovery Period
Recovery period: 10-14 days

STAGE ONE PROCEDURE PRICE AT AIVEE INSTITUTE - $4,827 USD
It includes:
Liposuction of 4 Areas (upper/lower tummy, love handles,bra line)
Anesthesia
Compression Garment
Preoperative Blood test
Overnight Stay

Advantages of Liposuction at Aivee Institute
Safe removal of fat
Reduction of cellulite or improvement in the appearance of cellulite
Improved health, usually associated with fat loss
Changes the way you look, and the way others perceive you
Boost in self-esteem
Sculpting areas of body that even exercise and diet don't seem to impact

STAGE TWO PROCEDURE AT AIVEE INSTITUTE
Mini Tummy Tuck
Also known as abdominoplasty, a tummy tuck removes excess of skin, and in most cases restores weakened or separated muscles creating an abdominal profile that is smoother and firmer.
Recovery Period
Recovery period: 3 weeks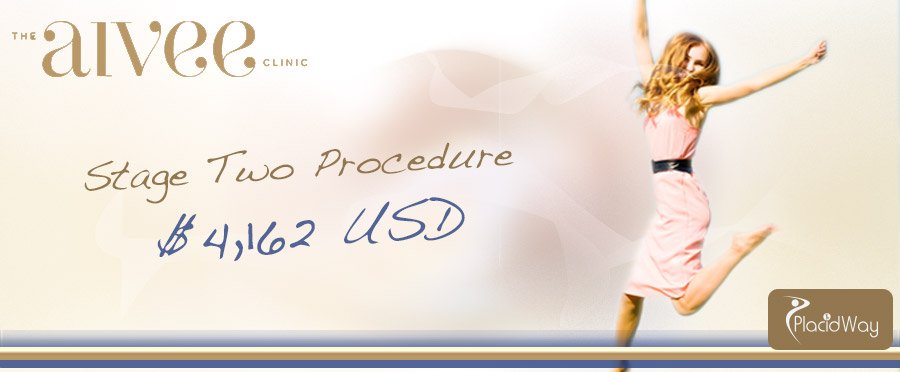 STAGE TWO PROCEDURE PRICE AT AIVEE INSTITUTE PRICE: $4,162 USD
It includes:
Mini Tummy Tuck
Anesthesiologist
Preoperative Blood Test
Compression Garment
Overnight Stay

Advantages of Tummy Tuck at Aivee Institute
Tightens the abdominal muscles/fascia that may have become stretched out or lax over time.
Removes the effects of pregnancy on the abdomen.
Removes stretch marks or scars that may be in the area
Removes the excess skin.
Helps achieving a top model tummy
Solves pre-existing problems, such as hernias or eventrations.

Preoperative Friendly Instructions
Consult with the doctor regarding medical history
No vitamin E or aspirin should be taken 7 days before the surgery.
Fasting is imperative before surgery.
In some patients, prior medications should be taken before the procedure.
It is necessary to stop alcoholic beverages and smoking 5 days before the procedure

Post Procedure Useful Reminders
No strenuous activities such as heavy lifting, running, one week after the procedure. We offer Ultra light Plus treatments to hasten healing.
Hydrate. It is recommended to take up to 8 glasses of water daily to speed up healing and reduce swelling.
Wearing of compression garment is important. It helps to reduce the swelling and protects the operated area from unnecessary movements. Wear the garments for the first 24 hrs. Then 12 hours for the succeeding days usually up to 3 weeks.
The swelling may gravitate downwards due to gravity.
Bruising is normal along with mild pain and discomfort for the first week.

Aivee Institute in Manila, Philippines is highly recognized for successful outcomes, always taking time to answer any questions or concerns making patients feel comfortable in regards to the surgery they are about to experience.