Best Non-Invasive EPAT Shock Wave Treatment for Heel Pain In Orlando, Florida


EPAT is an acronym for Extracorporeal (outside the body) Pulse Activation Treatment. Shock waves are created by very strong acoustic (sound) energy. The shock wave generator is very similar to the shock wave devices used to treat kidney stones without surgery. EPAT treatment has recently been found to be effective for treating chronic proximal plantar fasciitis, a condition that causes pain in the heel of the affected foot and is sometimes called a "heel spur".



EPAT has a proven success rate that is equal to or greater than that of traditional treatment methods (including surgery) and without the risks, complications, or lengthy recovery time. EPAT is performed in our office at Laser Foot Surgery Institute LLC and generally requires a minimal amount of time. Patients can bear weight (i.e. walk) immediately and can usually return to normal activities within a few days of the procedure.


The beneficial results of EPAT are often experienced after only 3 treatments. Some patients report immediate pain relief after the treatment, although it can take up to 4 weeks for pain relief to begin. The procedure often eliminated pain and restores full mobility, thus improving the quality of life. Over 80% of patients treated with EPAT report to be pain free and/or have significant pain reduction.


Yes. This FDA approved technology was developed in Europe and is currently used around the globe. A wealth of medical experience, state-of-the-art engineering, and optimal quality have been built into each EPAT device. Extensive clinical studies and tests have confirmed its safety and efficacy.

Coupling gel is applied to the treatment area of interest to enhance effectiveness. After these preparations, EPAT pressure waves are released via the applicator moved over the area of interest in a circular motion.


Treatment sessions usually take approximately 15 minutes per foot, depending on the disorder to be treated. Generally, 3 to 4 treatment sessions are necessary at weekly intervals. In some cases, additional treatment sessions may be indicated.


Patients are immediately full weight bearing
Both feet can be treated at the same time.
No incision–No risk of infection at the treatment site–No scar tissue formation.
Patients are generally able to return to work and most normal activities within 24-48 hours and many patients report resuming strenuous activities after 4 weeks.
Reduced cost from lost work.
Fast, safe, and often effective.
Usually does not require anesthesia.


If you're viewing this profile, then chances are that your feet hurt. You're not alone. Studies have shown that as many as 4 out of every 5 people will develop some type of foot problems during their lifetime. What I've never quite understood is why people think that its not normal for their heads of stomachs to hurt, but it's completely normal for their feet to hurt. If you're one of these individuals, this center is especially dedicated to you


Dr. Richard M. Cowin, DPM, FACFAS, FAAFAS, noted podiatric surgeon, is the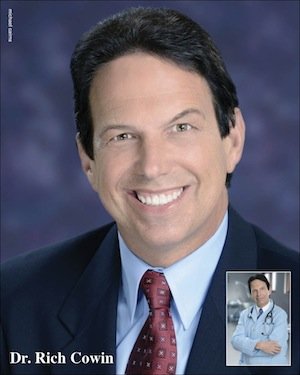 director of Laser Foot Surgery Institute LLC in Orlando, Florida. He is an acclaimed lecturer, practitioner, and pioneer in the field of minimally-invasive and Laser foot and ankle surgery.
Dr. Cowin is board certified by The American Board of Podiatric Surgery, The American Board of Ambulatory Foot Surgery, The American Academy of Pain Management, and The American Board of Quality Assurance and Utilization Review Physicians. He is a Fellow of the American College of Foot and Ankle Surgeons and has served for years as a member of its Minimal Incision Surgery Committee. He is also a Fellow of The Academy of Ambulatory Foot & Ankle Surgery and has served as a board member, treasurer, secretary, vice president, president, past president, scientific chairman, and has chaired the Standards of Care and Preferred Practice Guidelines committees. In 2006, Dr. Cowin was honored to be the recipient of the prestigious Hall of Fame Award from the Academy of Ambulatory Foot & Ankle Surgery.
Dr Cowin has lectured extensively in the United States, Spain, Canada, Mexico, and China and some of the papers that he has authored have been translated into many languages and have been studied by doctors around the world. You may have seen some of Dr. Cowin's many television appearances as a medical expert on Weekend Edition, QVC, American Medicine Today, Home Shopping Network, HTV Network, and "Ask Dr. Rich" or read his contributions to books such as the Doctors' Book of Home Remedies.