Welcome to Ethio Lifeline Consultancy
Ethio Lifeline Consultancy, located in Addis Ababa, Ethiopia, is a medical & educational travel concierge company that specializes in providing exceptional services and logistics. The company provides medical tourism options for Ethiopians in various countries all over the world.
Medical & Educational facilitations include communication with both the desired hospital and educational institute for medical appointments, pre-travel requirements, clarification of the educational documents, assistance towards air travel bookings needed, communication and follow-up care upon arrival to ensure that the patient had a positive experience. Ethio Lifeline Consultancy acts on the behalf of the patient every step of the way and ensure he/she are taken care of during the travel experience.
Ethio Lifeline Consultancy recognizes the need for Medical Treatment & Educational Facilities that are not available in Ethiopia and perform day to day operations to make medical & educational travel easier and affordable. The company stands beside patients who are required to travel abroad for medical treatment and find them treatment packages and options at affordable prices.
Experienced specialists and consultants work with each client to encompass their preferences and budget, providing a unique experience via custom-made packages for treatments abroad, tours and leisure travel. At Ethio Lifeline Consultancy you have the freedom and confidence to have the trip of a lifetime, complete with customer satisfaction, and excellence in personalized services.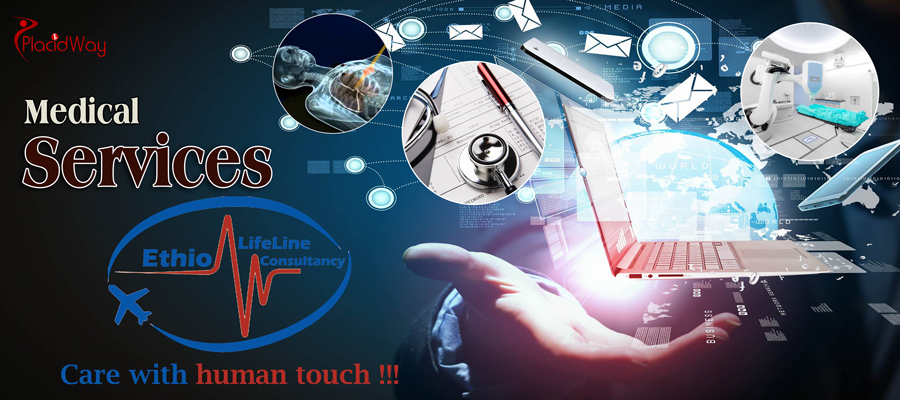 What we offer?
Meet and assist services
Visa processing
Complete ground handling
Pre-medical trip counseling
Booking for hotels, apartments, etc.
Doctor appointments
Why choose us?
We will help you find the most suitable treatment option abroad
We partner with medical institutions that have an excellent reputation
We select the best treatment according to your budget
We offer free advice
We provide personal assistance and support at all stages
For more information about Ethio Lifeline Consultancy or if you want a FREE quote, please contact us!