WELCOME TO WOORIDUL HOSPITAL
FIRST TECHNOLOGY! BEST HOPE! TOTAL CARE IN SPINE!!!
WOORIDUL HOSPITAL - THE SPECIALIZED GENERAL HOSPITAL WITH SPINE TOTAL CARE SYSTEM
Wooridul Hospital established in Busan in 1982, has been striving to be the world's leading spine hospital with the state of the art equipment and technology. Based upon minimally invasive treatment principle, Wooridul Hospital has investigated and developed various spine treatments to act up to patient's expectation for minimal scars and fast recovery.
As a result, Wooridul Hospital has performed nearly 80,000 spine procedures including both open and minimally invasive approaches and accomplished academic achievement by publication of 171 papers in SCI journals of worldwide authority by 2010.These results were achieved by the integrated cooperation of a multi disciplinary team including:
neurosurgeons;
orthopedic surgeons;
internal medicine physicians;
rehabilitation physicians;
thoracic and general surgeons.
This integrated team and over 1,200 employees of Wooridul Hospital have contributed to the health and welfare of the patients and their families over 30 years together.
In addition, we would mostly like to attribute our success in retaining our position as the world's best hospital to the love and concern of patients from all over the world who trust and approve our treatment philosophies and surgical techniques.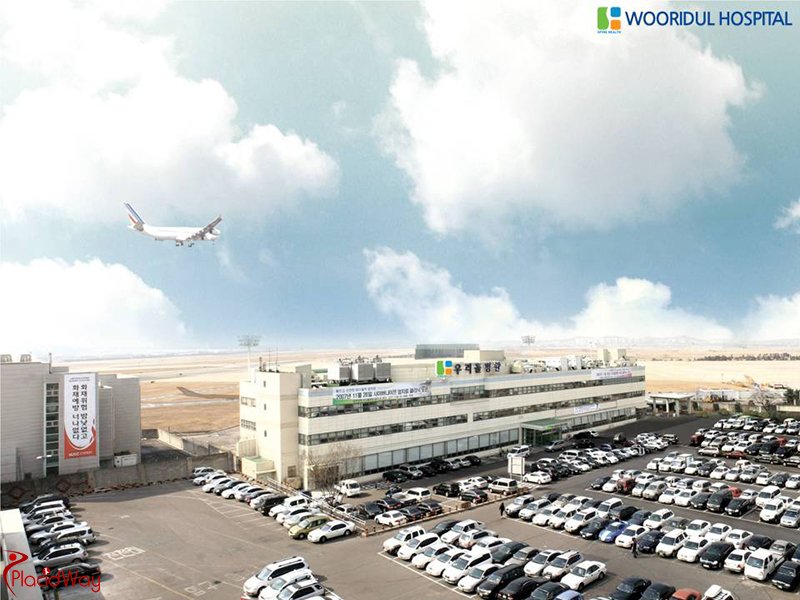 Based in Seoul, 5 Wooridul Hospitals in Korea are providing everything about spine treatment. In order to make a lead to be global spine hospital, Wooridul Hospital opened 4 hospitals including Shanghai, Jakarta, Dubai, and Istanbul.
Since 1982, Wooridul has earned the reputation as one of the world's finest spine care facilities, with hospital centers throughout South Korea,China, Indonesia and Dubai.
SEOUL WOORIDUL HOSPITAL, FIRST KOREAN SPECIALIZED JCI ACCREDITED HOSPITAL FULL SCORE OF IPSG(INTERNATIONAL PATIENT SAFETY GOALS)
Wooridul Hospital has been selected as the "World Best International Hospital" from Medical Tourism Association (MTA) in 2008, in January 2010, they have received "Top 10 International Hospitals for medical tourists" that in announced by Medical Travel Quality Alliance (MTQUA).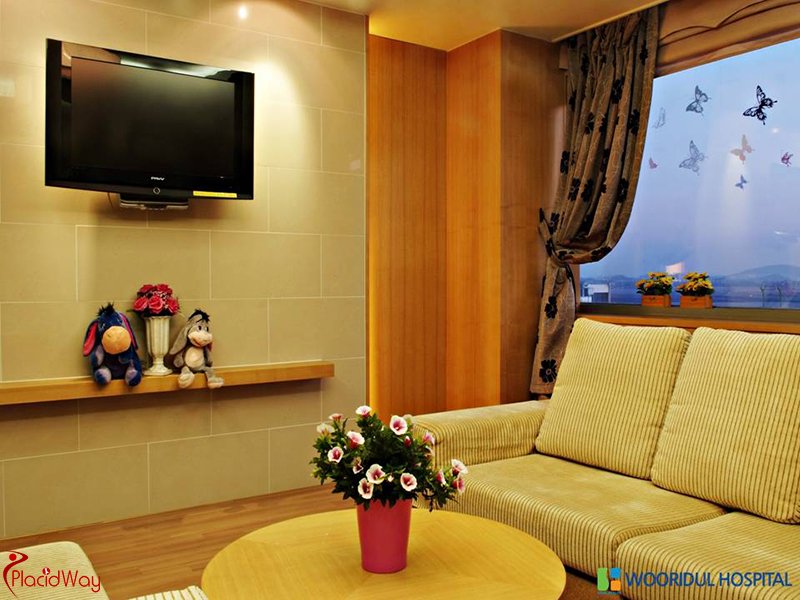 Incomparable Pioneer
Wooridul Hospital drew public attention by developing the world's first discectomy using endoscopic laser. Minimally invasive spinal surgery is judged to be a great success in lumbar, cervical and thoracic treatment area.
Team Diagnosis and Team Surgery System
Because of continuous investment in advamced eruipment and 5 complete diagnostic steps, Wooridul Hospital has improved the surgical and non-surgical treatment success rate and recovery period.
A Special Service for Foreign Patients
Wooridul Hospital established 'Wooridul International Patients Center (WIPC)' to provide a better medical service to foreign patients which assist the patient during their visit. WIPC provides consultation and agency business to foreign patients in four different languages, English, Japanese, Chinese and Russian.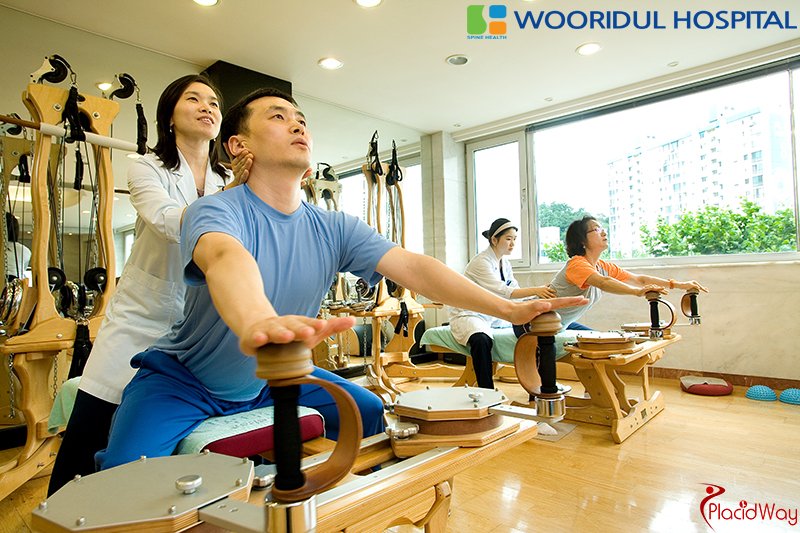 THE WORLD LEADING SPINE HOSPITAL OF MINIMALLY INVASIVE SPINE SURGERY
SURGICAL TECHNIQUE

Wooridul Hospital offers Total Care Solutions of Neuro-Musculoskeletal system including:
Endoscopic Spine Surgery

Microscopic Spine Surgery

Laser-Assisted Spine Surgery

Image-Guided Spine Surgery

CT-Guided Spine Surgery

Artificial Disc Replacement

Anterior/Posterior Lumbar Interbody Fusion

Laparoscopic Surgery

Thoracoscopic Surgery

Soft Stabilization with Ligamentoplasty

Vertebroplasty / Kyphoplasty

Deformity Correction

Joint (Hip, Knee and ankle) Surgery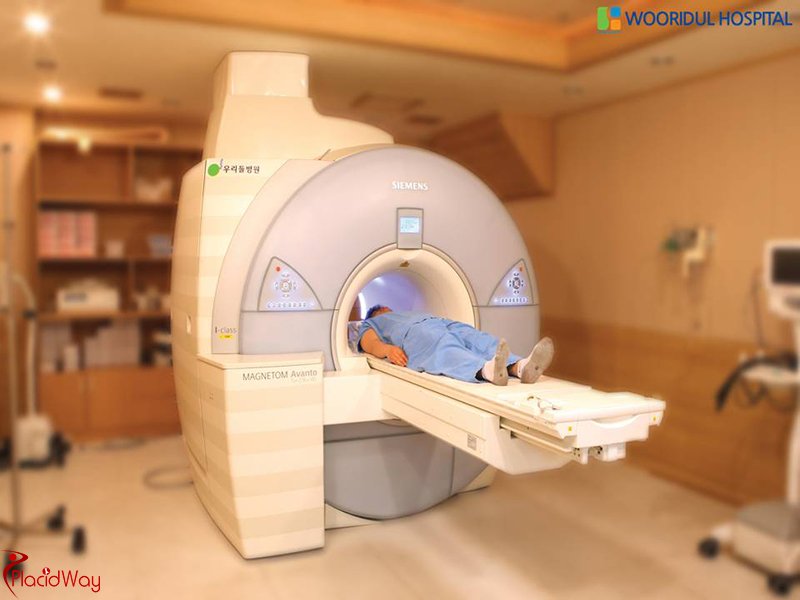 Wooridul Hospital also has developed the new treatments for spine disorders without surgery.

'CT-image Guided Spinal Micro Therapy', the newest injection therapy, is safe, fast and accurate, because of using the multidetector CT (MD-CT) and 3-dimentional multiple image system. Monitoring with the real-time computer navigation, medicine is inserted only into lesion exactly. Wooridul Hospital was the first to succeed in this therapy in Korea.
X-MRI is the World's first system, which combines the interventional X-Ray and MRI that enables doctors to scan sectional views of the spine. With the aid of X-MRI, the proper surgical pathway can be decided through the MRI, and since the disc can be removed by endoscopic laser right after the decision, the success rate of minimally invasive treatment can be increased very high. Also the complication rate is very low since the result of the treatment can be checked before the completion of the treatment.
Non-Surgical Offerings include:
Rehabilitation

Pain Management

Internal Medicine

Conservative care

Physiotherapy
Why do foreign patients choose to travel to South Korea for treatment?

Excellent and skilled physicians, state-of-the-art technology and some of the most advanced healthcare facilities in the world continue to draw medical travelers to South Korea for medical treatments and procedures in organ transplantation, cancer therapy treatments, dental care, plastic and cosmetic surgery and many others. Medical care costs in South Korea are generally ten times less than costs found in the U.S.
South Korea is the leading healthcare country in all of Asia and provides world-class medical and health care in non-profit organizations and facilities that place patient care above profit. Government agencies accredit all facilities and hospitals, ensuring quality of care throughout the country.
WSH PLACE "NUMBER ONE HOSPITAL FOR SPINAL DISEASE" BY CONSTANTLY DEVELOPING NEW TREATMENT METHODS AND PUBLISHIING THEM WORLD WIDE