Anti Reflux Surgery Procedures - Laparoscopic Surgery
Understanding Anti Reflux Surgery Procedures Overview
Anti-reflux, commonly known as heartburn, is a major cause of the condition called gastroesophageal reflux disease, more commonly known as GERD. Both are forms of anti-reflux conditions, but they are slightly different. Acid reflux is generally defined as a condition that allows stomach acids to back up into the esophagus. Advanced forms of this condition are known as GERD. Various surgical treatments are available to treat reflex conditions, one of the most commonly performed these days being laparoscopic anti-reflux surgery.

Anti-reflux Surgery Procedure
In the medical field, GERD surgical procedures are known as fundoplication. This surgical procedure prevents acid from backing up into the esophagus, creating sensations like heartburn and upset stomach. Two types of anti reflux surgery procedures are commonly performed:
Laparoscopic fundoplication
Open Nissen fundoplication
The Open Nissen fundoplication procedure is considered an open procedure through surgical incisions into the abdomen. The surgeon accesses the stomach and literally wraps the upper portion of the stomach, called the fundus, around the esophagus, where it is stitched into place to prevent stomach fluid from backing up into the esophagus.

A laparoscopic fundoplication utilizes laparoscopy and is a less invasive procedure that requires several very small incisions made into abdomen. A laparoscope or tube with a small camera attached to one end is inserted into one of the incisions, enabling the surgeon to view interior organs on a monitor or screen in the operating room. Additional small instruments are inserted through the additional incisions to complete the process in the same manner as the Open Nissen fundoplication, though in a smaller, less invasive area.

A relatively new procedure in anti-reflux surgical procedures is called Transoral Flexible Endoscopic Suturing. This method enables the surgeon to perform endoscopic suturing of the stomach to the esophagus through a tube inserted into the mouth, down the esophagus and into the stomach area. A small device that functions much like a miniature sewing machine is attached to the end of the endoscope, and stitches are placed at the sphincter of the lower esophageal tube, which tightens the valve leading into the stomach, thereby increasing pressure to prevent the backflow or reflex of stomach acids and the esophagus.

Who Benefits From Anti-reflux Surgical Procedures?
Individuals who suffer from chronic reflux conditions may benefit from various methods of anti-reflux surgical procedures. The benefits of such procedures help relieve symptoms in a matter of days, reduce necessity of medications and improving quality of life as well as symptoms in individuals diagnosed with the condition.

How Much Do Anti-reflux Surgical Procedures Cost?
The cost of anti-Reflux surgery will depend on the type of surgery as well as surgical method utilized based on patient condition and scenario. Endoscopic surgical procedures for anti-reflux may range between $8,500 and $12,500. Laparoscopic surgeries may vary in cost between $7,000 and $15,000 or more, depending on geographical area and resources. These costs do not include diagnostics, medications or hospital stay fees. However, medical travelers to destinations in foreign countries may save between 30% and 60% on costs and diagnostics of anti-reflux type procedures and treatments in locations such as India, Thailand, South America, and Central Europe.

Who Performs Anti-reflux Surgical Procedures?
Laparoscopic surgeries should be performed by a experienced surgeon trained in minimally invasive surgical procedures. Laparoscopic surgeons should be familiar with a variety of procedures utilizing laparoscopic technique and equipment in his or her field of study or specialty. Surgeons who perform laparoscopic surgeries should be board-eligible or certified practicing surgeons, Residents or Fellows in accredited programs including gynecology, urology, and oncology, or are board eligible and certified practicing gynecologists, urologists, or other physicians who engage in and perform laparoscopic procedures.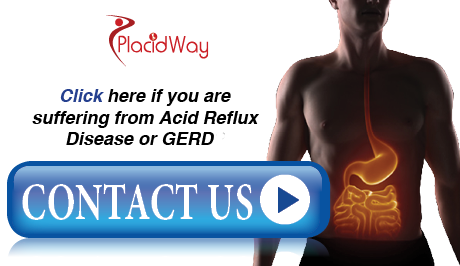 Laparoscopic Surgery
-
Laparoscopic Surgery
,
PlacidWay
, Laparoscopic surgeries are an increasingly used method of surgery that is less invasive, promotes faster healing and causes less surrounding tissue damage than traditional surgical incisions for a multitude of conditions.