Package Details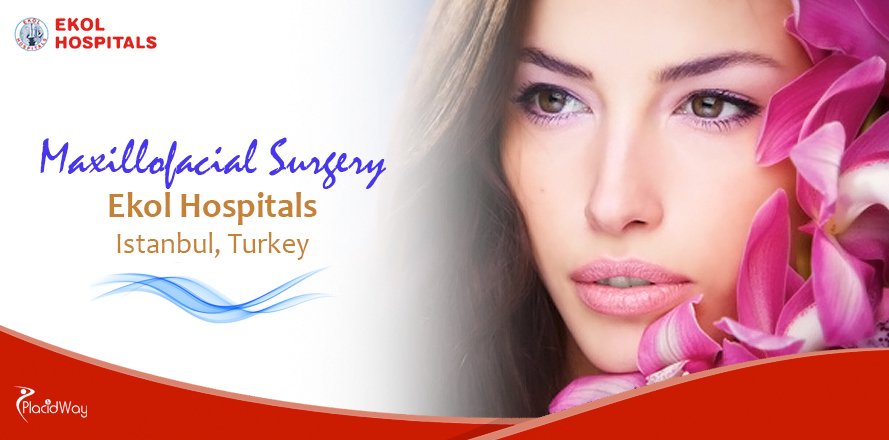 Maxillofacial Surgery at Ekol Hospitals in Istanbul, Turkey
Oral-Maxillofacial Surgery provides treatment for many diseases, injuries and defects in the head, neck, face, jaws and the hard and soft tissues of the mouth and in the jaws and face region. This type of surgery is used both as a functional procedure and cosmetic reasons.
Some of the reasons to visit an Oral-Maxillofacial Surgeon:
Have teeth replaced by having dental implants inserted.
Have oral surgical procedures performed in the office under outpatient ambulatory anesthesia.
Have a jaw, oral, or facial cyst or tumor diagnosed, removed and reconstructed.
Have your jaw aligned with orthognathic surgery.
Have your jaw joint(s) repaired with TMJ surgery.
Have facial and jaw reconstruction following cancer surgery.
Have your facial bones realigned after facial trauma.
Have a consultation to determine whether you are a candidate for aesthetic surgery.
Have a tooth extracted.
Oral-Maxillofacial Surgery procedures
Dento-alveolar surgery (surgery to remove impacted teeth, difficult tooth extractions, extractions on medically compromised patients, bone grafting or preprosthetic surgery to provide better anatomy for the placement of implants, dentures, or other dental prostheses)
Dental implants and maxillofacial implants for attaching craniofacial prostheses and bone anchored hearing aids.
Cosmetic surgery of the head and neck: (rhytidectomy/facelift, browlift, blepharoplasty/Asian blepharoplasty, Otoplasty, Rhinoplasty, Septoplasty, cheek augmentation, chin augmentation, Genioplasty, Oculoplastics, neck liposuction, lip enhancement, injectable cosmetic treatments, Botox, chemical peel etc.)
Corrective jaw surgery (orthognathic surgery), surgical treatment and/or splinting of sleep apnea, maxilla-mandibular advancement, Genioplasty
Diagnosis and treatment of:
Benign pathology (cysts, tumors etc.)
Malignant pathology (oral & head and neck cancer) with (ablative and reconstructive surgery, microsurgery)
Cutaneous malignancy (skin cancer), lip reconstruction
Congenital craniofacial malformations such as cleft lip and palate and cranial vault malformations such as craniosynostosis, (craniofacial surgery)
Chronic facial pain disorders
Temporomandibular joint (TMJ) disorders
Dysgnathia (incorrect bite), and orthognathic (literally "straight bite") reconstructive surgery, orthognathic surgery, maxillomandibular advancement, surgical correction of facial asymmetry.
Soft and hard tissue trauma of the oral and maxillofacial region (jaw fractures, cheek bone fractures, nasal fractures, LeFort fracture, skull fractures and eye socket fractures)
Procedures and clinics
Ekol Hospitals, Izmir, Turkey
For patients seeking remedies of the facial area, a visit to a maxillofacial surgeon is their best option. The Ekol hospital in Turkey offers very efficient treatments and surgical procedures. Their top notch equipment and procedures and their highly qualified medical staff are the main reasons for which the Ekol hospital is a very sought after destination for both local and international patients.
For more information about oral-maxillofacial surgical procedures in Turkey, do not hesitate to contact us!