Face Lifting and Neck Lift Package in Costa Rica

Wobbly or loose skin around the neck? Sagging jowls or leftover skin following drastic weight loss? Individuals with loose skin around the neck or those experiencing normal aging processes may benefit from a neck lift, one of the first areas to start showing age. A neck lift may be performed in a variety of ways, each of them effective and resulting in a more toned, youthful appearance.

Any face-lift, or rhytidectomy treatment or procedure is considered cosmetic surgery. It is generally sought as a procedure to help improve the visible signs of aging in the face and neck area. A facelift may help to improve sagging; creases, and loss of muscle tone, as well as reduce the appearance of loose skin or fatty deposits in the jaw or neck area. While a facelift offers many years of benefits, it is not designed, nor can it, halt the aging process.

Dr. Gilberto Rojas Cisneros Provides High Standards of Quality
Clinica y Spa Esthetique offers only the highest trained cosmetic surgeons and medical assistance. Dr. Gilberto Rojas Cisneros is highly trained and specialized in cosmetic surgery, certified by the Medical Institute La Misión in San Jose, Costa Rica as well as the Scientific Committee of the College of Doctors and Surgeons of Costa Rica. Among Dr. Rojas' exceptional training is his expertise in lipoplasty, liposculpture and fat transfer procedures. He has obtained thorough training and certification from multiple academies of medicine including those found in Barcelona, Spain, Cartagena, Colombia, and the Pan-American Organization of Health in San Jose, Costa Rica.
Face Lifting and Neck with Minimal Incisions for $4000 Only!
Face Lifting and Neck with Tensor Threads for $3300 Only!
Costa Rica is a land of gorgeous jungle terrain, pristine white beaches and more activities in different environments than most countries have put together! Costa Rica, sandwiched between the Pacific Ocean to the west and the Caribbean to her east, offers visitors lush beauty that makes it easy to understand why it's one of the top tourist destinations in the world.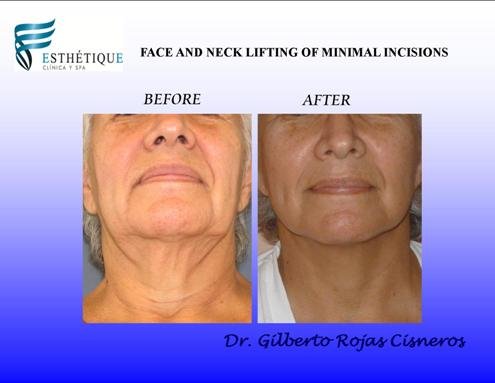 Please Click here to request more information.
Search Keywords
Cosmetic/Plastic Surgery in Costa Rica
.
Best Cosmetic Surgery Packages, Cheap Face Lift Packages, Compare Face Lift Packages, Face Lift Center, Cheap Face Lift Clinic, Affordable Face Lift Center, Low Cost Face Lift Packages, Best Face Lift Doctors, Best Face Lift Surgeons, Cheap Face Lift Hospitals, Cheap Face Lift Centers, Best Neck Lift Clinic, Top Neck Lift Surgeons, Top Neck Lift Hospitals, Cheap Neck Lift Cost, Affordable Neck Lift Cost
PlacidWay.com provides information and travel related services. We do not provide health care services. We provide information solely for informational purposes and do not endorse any particular health care provider or facility or any particular health care service or treatment. We are not affiliated with any health care provider or service and we are not responsible for any health care service. Please consult with your own domestic licensed health care provider before seeking the services of any health care provider you learn about via our site.