Medellin Dental Cluster | Dental Treatments in Colombia


Dental Procedures are performed by our Excellent Staff of General Dentists and Oral Health Specialists. The Medical and Dental Services Cluster has treated over 3,700 international patients per year, through its network of hospitals and clinics that comprises over 2,300 beds, 88 operating rooms, 139,000 hospital discharges per year, 1,035 medical specialists and sub specialists and 140 dental specialists who give care to more than 73,000 patients annually. Colombia assures you an Excellent Dental Medical Services offered by our healthcare providers during your medical vacation. We are not called Dental Colombia for nothing.
These services are integrated into the Colombian Health System that has been considered No1 in Latin America and No22 in the world, as reported by the World Health Organization (WHO) in 2000. This innovative proposal also seeks to add value to the consumer / patient, involving quality and patient safety at a lower cost (less than 50% compared with the U.S.) and continues improvement of service.


Medellín Health City is the brand of the city created by the Cluster of Medicine and Dentistry Services that identifies the services and medical and dental procedures that are available in Medellin – Colombia as one of the major Latinoamerican destinations for health in the world of health tourism. In the field of Dentistry we specialize in several different treatments, such as Smile Makeovers, Implants, Veneers, Crowns and Whitening. So trust a wonderful Medellin dentist for your procedure.


In recent years, Medellin has become known as an entrepreneurial and modern city. In all of Colombia it is the premier destination in medical tourism. This is reflected through the strengthening of its hospital services, dentistry, education and health research, with the aim of establishing itself as an outstanding destination.


Calle Doce Clínica Odontológica
Excellent academic service for our patients





Centro Odontológico Congregación Mariana
Serve with a Christian feeling and give new smiles.

Clínica Odontológica PROMTA
Your smile is our smile
Dental Center
Smiles created with responsibility
Grupo Oralhome S.A.
Your smile moves us
Odontología Especializada Laureles
Our work your best smile
Oral Láser
Your smile in the hands of specialists.

Alta Estética Dental

The best face of life is a smile.


Implants

Cosmetic Dentistry and Prosthesis

Root Canal, Periodontics and Surgery

Oral and Maxillofacial Surgery - Stomatology

Pediatric Dentistry

Executive Checkup




We are located in Medellín, Colombia, a place that is recognized throughout the Americas and several European countries for the quality of its health services in general and dentistry in particular -Dental Colombia-. This allows the visitor to receive dental care treatments in conjunction with other medical check-ups or surgical procedures. Because of its geographical location, its climate and infrastructure, Medellín is a friendly city which welcomes tourists, making it an attractive and cozy place to visit.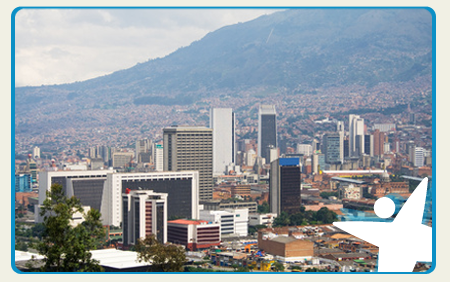 Medellin has been a dynamic city by nature and an exceptional business center, where visitors find an ideal place for congresses, fairs and events. Travelers can also enjoy travel plans including visits to other regions of the department, which will dazzle the visitor with its scenery, traditions, gastronomy and culture.
Why visit Medellín?
In recent years, Medellin has become one of the best prepared cities to receive tourists. It has been strengthening its modern infrastructure and services, to offer the visitor a pleasant stay.
The city has a diverse landscape, gastronomy, events, resorts, culture and history, including libraries, parks, museums, parks, nearby towns, extreme sports and nightlife.