Profile

Welcome to Sarafianos Hospital!
Diagnostic & Therapeutic Private Hospital
Sarafianos is a private hospital located in Thessaloniki, Greece, created after the model of a Diagnostic and Therapeutic Center. The hospital offers treatments and procedures for various specializations, constantly improving the medical equipment and the medical staff's training, while maintaining affordable prices.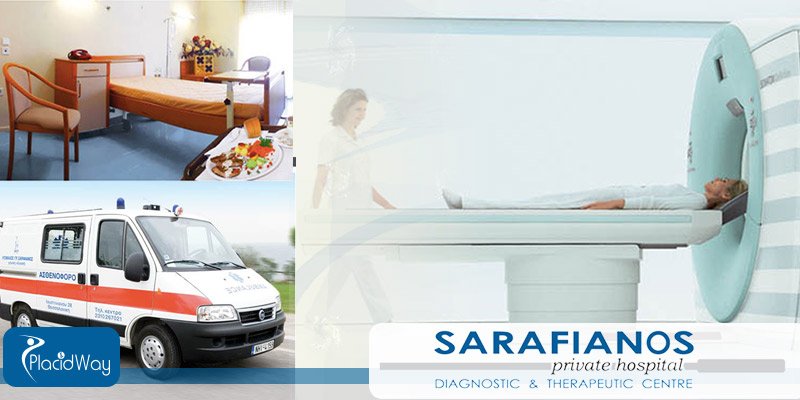 The hospital was established in 1956 by late Dr. Lysimachos Sarafianos, but the modern hospital which is to be seen today was completed in 1972. Today, Sarafianos hospital is the most modern private hospital in Thessaloniki, compliant with European standards. At the end of December 2012 the hospital received the ISO 9001:2008 Quality Certificate for its excellent medical services and hospital care offered by its Units, Departments and Laboratories.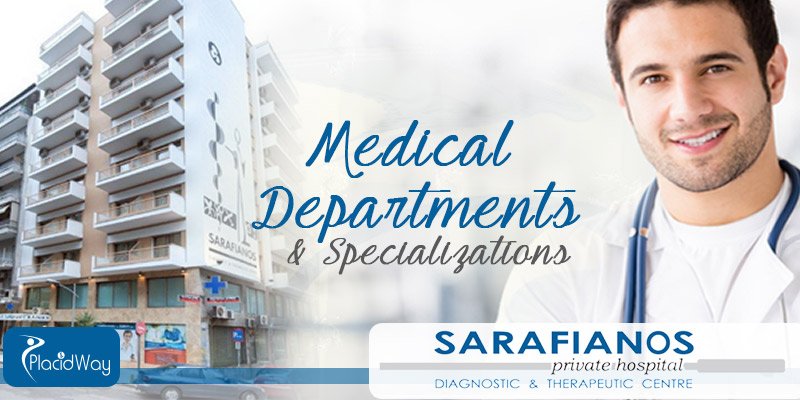 Medical Departments & Specializations:
Pathology - Diabetes Centre
General Surgery
Laparoscopic Surgery
Plastic Surgery
Ophthalmology
Urology
Cardiology
Orthopedics Surgery & Trauma
Knee & Hip Replacement Surgery
Neprhology
Gynecology
Rheumatology
Cancer Surgery
Oncology - Chemotherapy
Sarafianos is fully equipped with diagnostic laboratories fitted with high-tech medical devices for a variety of examinations and accurate diagnosis.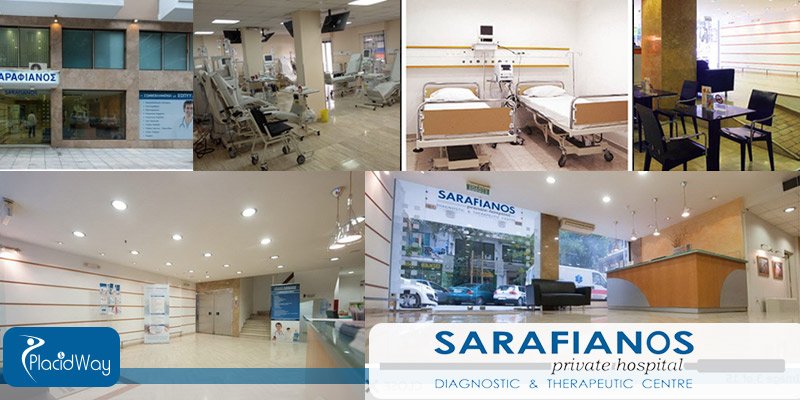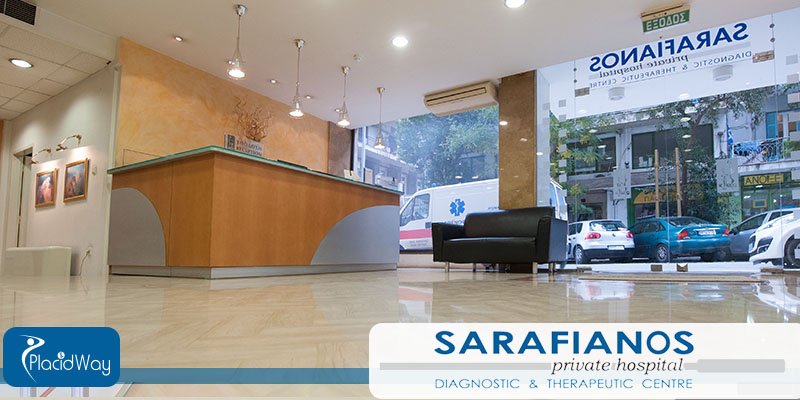 Laboratories:
Radiology
Microbiology - Biochemistry
Cytology - Pathological Anatomy
General Ultrasonography - Vascular Triplex Examination
Gynecological & Obstetric Ultrasonography
Cardiology - Stress Test, Holter Monitor, Heart Ultrasounds - Triplex Examination
Mammogram
CT-Scan
The hospital also offers several special units which make Sarafianos hospital one of the most technologically advanced and innovative medical centers in Greece.
Artificial Kidney Unit
Extracorporeal Shock Wave Lithotripsy (ESWL) Unit
Intensive Care Unit (ICU)
Physical Medicine & Rehabilitation Unit
ODS - One Day Surgery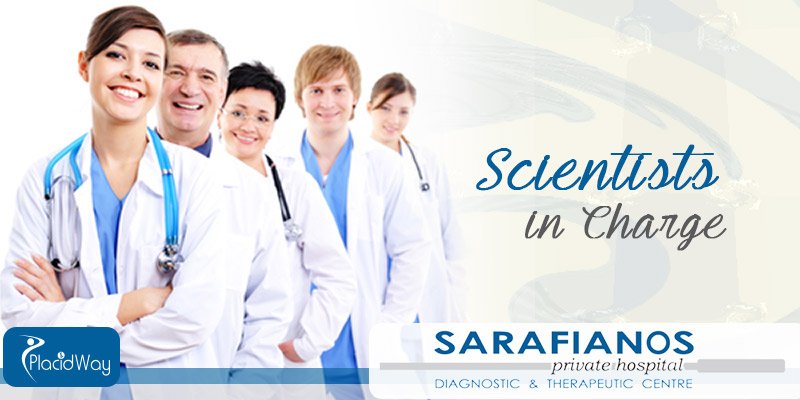 Scientists in Charge
Pathology

Koutsoumpelis Stavros

Cardiology

Toumpelis Athanasios

Oncology Department - Chemotherapy

Markopoulos Minas

General Surgery

Kouridakis Petros

Plastic Surgery

Ousantzopoulos Nikos

Ophthalmology

Ioannidis Vasilios

Urology

Saripoulos Dimitrios

Orthopedics Surgery – Trauma

Hip & Knee Replacement Surgery

Mentzelos Anastasios

Nephrology

Kirmizis Dimitrios

Gynecology

Papoutsopoulos Nikos

Radiology Laboratory

Afthonidou Anna

Microbiology - Biochemistry

Skepastianos Petros

General Ultrasonography

Afthonidou Anna

Vascular Triplex Examination

Karydas Michael

Gynecological and Obstetric Ultrasonography

Papoutsopoulos Nikos

Stress Test - Holter Monitor - Vascular and Heart Ultrasounds – Triplex Examination

Toumpelis Athanasios

Mammogram – Mamma Center

Afthonidou Anna

CT-Scanning

Karydas Michael

Artificial Kidney Unit

Kirmizis Dimitrios

Intensive Care Unit (ICU)

Kontos Athanasios

Extracorporeal Shock Wave Lithotripsy (ESWL) Unit

Saripoulos Dimitris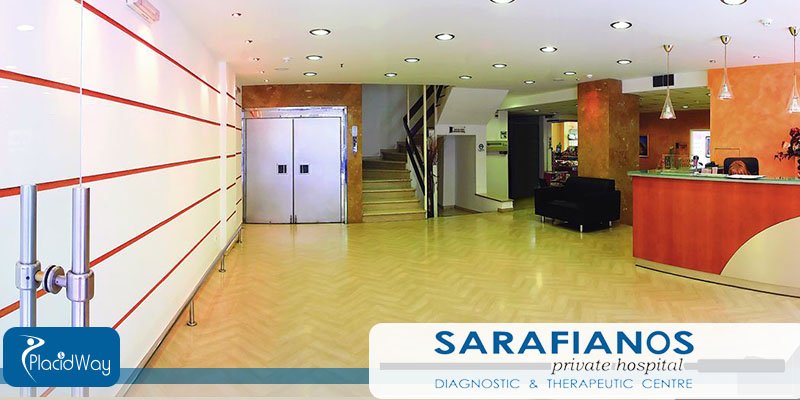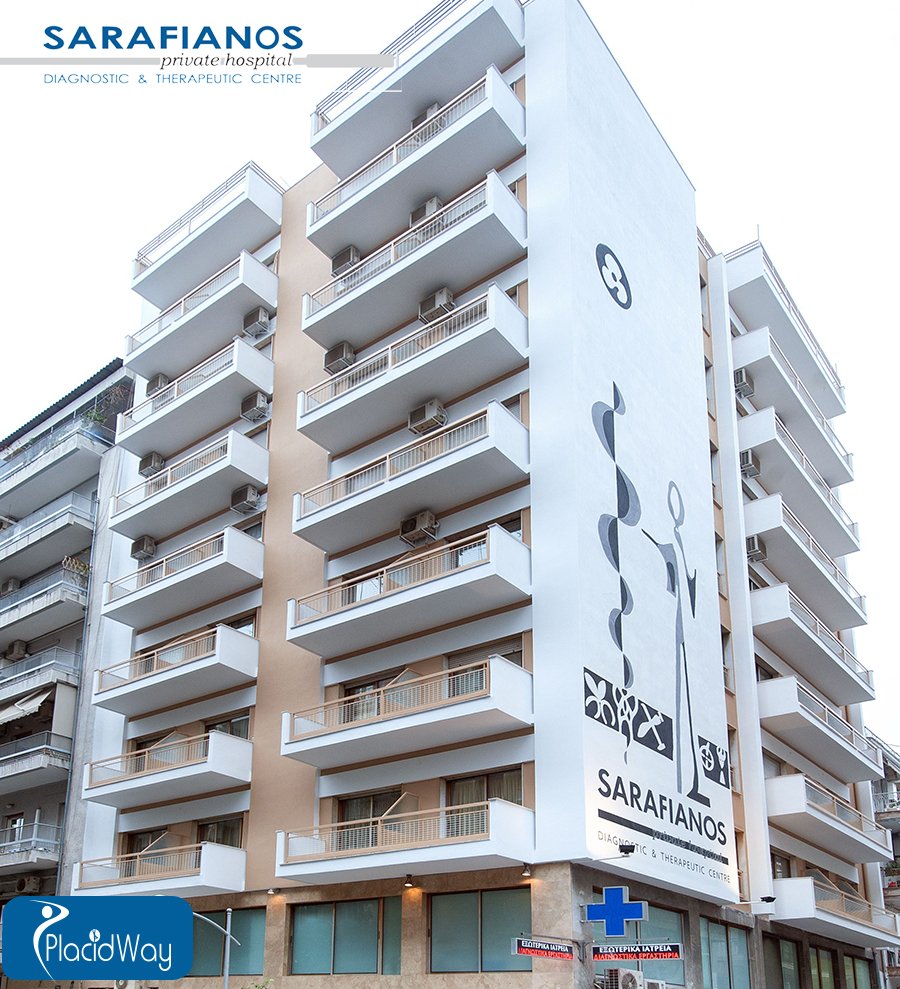 Why Choose Sarafianos Hospital?
100 Hospital beds in large air-conditioned rooms
Highly qualified nurses and administrative staff
Modern medical-technological equipment, which is constantly renewed
Laboratory for diagnostic purposes
Hospitalization for patients from foreign countries
Top scientific staff of all specializations
Fully equipped operating rooms
Homecare service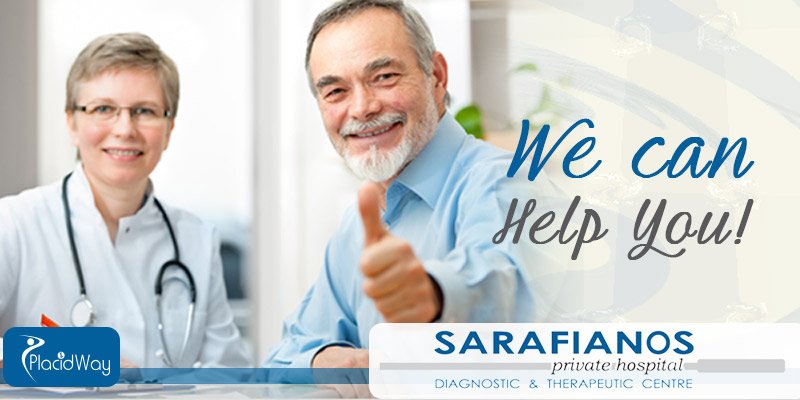 For more information about Sarafianos Hospital in Greece, click the button below!