Tap search button to expand search options
Search Here
Find Medical Procedures
Medical Centers Worldwide
Center Profile: Surgical Bliss
Surgical Bliss :
Home » South Africa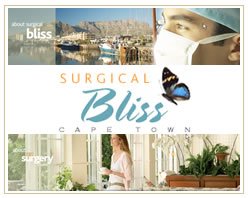 Contact Information:
Surgical Bliss
+27 82 857 4414
Location:
P O Box 881 , Milnerton 7435 Western Cape
Cape Town, South Africa 7441
Surgical Bliss | Cosmetic Surgery | Orthopedics | Opthamology | Face Lift | Nose Reshaping | Breast Lift | Liposuction | Tummy Tuck | Hip Replacement | Knee Surgery | Shoulder Resurfacing | LASIK | Cataract Surgery | Corneal Graft | Borox Treatment | Cape Town, South Africa
Search Keywords
Cosmetic/Plastic Surgery in South Africa

,

Executive Healthcheck in South Africa

,

Eye/Lasik Care in South Africa

,

Fertility Treatment in South Africa

,

Orthopedic/Knee Surgery in South Africa

,

Best Cosmetic Surgery Hospital, Breast Lift Center, Affordable Nose Reshaping Clinic, Orthopedics Treatment, Knee Surgery Cost, Top Qualified Opthamology Doctor, Benefits of LASIK, Cape Town, South Africa

PlacidWay.com provides information and travel related services. We do not provide health care services. We provide information solely for informational purposes and do not endorse any particular health care provider or facility or any particular health care service or treatment. We are not affiliated with any health care provider or service and we are not responsible for any health care service. Please consult with your own domestic licensed health care provider before seeking the services of any health care provider you learn about via our site.