Welcome to Turkey
A Blend of East and West
Turkey is one of the oldest known inhabited locations in what used to be known as Asia Minor. It's the land of Troy and ancient cultures such as the Hittites. Its history is complete with tales of Iconic Greeks and Persian Empire rule and Alexander the Great and Constantinople. It's the home of Istanbul and tales of exotic adventures and history. Turkey is a country steeped in tradition and ancient lore that offers today's visitors a true step into history with her heritage sights and landmarks.
Turkey in a Snapshot
Currency: New Turkish Lira
Language: Turkish
Climate: Summers- average temperatures of 86°F and average winter temperatures of 34°F and under. Different regions are warmer or colder depending on altitude and location.
Capital: Ankara
Turkey is a unique country, whose lands span two continents. Most of Turkey is situated in what is traditionally called Asia, while its western border spans the Bosporus and lies in traditional Europe. The Bosporus Bridge in Istanbul (formerly known as Constantinople) links the two sections of the country, which borders Bulgaria in the northwest, the Black Sea to the north, and shares her eastern and southern borders with parts of Georgia, Azerbaijan, Iran, Iraq and Syria and the Mediterranean Sea.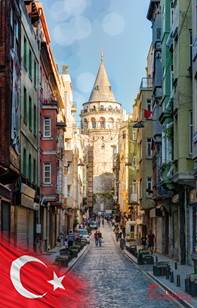 Turkey offers world travelers a unique blend of multiple cultures, depending which area of the country is visited. Visitors find architecture and cuisine of a European flavor in the western portion of the country, and Asian and Russian traditions and foods in the eastern part of the country.
Outdoors, Turkey offers mountains, lakes and of course, plenty of water fun in the Black and Mediterranean Seas, while Mt. Ararat is a focal point for many travelers who believe the ancient mountain is the final resting place of Noah's Ark.
However, from cosmopolitan cities of Istanbul and Ankara to the slopes of ancient volcanoes, Turkey offers multiple opportunities for fun indoors and out. From classic museums, four-star hotel accommodations and gourmet dining to camping in the wilderness, Turkey appeals to all ages and interests.