Best Treatment for Bunions in Orlando!!!
Bunions are enlargements or "bumps" that are obvious on the inside of the foot near the big toe. When this happens, the big toe begins to point toward the second toe. The problem is often worse when wearing tight shoes.

The corrective procedure at Laser Foot Surgery Specialist consists of an incision of approximately 1/8 inch wide and using a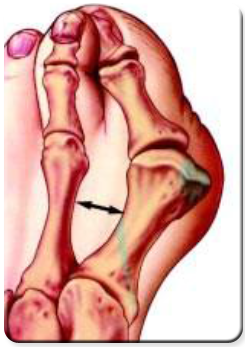 tiny drill, a small cut is made across the bone. The incision enables the doctor to reposition the top third of the bone to a straight position.
The area of the metatarsal bone, where the bump formed, is smoothed. It is also necessary in most cases to "lengthen" some of the tendons to the big toe. In severe bunions, a second cut in the bone of the big toe may also be necessary to straighten the toe. Post-op requirement may include a post-surgical shoe for 3 to 4 weeks after the procedure, with bandage change once a week.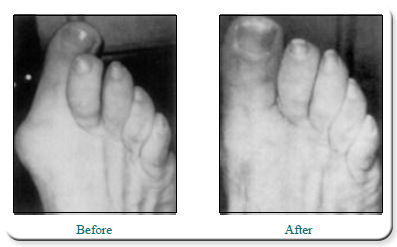 The above pictures are of one of our patients before and after corrective bunion surgery, performed by Dr. Cowin - Laser Foot Surgery Specialist.
The pictures below show one of our patients who had "traditional-type" bunion surgery performed by another doctor and later came to the Laser Foot Surgery for revision surgery performed by Dr. Cowin. The results appear in the photo below on the right.

Why Choose Us?
Dr. Richard M. Cowin, DPM, FACFAS, FAAFAS, noted podiatric surgeon, is the director of Laser Foot Surgery Specialist in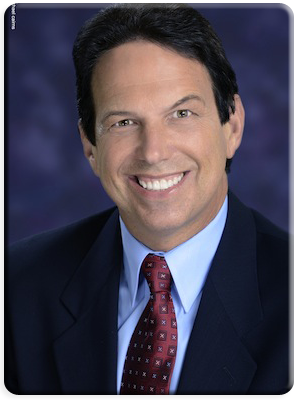 Orlando, Florida. He is an acclaimed lecturer, practitioner, and pioneer in the field of minimally-invasive and Laser foot and ankle surgery.
Dr. Cowin is board certified by The American Board of Podiatric Surgery, The American Board of Ambulatory Foot Surgery, The American Academy of Pain Management, and The American Board of Quality Assurance and Utilization Review Physicians. He is a Fellow of the American College of Foot and Ankle Surgeons and has served for years as a member of its Minimal Incision Surgery Committee.
He is also a Fellow of The Academy of Ambulatory Foot & Ankle Surgery and has served as a board member, treasurer, secretary, vice president, president, past president, scientific chairman, and has chaired the Standards of Care and Preferred Practice Guidelines committees. In 2006, Dr. Cowin was honored to be the recipient of the prestigious Hall of Fame Award from the Academy of Ambulatory Foot & Ankle Surgery.