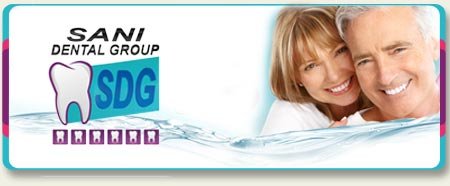 All on Four Nobel Biocare Implants System with Fixed Acrylic Bridge in Los Algodones, Mexico
Multiple missing teeth are preventing you from smiling?
The all-on-four system is specifically designed to make you smile from ear-to-ear!
We know how important you smile can be. Missing or damaged teeth lead to a number of diseases and speech problems.
Bridges can help to replace teeth that have fallen out. When combined with dental implants, the acrylic bridge mounted on 4 dental implants wil be more powerful and stable than ever before.
The Nobel BioCare dental implants are put in place to provide stability and it will be fused with the acrylic bridge.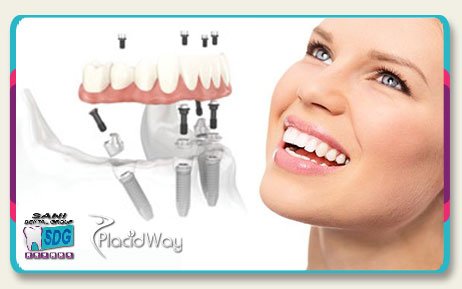 Your Sani dentist will consider how well your gums or jaw structure will be able to accommodate the dental implants and the acrylic bridge.
The fixed acrylic bridge is screwed to the implants and cannot be removed by you. Unlike dentures, the fixed acrylic bridge is fused to metal, therefore, you will not have anything touching the mouth palate, the bridge will be going over your gum with a fixed bridge.
Also see the full mouth Nobel BioCare Dental Implants with Bridge
Nobel BioCare Dental Implants with Fixed Acrylic Bridge Cost in Los Algodones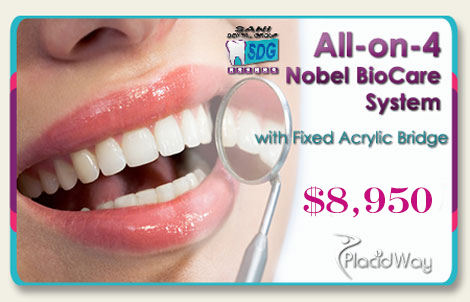 All on Four System by Nobel with fixed hybrid denture - $8,950
All on Four System by Nobel with fixed Zirconia Plate -$7,000
All on Four Nobel Biocare Package includes:
In Los Algodones, Mexico at Sani Dental Group you will also have:
Valet parking

Disabled friendly rooms, parking and bathrooms

Public transport access - walking distance + Sani transport

Wi-Fi access
The Advantages of Dental Bridges
Implant Bridges reduce the risk for periodontal disease, temporo-mandibular joint disorder and even tooth decay.
Why Choose Sani Dental Group?
We have Extensively trained Doctors with more accumulated experience that any other clinic in Los Algodones.
Sani dental Group is a Member of the ADA (American Dental Association).
One, two, three or more specialist doctors will attend to your dental needs for each treatment you require.
Our on-site laboratory gives you a great advantage - because you have your dentist and your lab technician in the same place, with Computer Aided Design & Computer Aided Manufacturing in dental Laboratory (Cad Cam Technology).
Click on the button below to take advantage of All-on-4 Nobel BioCare with Fixed Acrylic Bridge performed by Sani Dental Group!