Welcome to Sani Dental Group!
If you're looking for Dental Treatments in Los Algodones, Mexico,
then Sani Dental Group has the solution for you!
Sani Dental Group was originally established in 1985 by D.D.S. Enrique Jimenez in Guadalajara. Several years later, he decided to move the center north to Los Algodones, Mexico where established a new office.
What followed were years in which SANI has grown from a 2 chair, one dentist office, to a 30 dentists group with two different offices in Los Algodones.
Now, Sani is one of the largest dental clinics in Los Algodones, providing dental care with excellence to all, in Baja California, Mexico.
Given the high demand caused by the many referrals from past patients, we've created a laboratory to produce our own Porcelain/Metal crowns, E-max (pure porcelain crowns) and acrylic plates as well as TCSand combined metal partials thereby guaranteeing skilled labor quality.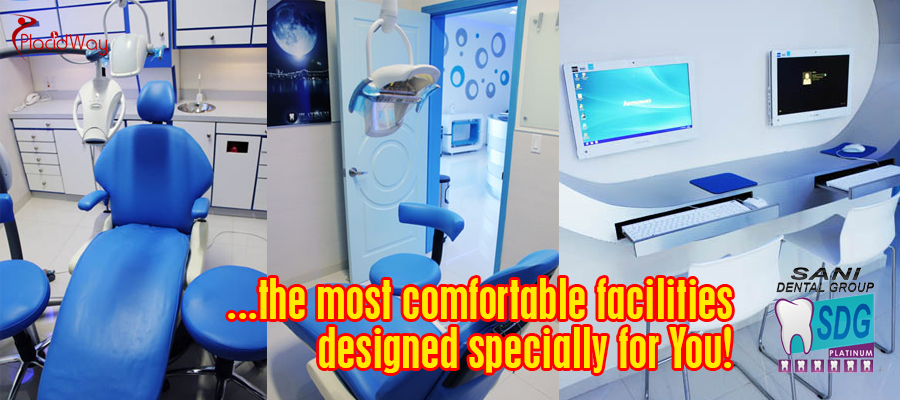 Unlike small dental offices, at Sani Dental Group you are not seen by a single doctor who says he can do everything, but has no specialty, our doctors have different specialties and experience ranging from 5 to 30 years, serving to patients mainly from the USA and Canada.
Our doctor teams have specialized in Dental Implants, Laser dentistry, Oral surgery, Cosmetic Dentistry, Orthodontics, Endodontics, Periodontics, Health services administration, among other dental treatments you may need.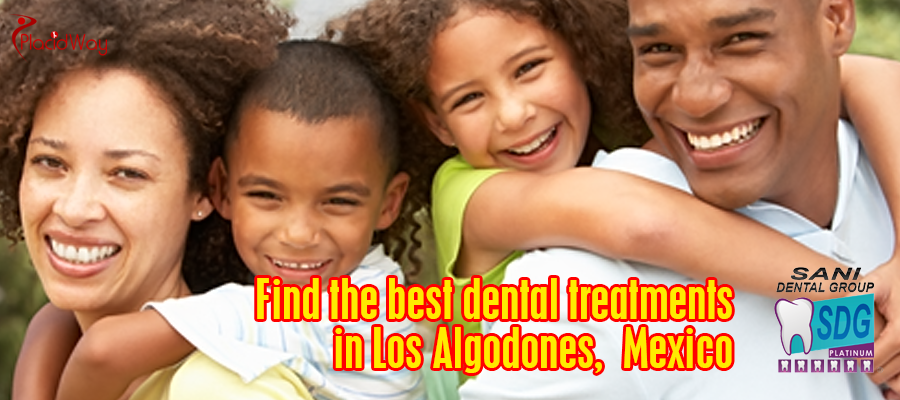 Treatments & Procedures Offered By Sani Dental
Cleaning, Whitening, Filling & Extraction
Dental Crowns & Dental Veneers
Dentures / Dental Implants
Bone Graft
Cosmetic Dentistry
Root Canal Treatment
Diagnostics
Anesthetics
All-on 4 Nobel Biocare Dental Implants
All-on-6 System Dental Implants
All on Eight System with Fixed Porcelain Bridge
Laser dentistry
Partial Dentures
Why Choose Sani Dental Group?
Extensively trained Doctors with more accumulated experience that any other clinic in Los Algodones.
We are Members of the ADA (American Dental Association).
Your dental treatment can be performed by one, two, three or more doctors.
An on-site laboratory, you have your dentist and your lab technician in the same place.
Computer Aided Design and Computer Aided Manufacturing in dental Laboratory (Cad Cam Technology).
Dental Laser Technology and Panoramic X-rays on site.
Two years full warranty on your dental work.
We have an agreement with the only hotel in town "Hacienda Los Algodones" and we can get rates as low as $35 per night for our patients.
Our free shuttle service between the border, the hotel and the clinic.
We

accept all forms of payment.

You will enjoy a large comfortable waiting room with access to telephone calls to the US and Canada, Internet access and plasma TVs that will make your stay at Sani Dental Group pleasant.

Sterilization room system

andFiltered water.
Our prices are public, are not hidden as in other clinics or offices.
Our Medical Team
At Sani Dental you'll find the best Dentists in Mexico! Our health care staff contains more than 40 doctors with various specialties & expertise from five to thirty years; our medical team is extensively skilled and qualified for serving to patients with high medical treatment standards.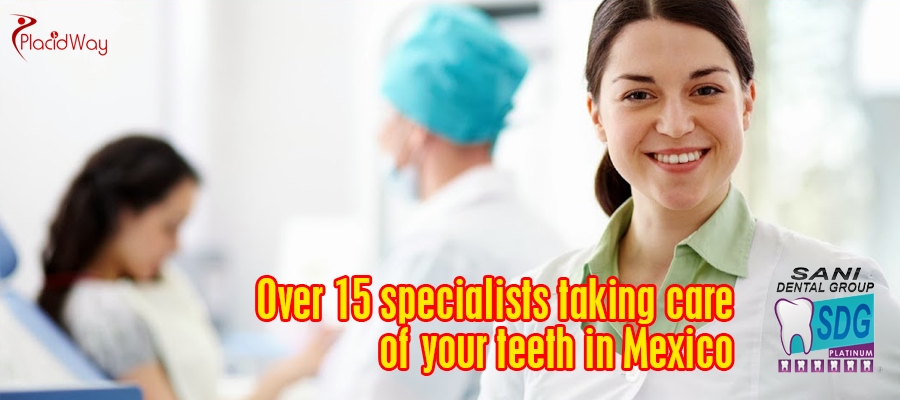 Our specialists team is comprised of expert doctors in their field!
Sani Dental Group has a commitment with quality, as well as the continuing education of our Doctors; they have taken different courses in several prestigious institutions, including:
Harvard Medical School
Mega Gen - Seoul, Korea.
With Sani Dental Group you can always be sure of always having the best dental treatments and results in Mexico!!
Traveling to Los Algodones
Los Algodones is situated in Baja California, Mexico at the California – Arizona border, just ten miles west from Yuma, Arizona" after "California-Arizona border. Having access to the community is quite simple, you can park on the US area then cross walking, or parking directly in the city.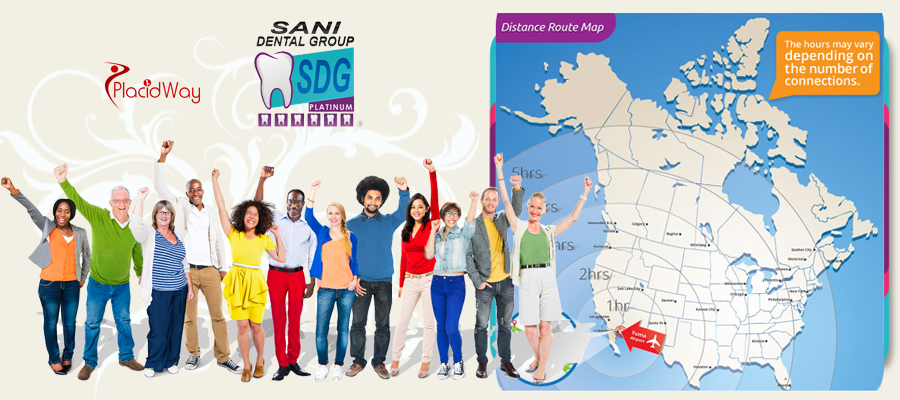 Los Algodones features numerous shops, pharmacies, coffee shops, and medical care centers including the best dentists offering high quality services and professional treatment options at affordable prices.
Los Algodones also offers multiple events as well as activities for tourists and of course English is widely spoken.
We are a secure community of medical specialists specially designed for medical travelers.