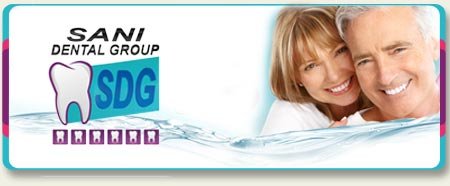 Affordable Full Dentures
Porcelain Dentures or

Acrylic Dentures

in Los Algodones Mexico
Do you want a denture that will stay on and look natural?
Take advantage of Sani's experience with the highest quality materials to improve your life!
Why Full Mouth Denture in Los Algodones?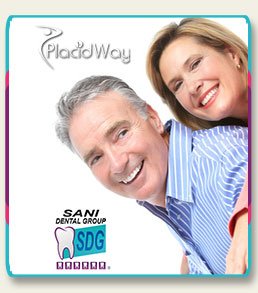 With today's quality materials and improved technology, Sani dentists can fashion dentures that fit comfortably, stay on and appear natural.
Even if acrylic and porcelain dentures may look like your natural teeth, they can not work like them.
Simple actions like speaking and eating may feel different and you may have to learn to make adjustments. Sani's dental experts in Los Algodones can make it easier for you!
How do full mouth or complete dentures work?
Complete dentures cover your entire jaw either upper or lower or both. Some people refer to them as Plates. Complete dentures rest directly on the gum that covers the bone.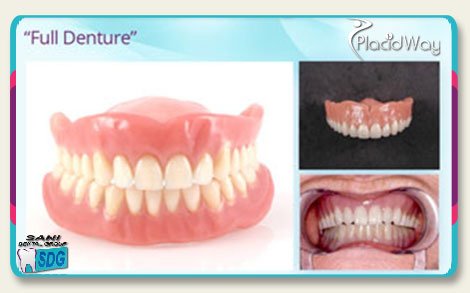 This dental work can be performed between 3 and 5 days depending in the specific condition of the patient, most of the time the treatment is done after 72 hours (Extractions and plates).
Sani's Recommenation...
For full plates we suggest the application of Molloplast - a gummy substance that is more comfortable to wear, is very soft to the gums and greatly improves comfort.
The Cost of Full Porcelain and Acrylic Dentures in Los Algodones at Sani Dental Group
Full Denture, Acrylic Teeth or Haling (upper or lower) - $250
Full Denture, Composite Teeth (upper or lower) - $350
Full Denture, Porcelain Teeth (upper or lower) - $350

The Denture Packages in Los Algodones include:
Ground transportation from airport to clinic and back

For Hotel accommodation, we offer the best hotel in town "Hotel Hacienda Los Algodones" – rates as low as $30.00 per night exclusively for our patients - 3 Days free for Sani Patients

Free shuttle service between the clinic and hotel
Why Choose Sani Dental Group?
Our extensively trained Doctors have more accumulated experience that any other clinic in Los Algodones.
Sani Dental Group Los Algodones is a member of the ADA (American Dental Association).
You will be counseled by a specialist for each treatment you require.
Our on-site laboratory that gives us a great advantage in speed and quality work, because you have your dentist and your lab technician in the same place.
Our dentists and technicians have access to Computer Aided Design and Computer Aided Manufacturing in dental Laboratory (Cad Cam Technology).
Get your dentures in Los Algodones, Mexico at Sani Dental Group,
by clicking the button below!