Stem Cell Therapy for Autism in Mumbai, India
The advanced ReeLabs stem cell treatment for Autism in Mumbai, India is a fast, clean and safe option for your child!
Autism is a developmental disorder that will generally manifest in the first 3 years of a child's life. The disorder's development means that the brain's social and communication skills will be affected.
When this disorder is attended early and with an appropriate treatment program, children with autism will improve their chances of quick recovery.
Mesenchymal stem cells are the body's repair mechanism. The stem cells have the ability to differentiate in to any functional tissue of the body. These mesenchymal stem cells are extracted from patient's body i.e. from bone marrow of the hip bone.
The whole process takes one week.
ReeLabs experts have treated many autism patients with a high success rate!
In most cases, the mental, sensory, motor, reflexes, memory, speech, intelligence, orientation and cognition improve with our proprietary stem cell therapy with an average 20-40% improvement expectation.
The results are best in younger children, as the age of the child is a determinant factor in this treatment.
These cells are meant to induce regeneration of the affected portion of the brain.
Most of the patients symptoms are treatable through stem cell therapy and improvement can be seen in these areas:
mental logic

sensory impairement

motor movement

reflexes

memory

speech

intelligence

orientation

cognition
Cost and inclusions

The price for the Stem Cell Therapy package offered by ReeLabs starts at $12,000.
Inclusions
Pre-op serology
Bone marrow aspiration
Stem cell processing and isolation
Stem cell implantation (5 doses)
Hospitalization
Transplant physician fees
Food for the patient
Physiotherapy
Pick-up and drop from the airport
Autism Stem Cell Therapy Procedure in Mumbai, India:
Sufficient quantity of Bone Marrow sample is taken, the first time so that it can be used for further doses. Bone marrow aspiration is actually painless when it is performed under local anesthesia.
The stem cells separated from the bone marrow are divided into five doses and these stem cells are administered intravenously in five consecutive days.
Furthermore, from Day 1 to day 7 – Physiotherapy is given to the patient for all seven days.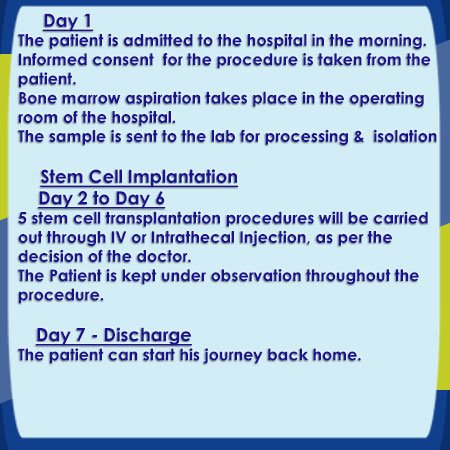 The Stem Cell Treatment offered by ReeLife has the advantage of being non-toxic, safe, has no side effects and is easy to administer while maximizing its beneficial effects in repair and regeneration of damaged areas.

For more information about ReeLabs and Stem Cell Therapy or if you need a FREE quote, click the button below.