Dr. Pravin Patel Innovative Hospital & Research Center
Best Autism Centre in Vadodara (Gujarat), India Treatment with Stem Cells
P3, Third floor, Sharnam Fortune, Opp. Inox Theater, Race course, Vadodara, Gujarat, India Vadodara Gujarat, Vadodara 390007, India

Specialty:

Addiction Treatment, Alternative Medicine, Anti Aging, Ayurveda, Cancer Treatment, Chronic Diseases, Detox, Executive Healthcheck, General Medicine, General Surgery, Medical Spa Treatment, Neurology, Organ Transplant, Pediatric Treatment, Radiology/CT Scans, Rehabilitation, Rehabilitation and Medical Spa Treatment, Sexual Medicine and Treatment, Skin Care, Sports Medicine, Stem Cell Therapy, Urology, Vascular Surgery, Weight Loss Program, Yoga/Meditation

Focus Area:

Dr. Pravin Patel Innovative Hospital in Gujarat, India | Affordable Regnerative Medicine Clinic | Ozone and Quantum Therapy | Laser Treatment | Stem Cell Therapy Center |
Dr. Pravin Patel Innovative Hospital & Research Center Profile Overview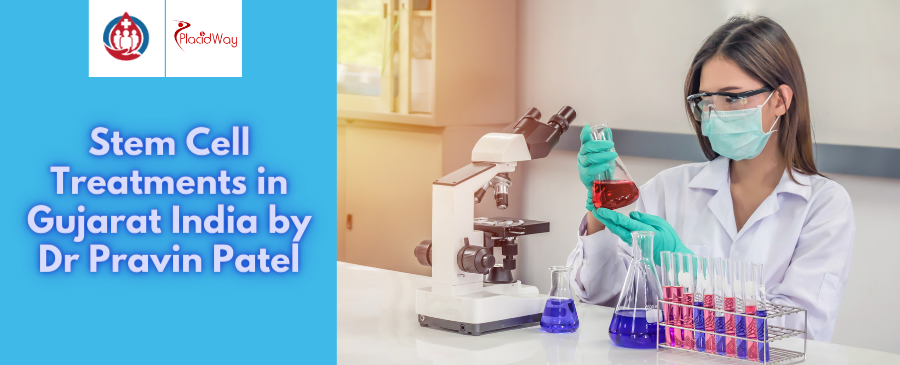 Dr. Pravin Patel Hospital provides best Stem Cell Treatment in Gujarat, India. Book online now Ozone Therapy, Quantum Therapy, and Laser Therapy at Dr. Pravin Patel Hospital. Stem Cell Treatments in Gujarat India by Dr Pravin Patel offers convenience and solutions for patients to overcome their health problems, using the latest and most effective technology. The presence of Stem Cell Therapy in Gujarat India by Dr Pravin Patel will be the first step in improving the quality of your health and life, so you can perform your daily routine to the fullest, and get positive improvements from various health problems you currently suffer from.
One thing for sure, Stem Cell Treatment in Gujarat India by Dr. Pravin Patel is an effective way to restore, repair and regenerate your body for a better overall health. The advanced treatments provided by the hospital will help you to gain relief from chronic pain, increased mobility, improved immune system functioning and more. With the usage of stem cells, the possibilities of restoring the body from any disease are endless. Moreover, the experts at Dr Pravin Patel Hospital are well experienced in providing stem cell treatments and have experience with a wide range of diseases including cancer, paralysis and diabetes.
The staff of the hospital is dedicated to provide high-quality services to their patients and help them in achieving the best results in their treatments. In addition, the hospital also offers personalized plans for each patient through its specialists and experts in order to help them understand their problems better and get the best results from their treatments.
Adult Stem Cell Therapy in Gujarat India by Dr Pravin Patel offers easy access for all patients who want to get an effective and reliable Regenerative Treatment. The following are some of the benefits that will be obtained by the patient:
International Treatments Which Are Unique and Unconventional: Dr Pravin Patel Innovative Hospital ensures that all patients are treated with international standard treatment, and upholds patient satisfaction.
Provide Natural Solutions without Side Effects: A number of therapies given to patients, particularly Stem Cell Treatments, offer natural solutions to improve the patient's life and health, without side effects.
Using Latest Technologies to Combat Various Chronic Diseases: You will get the best medical treatment, which uses the latest technology to fight various serious diseases. As a result, patients will be able to get the health solutions they need appropriately.
Check the list below for Stem Cell Treatments in Gujarat India by Dr Pravin Patel. Make sure that you have consulted beforehand, so that you can determine the right treatment option:
Stem cell treatments for patients with complex ailments or disorders.
Therapy to treat wounds, infections, and circulatory disorders.
Therapy that utilizes the use of energy and quanta of electromagnetic fields.
Therapy for weight loss of patients.
Other Therapies Available:
Chezone Therapy

EBOO / Extracorporeal Blood Oxygenation and Ozonation Therapy

Laser Therapy

Neuro-Linguistic Programming (NLP)

Platelet-Rich Plasma

Scene

Bio-Identical Hormone Replacement Therapy

Spot Fat Reduction

Belly Fat Reduction

Diabetes Mellitus (DM) Treatments

Back Pain & Knee Pain Treatments

Thyroid Disorders Treatments

Heart Problems Treatments

Anger Treatments

Stress Treatments

Depression Treatments

Rheumatoid Arthritis (RA) Treatments

Liver Treatments

Sexual Dysfunction or Sexual Malfunction Treatments

Obesity Treatments

Autism Treatments

Slip Disc Treatments

Osteoarthritis (OA) Treatments

Hyper Acidity Treatments

IQ Memory Treatments

Cancer Treatments

Human Immunodeficiency Virus (HIV) Treatments

Hepatitis C Treatments

Hair loss Treatments

Facial Rejuvenation With Cells Treatments

Wrinkle Removal Treatments

Acne Treatments

Hair Growth Treatment
Stem Cell Treatment in Dr Pravin Patel's Innovative Hospital and Research offers affordable prices for its patients. Please click the button below to connect with a Customer Representative and get information about the latest prices with the best offers for you:

Check out some of the frequently asked questions regarding Stem Cell Treatments in India below, so you can gain insight into regenerative therapies and their popularity:
Stem Cell Therapy in India offers improvement solutions for serious diseases, such as cerebral palsy, autism, Down syndrome, stroke, and so on. Many patients get improvement in their neurological problems after undergoing this treatment.
Its popularity has attracted the attention of the medical world, because of its potential to regenerate damaged cells in the human body.
Stem Cell is an effective therapy to provide positive improvement to health problems such as spinal cord injury, stroke, cancer, Parkinson's, and so on.
The success rate of Stem Cell Therapy in India varies, depending on the disease experienced by the patient, as well as his current body condition. A number of reports reveal the success rate of the Stem Cell Infusion at 60 - 80 percent!
Stem Cell Treatments in Gujarat India by Dr Pravin Patel will provide you with effective medical solutions, with the most complete facilities. Get a competitive price quote for Regenerative Therapy at this hospital, by clicking the button below:

---
Dr. Pravin Patel Innovative Hospital & Research Center, Vadodara, India Profile Details
Through Dr. Pravin Patel Hospital, patients will be able to get the best treatment, and get what you need quickly and responsovely. Many local and overseas patients have opted for Stem Cell Treatment in Gujarat, India by Dr. Pravin Patel Hospital, and finally they received an improvment with a high percentage of success!
Gujarat, India as one of the popular destinations for regenerative therapy has proven to work wonders so that patients can get the improvement they need. Stem Cell Clinic in Gujarat, India by Dr. Pravin Patel Hospital is a clinic that is licensed, certified and contains medical staff that are very competent in their fields. You will be able to get maximum benefits as well as improvements that are useful in the long term.
The vision and mission of Dr. Pravin Patel Hospital is to improve patient's lives with the highest level of quality care and service, Patients can expect timely care, compassionate support and cutting-edge treatment options from a team of dedicated physicians and professionals who always put the patient first.

---
Dr. Pravin Patel Innovative Hospital & Research Center Treatments Offered
---
Dr. Pravin Patel Innovative Hospital & Research Center Certificates, Accreditations, Qualifications
---
Dr. Pravin Patel Innovative Hospital & Research Center Testimonials
"I had stem cell treatment, ozone treatment and vitamin treatment. After having treatment, I am not actually in pain anymore. Yes, completly! Anybody who had any issue to consider very much coming here."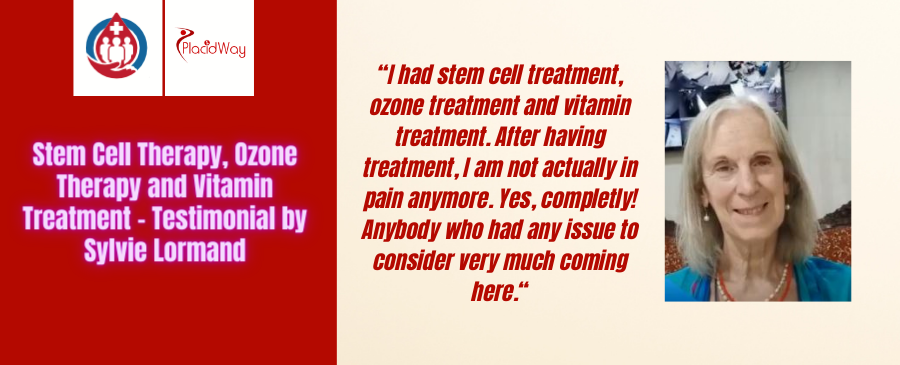 Arthritis, Ozone Therapy – Testimonial by Khusboo
"If you have any problems, you can visit this hospital! Very good hospital for Arthritis Treatment. You will get good relief."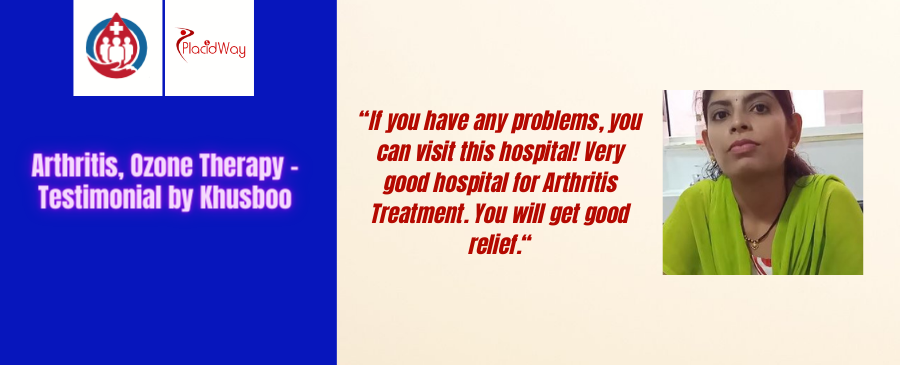 Diabetes, Knee Pain, Arthritis – Testimonial by Joshnaben
"Very good staff! I really like Dr. Patel! I think they are very caring people. They give 100 percents of their work. I am really really happy that I met Dr. Patel."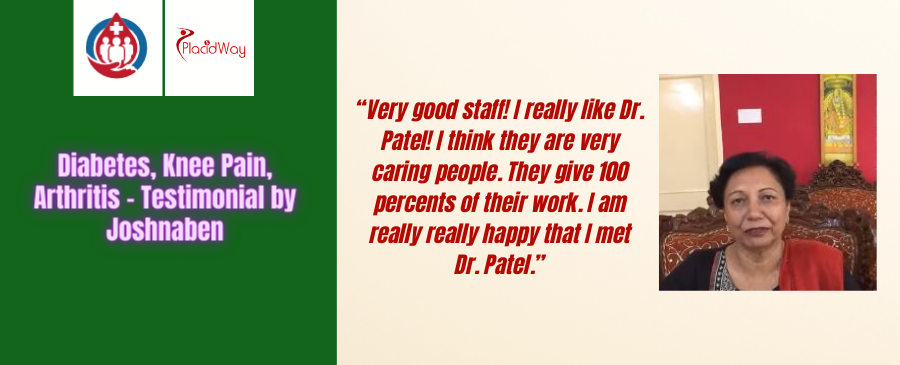 Knee Pain, Stem Cell Therapy – Testimonial by Kishan Manek
"I am able to walk now, which were I am not able. So now I am able to walk and everything. My energy level is good! I am very happy, in fact I want to promote this technology to my friend."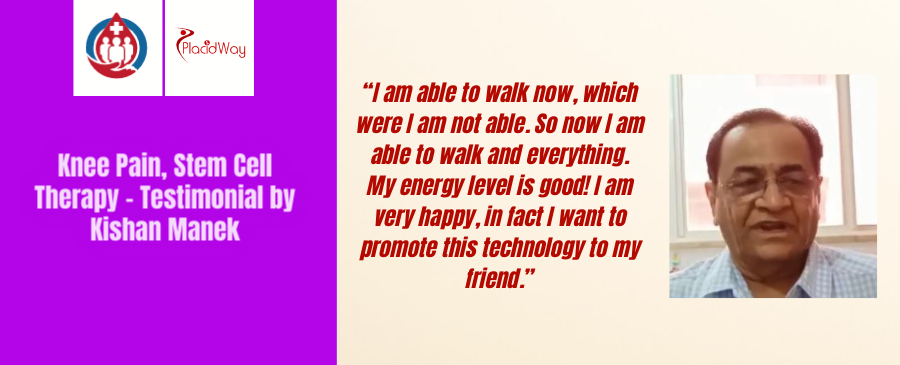 Knee Pain – Testimonial by Kantaben
"This is good hospital, I got good results!"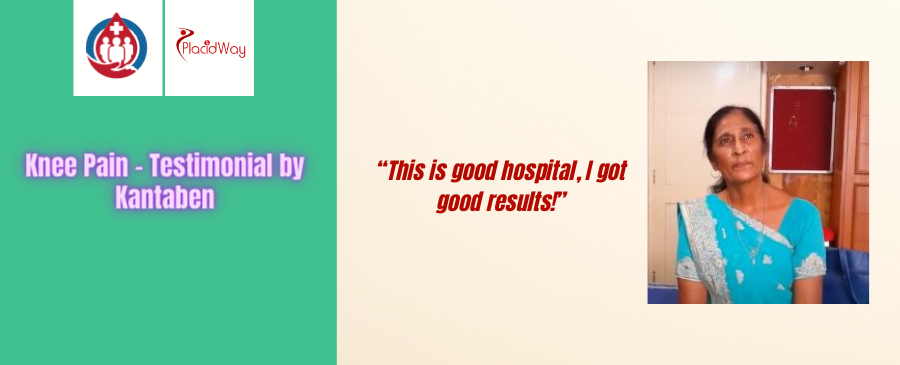 ---
Dr. Pravin Patel Innovative Hospital & Research Center Awards & Recognitions
---
Vadodara, India Destination Overview
Medical Tourism in Gujarat, India for Regenerative Treatment
The amazing city of Gujarat can be reached by each method of transport - streets, rail lines, aviation routes and through ocean. For the accommodation of the guests and local people, each street, rail line station, transport stop and air terminal is all around kept up with by the Gujarat service. See beneath for how to reach by street, railroads and aviation routes to partake in a wonderful excursion in Gujarat.
By Railways
Railroad organization of Gujarat interfaces with each territory of India. Surat rail line station, Ahmedabad Railway Station, Rajkot Railway Station and Vadodara Railway Station are the most active rail line stations in Gujarat. Indeed, Vadodara Railway Station is the one of the most active rail line station in India since it is a piece of Delhi-Mumbai rail route line.
By Airways
Significant air terminals in Gujarat are: Sardar Vallabhbhai Patel International Airport, Surat Airport, Bhavnagar Airport, and so forth
By Roadways
All the public and public interstates in Karnataka are smooth and all around kept up with. Different transport administrations from adjoining states-Rajasthan, Maharashtra and Madhya Pradesh are effectively accessible. From agreeable transports to Volvos possessed by private carriers, there are numerous methods of street transports to arrive at Gujarat.
By Sea
Favored with 1600 km long ocean coast, Gujarat has the longest shore in India. Kandla Port in Gujarat is the biggest port that is serving the Western side of India. Port of Navlakhi, Port of Magdalla, Port Pipavav, Port of Porbandar, Port of Veraval and the exclusive Mundra Port are the significant ports of Gujarat.
Feel free to choose the transportation media that suits your comfort and budget.

---
---
Reviews
Amadou D

Dr Patel's innovative Hospital is a good hospital the team here is very good and professional. All team from staff to drivers are very good and I felt like a family. I will recommend this to my friends and family and they don't even use any chemical or harmful drugs. Dr patel and dr Sunitta are very good and they know what they are doing. My condition improved a lot after stem cell therapy and ozone bath. It is different from other hospitals and very effective. They also used meditation and Ayurveda treatments. I am very happy with the stay and treatment received. My face has already improved after anti-aging treatment. I am very happy and I want to thank the entire team for their humanity and understanding. Thank you for everything. I also apologize for any inconvenience caused to the team.


Google

Feb 10 2023

Prayag

Best anti-aging stem cell hospital in Gujarat

Google

Sep 22 2022

Anjana

Did my stem cell therapy for knees here

Google

Sep 07 2022
---
Addiction-Treatment Related Packages
Addiction-Treatment Related Experiences