Dr. Sunitta Patel, Regenerative Medicine - Vadodara, India
P3, Third floor, Sharnam Fortune, Opp. Inox Theater, Race course, Vadodara, Gujarat, India Vadodara Gujarat
Vadodara, India
Speciality:
Regenerative Medicine,
Focus Area:
Dr. Sunitta Patel | Gujarat | India | Dr. Pravin Patel Innovative Hospital & Research Center
---
About - Dr. Sunitta Patel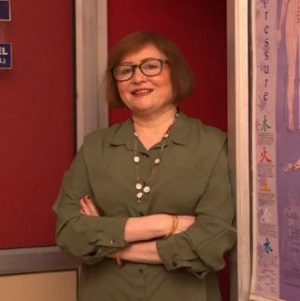 Dr. Sunitta Patel provides the best Integrative Medicine in Gujarat, India. Book consultation now Ozone Therapy, Quantum Therapy, and Laser Therapy at Dr. Pravin Patel Innovative Hospital & Research Center. Dr. Sunitta is the right hand of Dr. Pravin Patel. Dr. Sunitta holds a degree in Alternative Medicine ( MDAM ). She has insight of numerous years in utilizing every one of the treatments, machines and most recent advancements with Dr. Pravin Patel.
She is very much experienced in Quantum treatment, regenerative medicine, Ozone Therapy, Chelation Therapy, Eboo Therapy, Laser treatment and scenar treatment from different spots in India and Abroad. Every one of the treatments at the emergency clinic are done under her watch. Dr. Sunitta likewise takes a functioning part in research with Dr. Pravin Patel to concoct new strategies for the treatment of the patients treating different sicknesses with practically no aftereffects effectively.
Dr. Pravin Patel and Dr. Sunitta presented Quantum Therapy first time in Quite a while and trailblazers in cell treatment. Part of NRIs visit Dr. Pravin Patel's Innovative Hospital and Research Center to recuperate from illnesses like Diabetes, Heart sicknesses, disease, kidney problems, liver cirrhosis, knee torment, back agony, stress and gloom and some more.

Prices
| Stem Cell Therapy Cost in India at Dr. Pravin Patel Hospital | Prices | Enquire |
| --- | --- | --- |
| Anti Aging Stem Cell Treatments in Vadodara, India | $12000 | Enquire |
| Stem Cell Treatment for Autism in Vadodara, India | $9000 | Enquire |
| Stem Cell Treatment for Cancer in Vadodara, India | $12500 | Enquire |
| Stem Cell Treatment for Rheumatoid Arthritis in Vadodara, India | $16000 | Enquire |
---
Dr. Pravin Patel Innovative Hospital & Research Center reviews
Amadou D

Dr Patel's innovative Hospital is a good hospital the team here is very good and professional. All team from staff to drivers are very good and I felt like a family. I will recommend this to my friends and family and they don't even use any chemical or harmful drugs. Dr patel and dr Sunitta are very good and they know what they are doing. My condition improved a lot after stem cell therapy and ozone bath. It is different from other hospitals and very effective. They also used meditation and Ayurveda treatments. I am very happy with the stay and treatment received. My face has already improved after anti-aging treatment. I am very happy and I want to thank the entire team for their humanity and understanding. Thank you for everything. I also apologize for any inconvenience caused to the team.


Google

Feb 10 2023

Prayag

Best anti-aging stem cell hospital in Gujarat

Google

Sep 22 2022

Anjana

Did my stem cell therapy for knees here

Google

Sep 07 2022

saumya

Hope Full Tritment.

Google

Sep 01 2022

Hemalata

My 76yrs old father was detected with Chronic Lymphocytic Leukemia and the Medical Oncologist (associated with a Multispeciality Care Hospital Chain of Gujarat) shared that CLL is not curable and we need to continue the treatment lifelong. He did mention that since its in Stage-I, we can expect life expectancy of at least 10more years.

Any caring person will prefer that family members remain disease free. And it did not made sense to wait for 10 long years waiting for the disease to take over my fathers well-being and let him succumb to CLL eventually.

Fortunately someone introduced me to Dr. Pravin Patel and he, as an Angel, shared that there is no disease in the world that cannot be cured. His conviction and simplicity made me believe that he is not like other Cancer Hospital Chains who have invested to make money out of disease burden on Society.

Entire family relocated to Vadodara for 3 months so that my father can receive the T-cell therapy (One Time) along with Ozone and Vitamin D therapy (multiple times a week).
Dr. Pravin Patel also emphasised on diet modification thats still being followed.

I am extremely glad that we took that decision and happy that my father does not need any medicines now and is in complete remission for last 2months.

I strongly recommend visiting Dr. Pravin Patel's Innovative Hospital before undergoing any surgery or major treatment - for which your existing doctor cannot offer a cure.

Google

Nov 17 2022

Usha

I was suffering since 3 years with chronic cough and insomnia. After having many medications and trying new therapies I ended up contacting Dr Pravin Patel's hospital to have a solution to my problem. I had the therapy for 3 weeks and I feel very good and healthy with removing the sleep medication from my schedule completely and having a good sleep. Also, my coughing has become much better and I feel very delighted to have contacted him and had the therapy under their guidance. I surely recommend Dr. Pravin Patel's hospital for attaining complete care to problems.Thank you Dr patel and Dr sunitta . We were lucky to find such good place for our treatment . Glad to have such place.

Google

Nov 03 2022
---
Stem-Cell-Therapy Related Packages
Stem-Cell-Therapy Related Experiences
PlacidWay.com provides information and travel related services. We do not provide health care services. We provide information solely for informational purposes and do not endorse any particular health care provider or facility or any particular health care service or treatment. We are not affiliated with any health care provider or service and we are not responsible for any health care service. Please consult with your own domestic licensed health care provider before seeking the services of any health care provider you learn about via our site.
---