Med Esthetiks
Med Esthetiks - Cosmetic Surgery Clinic in New Delhi, India
C-203, M- Block Market, Greater Kailash 1, New Delhi - 110048, India, New Delhi 110048, India

Specialty:

Anti Aging, Cosmetic/Plastic Surgery, Hair Transplantation, Laser Surgery, Skin Care

Focus Area:

Med Esthetiks | New Delhi | India | Liposuction | Gynecomastia | Buttock Augmentation | Tummy Tuck | Brow Lift | Chin Augmentation | Hair Transplant | Rhinoplasty
Med Esthetiks Profile Overview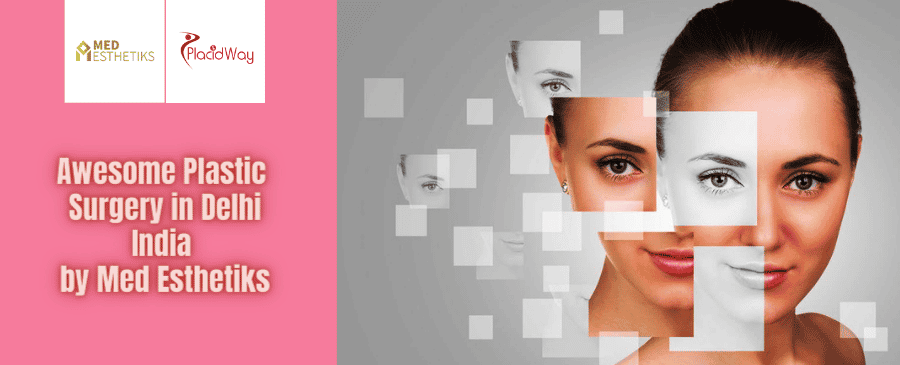 Plastic Surgery in New Delhi India by Med Esthetiks presents a variety of the most popular Cosmetic Surgery procedures, such as Liposuction, Rhinoplasty, Breast Augmentation, Hair Transplant, Facelift, and so on. The best Top Plastic Surgeon from New Delhi India will be ready to give you the best treatment, as well as open a consultation for those of you who expect the best results from any desired surgical procedure.
Advantages of Having Plastic Surgery in New Delhi India by Med Esthetiks
Various benefits are ready to be presented by Plastic Surgery in New Delhi India by Med Esthetiks, so that you will feel true beauty, and also improve your current appearance for the better. Here are the benefits that you can find:
Complete Solution for All Cosmetic Surgeries: Whatever surgical procedure you want, feel free to discuss it with Dr. Lokesh Handa, and his team of doctors. You will be amazed by the final result you get.
Advanced, Modern and International Standard of Surgeries: All medical equipment and medical facilities provided by Med Aesthetics are based on modern, advanced and international standard technology, so there is nothing you need to doubt in terms of quality.
More than 14 Years of Experience in Plastic/Cosmetic Surgery: With more than 14 years of experience in the field, all surgical procedures as complex as any can be completed optimally and effectively at Med Aesthetics.
Cost of Plastic Surgery in New Delhi India by Med Esthetiks
You can get Plastic Surgery in New Delhi India by Med Aesthetics at an affordable price. You can save more money compared to having similar surgical procedures done in other countries, compared to the United States and Canada. Check our price list table below to learn more:
| | |
| --- | --- |
| Procedures | Cost in USD |
| Breast Augmentation | $2,900 |
| Mommy Makeover | $7,000 |
| Hair Restoration | $1,500 |
Note: Price can change and vary depends on complexity of the procedure and patient condition. For up-to-date information on the procedures available, as well as their costs, please click the button below:

Frequently Asked Questions about Plastic Surgery in New Delhi India
Here are several frequently asked questions about Plastic Surgery in New Delhi India that you can use as personal reference. As a result, you can make your decision correctly when planning your plastic surgery tourism in India:
Why Choose India for Plastic Surgery?
India is one of the most popular countries in the world which has a high demand for Plastic Surgery. Even a few years ago, India was ranked 4th as the country with the highest demand for Plastic Surgery in the world. It is not surprising that many people come to India to do Plastic/Cosmetic Surgery.
What is popular Plastic Surgery in New Delhi India?
Currently, Rhinoplasty or Nose Surgery is the most popular choice of Plastic Surgery in New Delhi India, especially for Men. Meanwhile, Eyelid Surgery was ranked as the second most popular Plastic Surgery.
Is Plastic Surgery Cheaper in India?
Yes, it is. India is a mainstay destination for local patients and overseas patients, who want to undergo Plastic Surgery at affordable prices. The price offered is relatively cheaper 30-50 percent compared to some other developing countries.
What motivates people to do Plastic Surgery?
According to a survey conducted in 2019 by a number of research institutions, Plastic Surgery was carried out with the aim of increasing confidence and Self-Esteem. This is very important for those who work as professionals, public figures, and the like. It's no wonder that Plastic Surgery, until now, remains the most trending surgical procedure option.
Start Your Reservation for Plastic Surgery in New Delhi India at Med Esthetiks
Get the best price for Plastic Surgery in New Delhi India by Med Esthetiks, and enhance facial beauty and body aesthetics in the hands of the right surgeon! It's time to start your journey from now on. Click the button below to make a reservation, or if you have any other questions:

---
Med Esthetiks, New Delhi, India Profile Details
Plastic Surgery in New Delhi India by Med Aesthetics the best clinic ready to give you the satisfaction you need, especially in Cosmetic/Plastic Surgery. You can tell us anything about facial beauty, as well as body aesthetics that you want.
The reliable specialists at Plastic Surgery in New Delhi India by Med Aesthetics will help realize your expectations, and ensure that you can get maximum benefits for the long term. You will also get the most complete Cosmetic/Plastic Surgery facilities at affordable prices.

---
Med Esthetiks Treatments Offered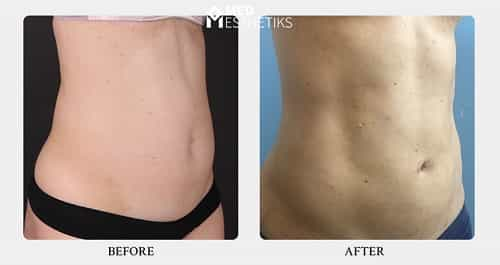 Hi Definition Liposuction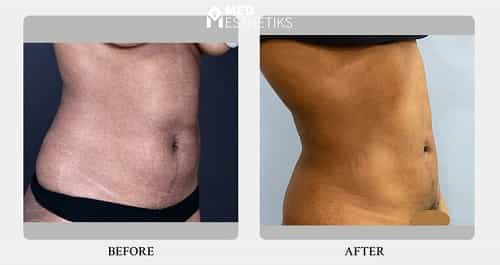 Hi Definition Liposuction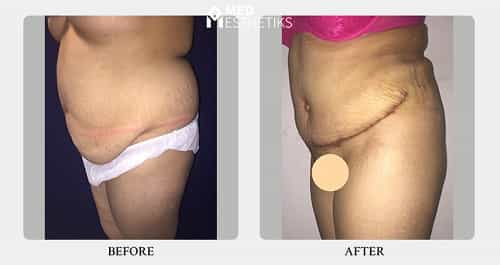 Tummy Tuck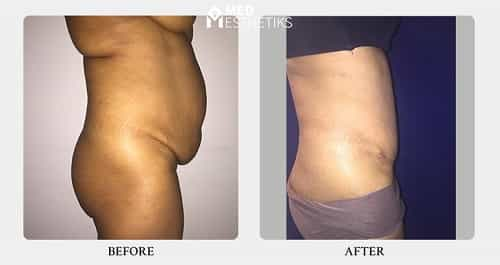 Hi Definition Liposuction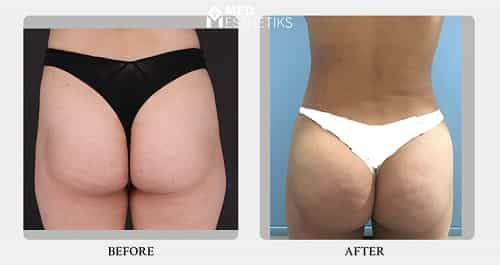 Buttock Augmentation
Procedures at Plastic Surgery in New Delhi India by Med Esthetiks
Plastic Surgery in New Delhi India by Med Aesthetics gives patients the freedom to choose the cosmetic surgical procedure they want. Med Aesthetics will bridge your needs, and try our best to give you the best results. The following procedure options are available to you:
Body:
Female Genital Cosmetic Surgery
Faces:
Blepharoplasty Surgery

Dimple Creation Surgery
Breasts:

---
Med Esthetiks Certificates, Accreditations, Qualifications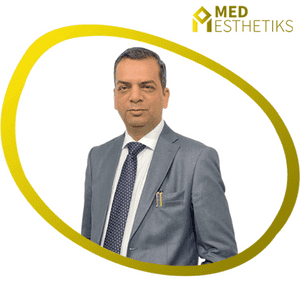 Name: Dr. Lokesh Handa M.S, M.Ch
Specialization: Sr Consultant Plastic, Aesthetic and Hair Transplant Surgeon
Experiences and Certifications:
Director of Med Esthetiks

Member of ISAPS (International Society of Aesthetic Plastic Surgeons)

Member of APSI (Association of Plastic Surgeons of India)

Member of IAAPS (Indian Association of Aesthetic Plastic Surgeons)

---
Med Esthetiks Testimonials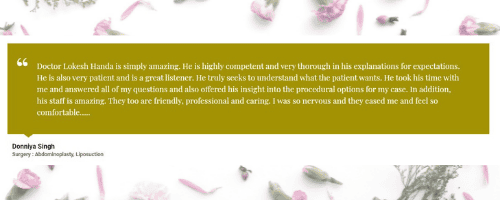 Doctor Lokesh Handa is simply amazing. He is highly competent and very thorough in his explanations for expectations. He is also very patient and is a great listener. He truly seeks to understand what the patient wants. He took his time with me and answered all of my questions and also offered his insight into the procedural options for my case. In addition, his staff is amazing. They too are friendly, professional and caring. I was so nervous and they eased me and feel so comfortable…..
Name: Donniya Singh
Surgery: Abdominoplasty, Liposuction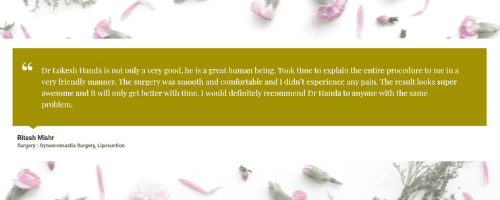 Dr Lokesh Handa is not only a very good, he is a great human being. Took time to explain the entire procedure to me in a very friendly manner. The surgery was smooth and comfortable and I didn't experience any pain. The result looks super awesome and it will only get better with time. I would definitely recommend Dr Handa to anyone with the same problem.
Name: Ritesh Mishr
Surgery: Gynaecomastia Surgery, Liposuction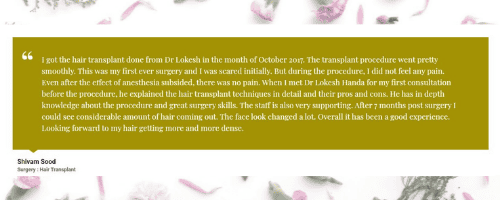 I got the hair transplant done from Dr Lokesh in the month of October 2017. The transplant procedure went pretty smoothly. This was my first ever surgery and I was scared initially. But during the procedure, I did not feel any pain. Even after the effect of anesthesia subsided, there was no pain. When I met Dr Lokesh Handa for my first consultation before the procedure, he explained the hair transplant techniques in detail and their pros and cons. He has in depth knowledge about the procedure and great surgery skills. The staff is also very supporting. After 7 months post surgery I could see considerable amount of hair coming out. The face look changed a lot. Overall it has been a good experience. Looking forward to my hair getting more and more dense.
Name: Shivam Sood
Surgery: Hair Transplant

---
Med Esthetiks Awards & Recognitions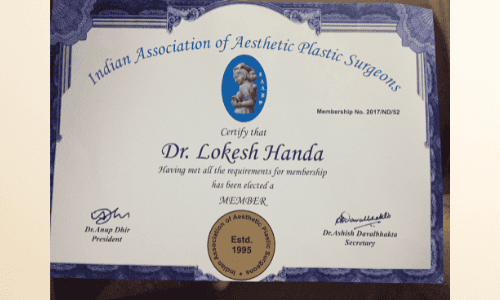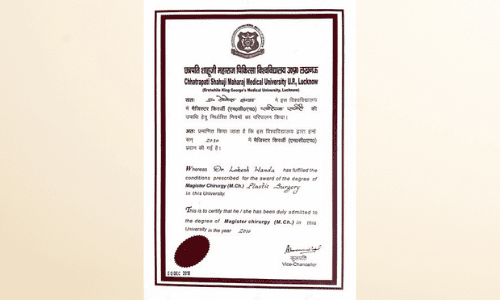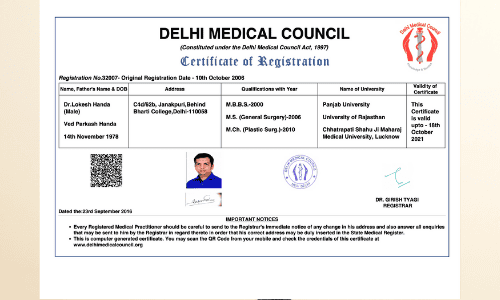 Why Choose Med Esthetiks for Cosmetic Surgery?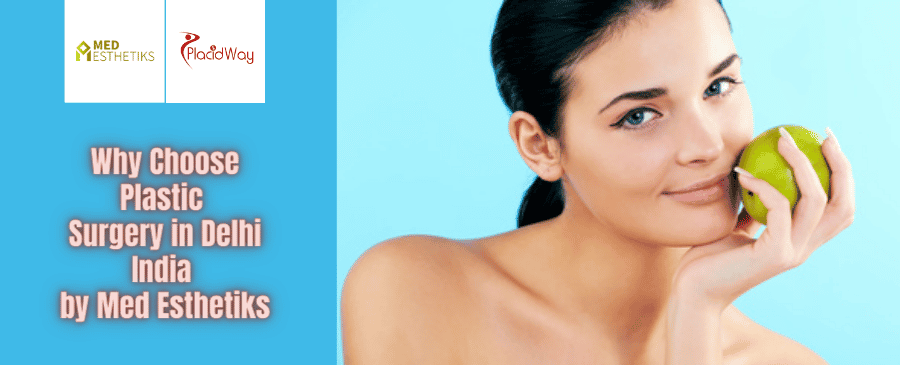 Plastic Surgery in New Delhi India by Med Esthetiks presents the latest breakthrough for those of you who want to improve your beauty one level better than before. Even the results that patients get, will be able to exceeding their expectations! Check out other reasons why Plastic Surgery in New Delhi India by Med Aesthetics is highly recommended for you below:
Clinic Open 24/7
Get consultation and treatment whenever you want, because you can visit Clinic Med Aesthetics every day during the available hours.
Language Spoken: English/Hindu/Urdu
With experience serving overseas patients, Plastic Surgery in New Delhi India by Med Aesthetics is ready to serve all patients with English, Hindu and Urdu languages. No more language barriers you'll find!
Prioritizing Customer Satisfaction
Your satisfaction is everything to Plastic Surgery in New Delhi India by Med Aesthetics. This clinic will maximize its services to you so that you can have the best Plastic Surgery experience ever.

---
New Delhi, India Destination Overview
How to Reach Med Esthetiks in New Delhi India for your Plastic Surgery?
If you want to do Plastic Surgery in New Delhi India by Med Aesthetics, there are many ways you can do to go there. As is known, New Delhi has airport facilities for Domestic and International flights, from cities inside and outside India. You can arrive via Indira Gandhi International Airport, or Delhi Airport, then use transportation such as buses, trains, taxis, and the like to arrive at Med Aesthetics. You can also ask for airport, hospital, and hotel shuttle facilities if you want it to be even more practical.
For those of you who are local residents around New Delhi, India, you can use the available transportation and go directly to the Med Aesthetics address provided. The distance traveled and the length of the trip depends on the place where you come from.

---
---