Breast Augmentation in New Delhi India by Med Esthetiks
Package price starting from:
$2900
Treatment:
Cosmetic/Plastic Surgery, Breast Augmentation
Location:
C-203, M- Block Market, Greater Kailash 1, New Delhi - 110048, India, India
Focus Area:
Breast Augmentation | New Delhi | India | Boob Job | Breast Surgery | Breast Implants | Augmentation Mammoplasty
---
Affordable Package for Breast Augmentation in Delhi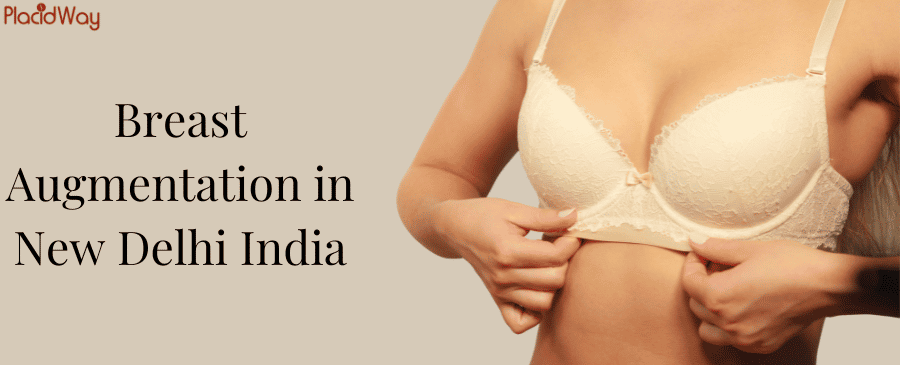 Breast Augmentation Package in New Delhi, India
Experienced plastic surgeons in New Delhi will help you increase your breast size by providing effective Breast augmentation procedure at low-cost. These surgeons work at the top clinic in Delhi named Med Esthetiks.
The clinic is equipped with modern facilities and the latest technology in cosmetic surgery. It works with local and foreign patients offering them successful cosmetic procedures to achieve the desired body shape and look. 
Advantages of Choosing Med Esthetiks clinic:
Safe and effective plastic surgery 

Experienced medical team 

Certified plastic surgeons

Affordable cosmetic procedures 

Modern technology and facilities

Over 14 years of experience
What is Breast Augmentation Procedure?
Breast augmentation, also known as augmentation mammoplasty, is surgery that increases breast size. It involves placing breast implants under the breast tissue or chest muscles.
For some women, breast augmentation is a way to feel more confident, and for others, it's part of rebuilding the breast for various conditions.
Price Comparison of Breast Augmentation in Delhi with Other Countries
Cost of Breast Augmentation in Delhi is around $2,900. While in more developed countries the same procedure costs over $5,200.
| | |
| --- | --- |
| Countries | Cost in USD |
| Delhi, India | $2,900 |
| United Kingdom | $9,000 |
| United States | $5,200 |
Note: For more information about the final price, make sure to contact the clinic directly. The price may vary depending on your condition and the complexity of the surgery.

Advantages of Boob Job in Delhi, India by Med Esthetics
Safe augmentation mammoplasty surgery

Improves your breasts aesthetic 

Boosts your self-esteem

Increases your breasts size

Reshapes your breasts
Breast Enhancement Surgery Package Includes:
Surgery cost including surgeon fees, anesthetics fees

Hospital cost including one night stay in the hospital, OT charges

Cost of Implants (which are FDA approved)

Post-Op oral medication

Compression Garment-2 piece

Airport Transfers

Accommodation for 4 Nights in Hotel (including Complimentary Breakfast)

Blood Tests
Breast Enhancement Surgery Package Excludes:
Payment Options: Cash, credit card, wire transfer
Note: The center may require a money deposit once a patient decides to book the surgery.
Why Choose Delhi, India for Boob Job?
New Delhi, the capital of India, will never stop to amaze. With its rich cultural and historic heritage, diverse cuisine, and people, Delhi is one of the most popular cities for tourism globally. In addition to state-of-the-art medical centers, you'll find interesting places to explore such as
Qutub Minar

Swaminarayan Akshardham

Humayun's Tomb

 Lodhi Garden

Chandni Chowk

India Gate
Best Plastic 

Surgeons

 in Delhi, India at Med Esthetics
Dr. Lokesh Handa is an experienced, certified surgeon, who has treated thousands of patients from all over the world. You can read the full profile below:
Name: Dr. Lokesh Handa M.S, M.Ch
Specialization: Sr Consultant Plastic, Aesthetic, and Hair Transplant Surgeon
Experiences and Certifications:
Director of Med Aesthetics.

Member of ISAPS (International Society of Aesthetic Plastic Surgeons)

Member of APSI (Association of Plastic Surgeons of India)

Member of IAAPS (Indian Association of Aesthetic Plastic Surgeons)
FAQs about Breast Augmentation Surgery in Delhi, India
What is the recovery time for a boob job in Delhi?
Recovery time after a boob job in Delhi can last a few weeks. After a week or two after the surgery, you can go back to work.
It is not recommended that you drive for at least one week. Check with your surgeon regarding the recovery period to know what to expect.
Is it safe to have a boob job in Delhi?
Delhi is considered to be a safe destination for tourists. In addition, plastic surgery clinics provide safe and effective cosmetic surgery. The city boast of experienced plastic surgeons who have diplomas from prestigious schools.
Therefore, you can stay sure knowing you'll have world-class boob surgery in majestic New Delhi.
What to Expect after Breast Enlargement procedure in Delhi?
After the breast surgery in New Delhi, you can feel weak and sore for up to three weeks. You can expect to feel better a couple of days after the surgery, although you may need painkillers for a while.
Consult with your surgeon to know your options and have realistic expectations of the surgery.
Book Affordable Package for Breast Augmentation Surgery in Delhi, India Today!
Our Boob job package in Delhi can be yours today for only $2,900! Contact us for more details.

Related Experiences:
Breast Augmentation in India
Breast Augmentation in Monterrey Mexico
Breast Augmentation in Guadalajara, Mexico
Breast Augmentation in Izmir, Turkey
Breast Augmentation in South Korea
Breast Augmentation in Croatia
---