Areeva Cosmetic Center Gynecomastia Package in Mumbai India
Package price starting from:
$3500
Treatment:
Cosmetic/Plastic Surgery, Gynecomastia
Location:
office no 3,First Floor,Mahavir centre,Above Golden Punjab Hotel vashi,navi mumbai MAHARASHTRA, India
Focus Area:
Gynecomastia | Plastic Surgery | Cosmetic Surgery | Gynecomastia Surgery in Mumbai India | Mumbai, India | Areeva Cosmetic Center
---
Affordable Gynecomastia Surgery at Areeva Center, Mumbai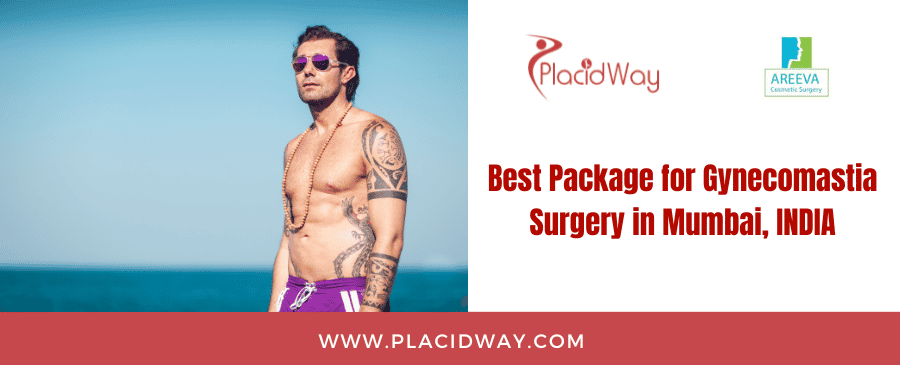 Welcome to Areeva Cosmetic Center in vibrant Mumbai, India. Your journey to regain confidence starts here with our comprehensive Gynecomastia treatment package. Gynecomastia, an enlarged male breast condition, can lead to feelings of embarrassment and self-consciousness. The treatment is a revolution in medical science, transforming the lives of men around the globe.
Mumbai, a bustling metropolis and heart of India's healthcare innovation, is internationally acclaimed for its medical prowess. The city's healthcare institutions, including Areeva Cosmetic Center, have consistently showcased top-tier expertise in various fields, with Gynecomastia treatment being no exception. The clinic boasts a team of proficient doctors and cutting-edge facilities, ensuring a successful and satisfying treatment experience.
Unique to Mumbai, and especially Areeva Cosmetic Center, is the blend of world-class healthcare and local warmth. Our Gynecomastia treatment combines innovative techniques and personalized care, setting Mumbai apart as a treatment destination.
Why Choose Mumbai, India for Gynecomastia Treatment:
Opting for Mumbai, India as your destination for Gynecomastia treatment comes with an array of benefits. Mumbai houses globally recognized medical professionals with exceptional expertise in managing Gynecomastia. At Areeva Cosmetic Center, our team of experts is well-equipped with cutting-edge technology and adheres to international quality standards, ensuring the best outcomes.
Mumbai offers state-of-the-art facilities to conduct this transformative procedure, along with comprehensive aftercare services that underscore the city's dedication to holistic patient care. Further, the city is a melting pot of diverse cultures, offering patients and their companions a myriad of tourism opportunities. From historic landmarks to culinary delights, your medical journey in Mumbai is coupled with an enriching travel experience.
Best Package for Gynecomastia Surgery in Mumbai,INDIA
Do you think that your breasts are too large for a guy? If the answer is YES, the condition you have is gynecomastia or abnormal breast enlargement in men. Gynecomastia may be the result of heredity, hormonal changes, obesity, even tumors or the use of certain drugs like steroids. Male breast enlargement can affect breasts, the entire pectoral area or just the nipple. Actual breast tissue not excess fats are present.
Some men are disturbed with their enlarged breasts that it impairs their self-confidence. Because of the extreme emotional discomfort, some men may avoid intimacy and physical activities to hide their situation. As a solution, the surrounding skin and breast tissue may be removed through gynecomastia surgery or male breast reduction surgery. Sometimes, it can also involve liposuction.
When you have decided to pursue the surgery of gynecomastia in Navimumbai,India, you should do proper research to find the best centers. You have to ensure that the clinics offering this treatment have the required certificates and accreditation to perform the surgery. The last thing that you want to face is legal hassles while undergoing a treatment in abroad. Therefore, you have to be very careful to ensure that you choose the best medical center for gynecomastia in India.
Cost of Gynecomastia Treatment in Mumbai, India:
Gynecomastia treatment cost in Mumbai varies due to several factors such as the severity of the condition, the treatment method, and the surgeon's experience. However, the city is renowned for providing exceptional healthcare services at competitive prices. Treatment costs typically range from 3,000$ - 4,000$ inclusive of pre-operative consultations and the procedure itself. The cost of Gynecomastia Package in Navimumbai, India by Areeva Cosmetic Center starts from $3500 approximately.
At Areeva Cosmetic Center, we offer a variety of payment options and can provide assistance regarding potential financing or insurance coverage. The affordability coupled with the high standard of care makes our Gynecomastia treatment package in Mumbai, India a truly value-for-money proposition.
Cost Comparison of Gynecomastia Treatment  in Other Countries
The cost of Gynecomastia treatment varies significantly across different countries. The factors influencing this cost include the complexity of the procedure, the experience of the surgeon, and the overall healthcare structure in the respective country. In Mumbai, India, the affordability of this treatment is a significant advantage, which has made it a popular destination for medical tourists.
A comparative overview of the average cost of Gynecomastia treatment across India, USA, and UK is as follows:
| | |
| --- | --- |
| Country |  Average Cost |
| India |  $3,000 - $4,000 |
| USA |  $5,000 - $8,000 |
| UK  |  $4,500 - $7,000 |
These prices represent a general range and can vary based on the individual case. It's also important to note that the cost in Mumbai, specifically at Areeva Cosmetic Center, covers not only the surgery but also pre-operative consultations and post-operative care, further enhancing the value for patients.
In comparison, the cost of the same procedure in the USA and UK is significantly higher. While they also offer advanced medical facilities, the affordability of the procedure in India, coupled with the high standards of care, makes Mumbai an attractive option for Gynecomastia treatment.
At Areeva Cosmetic Center, we aim to make our treatments as accessible as possible. We offer various payment options and can provide information on financing or insurance options if available. By opting for treatment in Mumbai, you're not only receiving world-class medical care but also ensuring cost-effectiveness.

Factors that Affect Package Price
Breast asymmetry of the aspiring male
Breast shape irregularities and contour
Chest size
Age
Health
Body Mass Index
Muscular structure of chest
Weight
Nutrition
Cost: The cost of Gynecomastia in Navimumbai,India starts from $3500 approximately.
Note: Final prices are determined after physical evaluation and laboratory reports analysis.
Length of Stay: 1-2 days
Note: The duration may vary depending upon the condition of the patient and the chosen procedure of treatment
Our comprehensive Gynecomastia treatment package at Areeva Cosmetic Center encompasses a myriad of services. Pre-operative consultations to understand the patient's condition, medical tests for safety assurance, the surgical procedure, and post-operative care are all included.
Moreover, we offer medications needed for recovery and additional amenities to enhance your experience. Our patient-centric approach ensures personalized care, keeping you comfortable and well-informed throughout your treatment journey.
Inclusions
Certified Hospital

Surgeon Fees

Anesthesiologist Fees

Surgical and nurse team fees

Blood Work

Medications (antibiotics- pain control)
While our treatment package is designed to cover most expenses related to the procedure, certain services are not included. Travel expenses, accommodation, meals, and any additional medical tests or procedures that may be required outside of the standard treatment protocol are not covered in the package.
These exclusions are due to the variability of these costs depending on personal preferences and individual health conditions. However, our staff can provide assistance and recommendations for arranging accommodations, travel logistics, and meal options to ensure a seamless treatment experience in Mumbai.
Exclusions
Hotel or recovery house
Preoperative lab work
Airfare
List of Required Pre-Op Tests
Evaluation of your breast tissue
Blood tests
Mammograms
Computerized tomography (CT) scans
Magnetic resonance imaging (MRI) scans
Testicular ultrasounds
Tissue biopsies
Note: The laboratory tests are done at least 7-10 days prior to the procedure. The particular tests are prescribed after a complete physical evaluation of the patient.
Payment Options: Cash, credit card, wire transfer
Note: The center may require a money deposit once a patient decides to book the surgery.

Benefits of Gynecomastia Treatment in Mumbai, India
Gynecomastia treatment in Mumbai, specifically at Areeva Cosmetic Center, has changed the lives of many men, enhancing their self-esteem and overall quality of life. Success rates have been remarkably high, largely due to the expertise of our medical professionals and the advanced techniques they employ.
Long-term results include not just a visibly improved physique but also a significant boost in confidence. Our patients consistently report being more comfortable in social situations and having a greater sense of well-being post-treatment. For a deeper understanding of these benefits, we invite you to explore testimonials from our previous patients, reflecting their positive experiences and outcomes.
Boosts Confidence & Self-Esteem

Enjoy a More Masculine Figure

Eases Physical Activity

Improves Posture

Most advanced centers

Best plastic surgeons

Upgraded technology
Complexity Level: Medium
Choosing Areeva Cosmetic Center in Mumbai, India for your Gynecomastia treatment signifies the start of a transformative journey. Areeva Cosmetic Center is a beacon of excellence in the healthcare landscape of India, renowned for its proficiency in treating Gynecomastia.
Our clinic is a unique blend of state-of-the-art facilities, experienced medical professionals, and a patient-centric approach. This harmonious synergy results in a safe, comfortable environment where patients can access the best possible care for Gynecomastia treatment.
The medical team at Areeva Cosmetic Center comprises board-certified surgeons who have demonstrated exemplary expertise in managing Gynecomastia. Their depth of knowledge, coupled with compassionate care, has been instrumental in enhancing our patients' lives. Our medical professionals continuously update their skills, staying at the forefront of the latest techniques and treatments, offering nothing short of the best care to our patients.
At Areeva Cosmetic Center, we pride ourselves on our numerous accreditations and certifications that testify to our unwavering commitment to the highest standards of medical care. Over the years, our clinic has garnered numerous success stories—countless men who've regained their confidence and enhanced their quality of life through our comprehensive Gynecomastia treatment. These stories of transformation and rejuvenation set Areeva Cosmetic Center apart from others in the field.
So why choose Areeva Cosmetic Center in Mumbai, India? It's simple. You're not only choosing a clinic but a partner. A partner dedicated to your health, to your transformation, and to your journey towards renewed self-confidence. At Areeva Cosmetic Center, we're more than just a treatment center—we're your ally in reclaiming the life you deserve.
Risks of Gynecomastia Treatment in Mumbai, India
Like any surgical procedure, Gynecomastia treatment comes with potential risks, including infection, bleeding, or adverse reactions to anesthesia. However, our expert medical team at Areeva Cosmetic Center takes every precaution to minimize these risks. We maintain strict hygiene standards and conduct comprehensive pre-operative assessments to ensure patient safety.
Post-treatment, our dedicated team is readily available to provide support and address any complications promptly. Our commitment is to ensure the safest and most comfortable patient experience possible throughout your treatment journey.
Your Gynecomastia treatment journey at Areeva Cosmetic Center begins with an initial consultation where our specialists will discuss your condition, expectations, and treatment plan. Pre-operative assessments and tests follow to ensure you are a suitable candidate for the procedure.
The surgery, performed under anesthesia, involves removing excess fat and glandular tissue from the breasts. Our surgeons use the latest techniques to ensure minimal scarring and optimal results. Post-operatively, you will be under close observation until recovery, followed by regular follow-ups to monitor your progress.
Specific pre-operative instructions will be provided based on your health condition and the specifics of the planned procedure. At Areeva Cosmetic Center, we strive to ensure that every aspect of your treatment is clearly communicated and well-understood.

Here are some FAQs Related to Gynecomastia Treatment in Mumbai, India:
What is the medical process of Gynecomastia surgery?
Gynecomastia surgery involves the surgical removal of excess fat, glandular tissue, or skin from the male breasts. This can be achieved through various techniques such as liposuction, tissue excision, or a combination of both. The choice of technique depends on the cause and severity of the Gynecomastia.
What recovery can I expect after Gynecomastia surgery?
After the surgery, patients may experience some swelling and discomfort, which is usually controlled with medication. Patients are typically advised to wear a compression garment for a certain period to minimize swelling and support the chest contour as it heals. Normal activities can generally be resumed within a week, while strenuous activities should be avoided for about three weeks.
How long does the Gynecomastia surgery take?
The duration of the surgery depends on the technique used and the individual patient's case. However, on average, the surgery usually takes about one to three hours.
What qualifications do the surgeons at Areeva Cosmetic Center hold?
Our surgeons are highly experienced and hold the necessary certifications in their field. They stay updated with the latest advancements in the field of cosmetic surgery to provide the best possible care to our patients.
Will I be left with scars after Gynecomastia surgery?
Any surgical procedure will leave some form of scar. However, our skilled surgeons make incisions in inconspicuous locations to minimize visible scarring. Over time, these scars will fade and become less noticeable.
Are there any risks associated with Gynecomastia surgery?
As with any surgical procedure, Gynecomastia surgery comes with potential risks such as infection, bleeding, poor response to anesthesia, blood clots, or changes in sensation in the breast area. At Areeva Cosmetic Center, we take all necessary precautions to minimize these risks.
How will I know if I'm a good candidate for Gynecomastia surgery?
Ideal candidates for Gynecomastia surgery are men who are in good physical health, have realistic expectations, and are bothered by the feeling that their breasts are too large. A consultation with our specialist will help determine if this surgery is right for you.
Is the result of Gynecomastia surgery permanent?
The results of Gynecomastia surgery are typically long-lasting. However, significant weight gain, steroid use, or certain medical conditions could result in a recurrence of Gynecomastia.
Final Thoughts:
Choosing the Gynecomastia treatment package at Areeva Cosmetic Center in Mumbai, India, promises a transformative journey. The package not only stands out for its affordability but also its unparalleled quality of care. Our advanced facilities, experienced professionals, and the comprehensive nature of the treatment offer great value for patients.
Areeva Cosmetic Center's Gynecomastia treatment package is an investment in yourself. It's an opportunity to regain confidence, improve your physique, and enhance your quality of life. We encourage you to make this empowering decision and begin your journey towards a new, confident you.
Are you ready to embrace this transformative journey? At Areeva Cosmetic Center, we're eager to help you on your path to renewed self-confidence. Contact us today to learn more about our Gynecomastia treatment package. You can reach us for more information or to book a consultation. Our friendly staff is ready to answer your questions and guide you through the process.
Don't wait any longer. Reach out to us and embark on your journey to confidence and improved well-being today. At Areeva Cosmetic Center, we're with you every step of the way.

Related Experiences:
Gynecomastia Surgery in Mexico City, Mexico
Gynecomastia in Mexico
Plastic Surgery in Mumbai, India
Brazilian Butt Lift in India
Rhinoplasty in India
Breast Augmentation in India
---