Quality Hair Transplant at Areeva Cosmetic Center, Mumbai, India
Package price starting from:
$2000
Treatment:
Cosmetic/Plastic Surgery,Hair Transplantation, Follicular Unit Transplantation FUT, Follicular Unit Extraction FUE, Hair Restoration and Transplantation
Location:
office no 3,First Floor,Mahavir centre,Above Golden Punjab Hotel vashi,navi mumbai MAHARASHTRA, India
Focus Area:
Hair Transplantation | Hair Loss Treatment | Areeva Cosmetic Center | Mumbai | India
---
Best Hair Transplant Package in Mumbai, India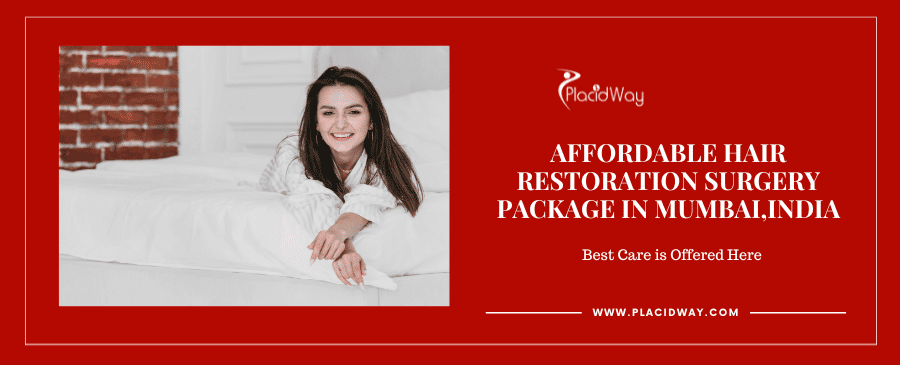 Are you tired of dealing with Hair Loss and its impact on your confidence? Look no further! Mumbai, India is now offering affordable hair restoration surgery that can unlock your confidence and transform your life. With state-of-the-art facilities and highly skilled surgeons, Mumbai has become a hub for individuals seeking effective and affordable solutions for hair loss.
Whether you are experiencing male pattern baldness, receding hairline, or thinning hair, this vibrant city has a wide range of hair restoration options to suit your needs. From advanced techniques like FUE (Follicular Unit Extraction) to traditional methods like FUT (Follicular Unit Transplantation), the surgeons in Mumbai are equipped with the latest technologies and expertise to deliver outstanding results. Don't let hair loss hold you back any longer - take the first step towards regaining your confidence by exploring the affordable hair restoration surgery options in Mumbai, India.
Understanding the impact of hair loss on confidence
Hair loss can have a significant impact on a person's confidence and self-esteem. It is not merely a physical issue but can also affect one's emotional well-being. Many individuals experiencing hair loss may feel self-conscious, which can lead to social anxiety, decreased self-confidence, and even depression. Hair is considered an essential part of one's identity and plays a crucial role in how we perceive ourselves and how others perceive us. The loss of hair can make individuals feel less attractive and older than they actually are.
Hair restoration surgery offers a solution to these challenges by restoring the natural hairline and density, helping individuals regain their lost confidence. It is a transformative procedure that can improve not only the physical appearance but also the mental and emotional well-being of the person. By addressing the root cause of their hair loss, individuals can regain their sense of self and feel more confident in their personal and professional lives.
What is hair loss and its causes?
There are many different reasons for hair loss. The most common reason for both Male Pattern Hair Loss and Female Pattern Hair Loss is androgenetic alopecia, which is genetic. With Male Pattern Hair Loss, we usually see a defined bald spot, for example, a receding hairline, or a balding spot in the back of the head. In Female Pattern Hair Loss, the hair loss is spread throughout the whole scalp and usually not in a focal area. Therefore, women experienced a generalized thinning of their hair density.
Hair Transplant Techniques
There are two main types of hair restoration procedures used in our clinic, which are Follicular Unit Extraction (FUE) and Direct Hair Implantation (DHI).
FUE: FUE is an advanced non-surgical hair restoration technique. This minimally invasive procedure doesn't leave any linear scar or requireany stitches. With this technology, the follicles are taken from the donor area by using a micromotor and transplanted into the receiving area by opening fine channels in the bald areas with precise medical forceps.
DHI: Hair follicles are extracted one by one from the donor area using a specifically designed disposable tool with a diameter of 1mm or less. The hair follicles are then implanted directly into the region with hair loss using the DHI Implanter without prior creation of holes or slits.
Affordable Hair Restoration Surgery Package in Mumbai,India
Hair loss is a common issue that can affect people's self-esteem and confidence. Hair transplantation is a surgical procedure that can help restore lost hair and improve one's appearance. Mumbai, India has become a popular destination for hair transplantation due to its affordable packages and high-quality medical service.The Areeva Cosmetic Center offers an excellent hair transplantation package that includes a range of benefits and services. Check our packages detail below for more information.
| | | | |
| --- | --- | --- | --- |
| Package | Cost | Clinic | Location |
| Hair Restoration Surgery Package | $2,000 | Areeva Cosmetic Center  | Navi Mumbai, India |
When it comes to the cost of hair transplant in Mumbai, affordability meets quality. Prices for hair transplant treatment start at around $2,000, depending on the patient's needs. Several factors influence the cost, including the extent of hair loss, the desired density, the technique used, and the experience of the surgeon.
At Areeva Cosmetic Center, we believe in providing our patients with the best value for their money. We offer multiple payment options and provide assistance to help you navigate through any insurance or financing queries. The investment made in this procedure yields returns that are priceless – a full head of hair and renewed self-confidence.
You can get hair transplantation packages in Navimumbai,India with the price starts at: $2,000. Check our price list table below to learn more:
| City, Country | Cost in USD |
| --- | --- |
| India | $2,000 |
| United Kingdom | $16,148 |
| United States | $10,000 |
Note: price may change and vary depends on complexity of procedures and patient condition.

Get your hair back with a discount package price including:
Hair transplantion

2 nights stay at hotel

hotel/airport/hospital transfers

mesotherapy (vitamin injection to hair)

Mini check-up from Academic Hospital
Accommodation: The hair transplantation package at the Areeva does not include accommodation. Patients are responsible for arranging their own accommodation during their stay in India.
Flights: The package does not cover flights to Istanbul. Patients must arrange their travel to and from India.
Personal expenses: Patients are responsible for their personal expenses, such as food, transport, and other non-medical expenses.
Additional medical procedures: The package does not cover any additional medical procedures that may be required before or after the hair transplantation procedure.
Visa fees: Patients must arrange and cover their visa fees to enter India.

Hair Transplantation Pre-Op Tests in Mumbai India
Blood tests: Patients will need to undergo blood tests to assess their overall health status and identify any potential health issues that may affect the procedure's safety.
Scalp analysis: The medical team will conduct a scalp analysis to determine the hair density and identify the best hair transplantation technique.
Medical history review: Patients will need to provide their medical history to ensure that they are suitable candidates for the hair transplantation procedure.
Physical examination: The medical team will conduct a physical examination to assess the patient's overall health status and identify any physical factors that may affect the procedure.
Psychological assessment: The medical team will conduct a psychological assessment to ensure that patients are mentally prepared for the procedure and have realistic expectations.
Advantages of Hair Transplantation in Mumbai, India
When it comes to hair transplantation, Mumbai, India offers a unique combination of benefits that make it a highly attractive destination for individuals seeking this life-changing procedure.
Expertise and Innovation: Mumbai is home to many renowned hair transplant clinics, like the Areeva Cosmetic Center, known for their high level of expertise and innovation in the field of hair transplantation. The surgeons are often globally trained and certified, adhering to international standards of practice, which results in a high success rate and patient satisfaction.
Advanced Technology: The clinics in Mumbai utilize the most advanced technology for hair transplant procedures. Techniques like Follicular Unit Extraction (FUE) and Direct Hair Implantation (DHI) are commonly offered, ensuring natural-looking results with minimal downtime.
Cost-Effectiveness: Hair transplantation in Mumbai is significantly more affordable compared to many western countries. Without compromising on the quality of treatment, patients can save up to 60-80% on the total cost, which includes the procedure, medication, and aftercare.
Comprehensive Care: Most clinics provide comprehensive treatment packages that include the procedure, pre and post-operative care, and sometimes even accommodation and transport. This ensures a hassle-free experience for international patients.
Cultural Experience: Apart from the medical advantages, choosing Mumbai for hair transplantation also offers patients the opportunity to experience India's rich culture and warm hospitality. Renowned for its diverse cuisine, historic landmarks, and vibrant markets, patients can transform their medical journey into a memorable travel experience.
Minimal Waiting Time: Unlike in other countries, where patients may have to wait for months for their procedure, in Mumbai, the waiting period is significantly less, ensuring quicker access to treatment.
Risks of Hair Transplant in Mumbai, India
Like any surgical procedure, hair transplants do carry some risks such as infection, scarring, and unnatural-looking new hair growth. However, at Areeva Cosmetic Center, we take stringent measures to minimize these risks. Our medical team provides thorough pre-operative consultations and uses sterile techniques to ensure patient safety.
Post-treatment, patients receive detailed instructions on wound care, potential signs of complications, and a comprehensive follow-up plan. Our team is readily available to support patients and address any concerns that may arise.

The hair transplant process in Mumbai begins with an initial consultation, during which our specialists assess the patient's hair loss and discuss their expectations. Based on this, a customized treatment plan is devised.
On the day of the surgery, hair follicles are extracted from the donor area, typically the back of the head, and then implanted into the balding areas. At Areeva Cosmetic Center, we use advanced techniques such as Follicular Unit Extraction (FUE) and Follicular Unit Transplantation (FUT) to ensure optimal results.
Post-surgery, patients are briefed on aftercare measures to aid the healing process and enhance the results of the transplant. Through every step of this journey, our team remains dedicated to providing the best possible care, ensuring a seamless and comfortable experience for our patients.
Aftercare and recovery tips
The success of hair restoration surgery in Mumbai depends not only on the procedure itself but also on the aftercare and recovery process. Here are some essential tips to promote healing and optimize results:
Follow post-operative instructions: Your surgeon will provide you with specific post-operative instructions that should be followed diligently. This may include avoiding strenuous activities, refraining from touching or scratching the scalp, and taking prescribed medications.

Protect the scalp: Protect your scalp from excessive sun exposure by wearing a hat or using sunscreen. Direct sunlight can damage the newly transplanted hair follicles and hinder the healing process.

Gentle hair care: Be gentle when washing and handling your hair during the initial healing phase. Use a mild shampoo recommended by your surgeon and avoid rubbing or scrubbing the scalp vigorously.

Healthy lifestyle: Maintain a healthy lifestyle by eating a balanced diet, staying hydrated, and getting regular exercise. A healthy body promotes faster healing and optimal hair growth.

Follow-up appointments: Attend all scheduled follow-up appointments with your surgeon to monitor your progress and address any concerns or questions you may have.

By following these aftercare tips, you can ensure a smooth recovery and maximize the results of your hair restoration surgery in Mumbai.
When it comes to hair transplant procedures, Areeva Cosmetic Center in Mumbai, India, sets itself apart through its commitment to quality, expertise, and personalized patient care. The center boasts a team of highly trained and experienced medical professionals who specialize in hair transplant procedures, utilizing the latest advancements in technology to deliver superior results.
Areeva Cosmetic Center holds accreditations and certifications that attest to its adherence to international standards of safety and quality. We pride ourselves on the high level of expertise within our team, ensuring each patient receives the utmost care. Our success stories are a testament to our dedication and proficiency, with countless satisfied patients enjoying the benefits of our treatments.
Our clinic's environment strikes a balance between professionalism and comfort, creating a space where patients feel at ease as they embark on their hair restoration journey. The Areeva team prioritizes transparent communication, allowing patients to fully understand the procedure and set realistic expectations.

As the decision to undergo a hair transplant is an important one, it's natural for prospective patients to have several questions. In this section, we aim to address some of the most frequently asked questions about hair transplantation at Areeva Cosmetic Center in Mumbai, India, in an effort to provide clarity and help you make an informed decision.
1. What type of hair transplant procedures are offered at Areeva Cosmetic Center?
At Areeva Cosmetic Center, we offer various types of hair transplant procedures including Follicular Unit Extraction (FUE), Direct Hair Implantation (DHI), and more. Our doctors will recommend the most suitable procedure based on your individual needs and condition.
2. Who is an ideal candidate for a hair transplant?
Generally, an ideal candidate for a hair transplant is someone who is in good overall health, has a sufficient amount of healthy donor hair, and realistic expectations about the results. However, the final determination will be made by our experienced doctors after a thorough examination.
3. How long does a hair transplant procedure take?
The duration of a hair transplant procedure varies depending on the technique used and the number of grafts needed. However, most procedures typically take between 4 to 8 hours.
4. Is the procedure painful?
Hair transplant procedures are performed under local anesthesia, which means you should not feel any pain during the procedure. Any discomfort or pain after the procedure can be managed with prescribed medication.
5. What is the recovery time?
The recovery time can vary, but most patients can return to non-strenuous work within a few days. The transplanted hair usually begins to grow 3 to 4 months after the surgery, with full results visible after about 12 to 18 months.
6. What are the risks and complications associated with hair transplant?
Like any surgical procedure, hair transplant also has some risks such as infection, bleeding, scarring, and unnatural-looking results. However, at Areeva Cosmetic Center, we take all necessary precautions to minimize these risks.
7. How much does a hair transplant cost at Areeva Cosmetic Center in Mumbai, India?
The cost of a hair transplant at Areeva Cosmetic Center is significantly more affordable compared to other countries. However, the exact cost depends on the specific procedure and the number of grafts required. Please contact us for a personalized quote.
If you have any other questions, please don't hesitate to contact us. Our team is always ready to assist you.
Final Thoughts:
Choosing the hair transplant package in Mumbai, India, particularly at Areeva Cosmetic Center, provides patients with a unique blend of high-quality care, affordability, and a transformative experience. We are committed to helping our patients regain not just their hair, but also their confidence and zest for life.
With the combination of our experienced medical professionals, cutting-edge technology, and adherence to international standards, patients can rest assured they are in good hands. Our success stories echo the excellence and commitment we dedicate to every single procedure.
Ready to regain your hair and confidence? Your journey towards a fuller head of hair begins with a simple step. Reach out to Areeva Cosmetic Center to schedule your consultation and learn more about our hair transplant procedures. Our team is ready to guide you through the process and address any queries you may have. Your transformation is just a call away!

Related Experiences:
FUE Hair Transplant in Turkey - Regain Natural-Looking Hair!
Hair Transplant in India
The Guide to Choosing Hair Transplant in Mexico
Reasons to Choose Hair Transplant in Istanbul - Turkey
Hair Transplant in Turkey
Hair Transplant in South Korea
---