3rd International Medical Tourism Exhibition and Congress Oman 2015
Under the patronage of the Ministry of Health, the IMTEC Oman 2015 Exhibition & Conference will take place in January 19-21 2015 at the Oman International Exhibition Center. Targetting all aspects of the health & wellness industry, IMTEC Oman 2015 will yet again be opening its doors for health products companies, health services and facilities, and give the opportunity for new developments and trends, trade and investment in the medical tourism industry.
19 January 2015
Event Location : Oman International Exhibition Center , Muscat , Oman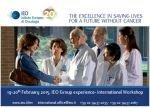 IEO Group Experience- International Workshop
Following up on the success of our previous international workshop in October, the European Institution of Oncology will be working again with the Centro Cardiologico Monzino to recreate this event for those who were not previously able to attend, on19th and 20th February 2015.
19 February 2015
Event Location : , Milan , Italy