Hospitadent provides a unique combination of quality dentistry and holiday in Istanbul, Turkey. It is possible to pick up foreign guest from Ataturk and Sabiha Gokcen Airport to Hospitadent. We also give help to our guests for hotel accommodation besides sight seeing tours and city guidance services. You can be sure to choose a great dental center in Turkey.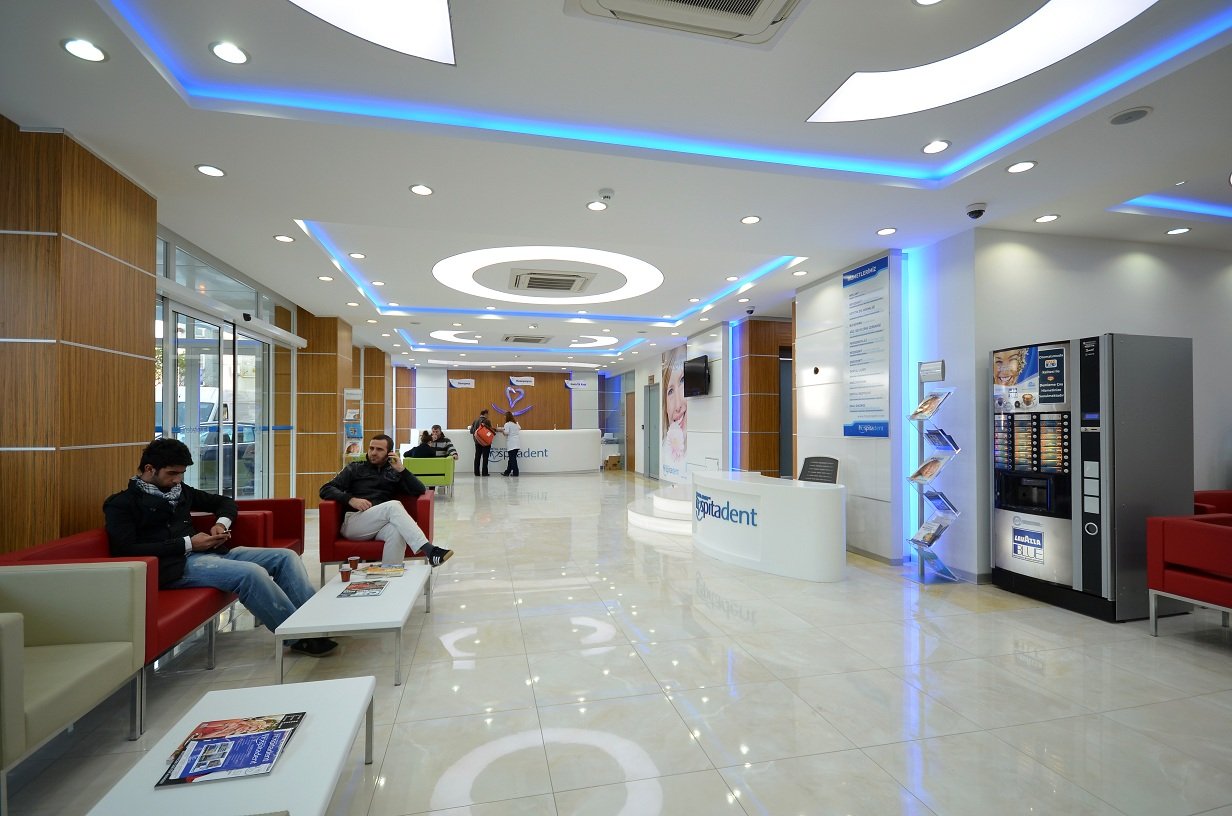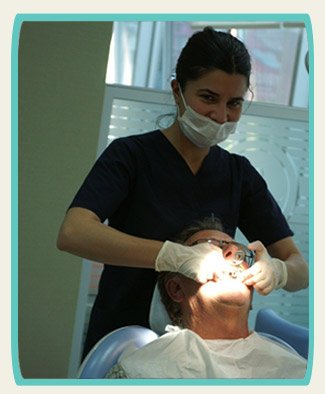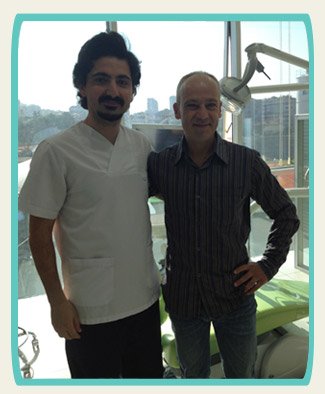 Hospitadent Dental and Oral Health Centre is an enterprise giving service complying with the norms of international standards thanks to its specialized dental physicians as well as its complete medical installations and infrastructure. Hospitadent has aimed to serve all patients all around the world foremost the patients from European Countries. At this point, dental health tourism is a focus subject for our dental clinic here in Turkey. So if you are looking for a great, affordable dentist in Turkey, this is the perfect place.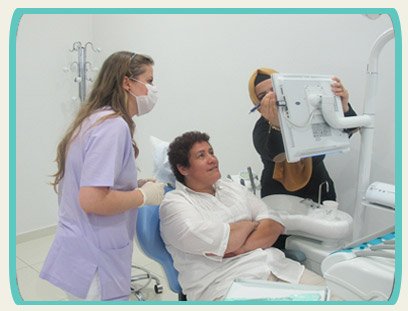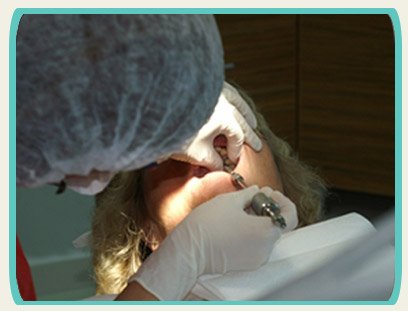 We are supplying following services in accordance with our goals
Laser Clinic Services

Operation Room's

Dental Radiology

Implant

Pedodontia

Periodontology

Prostheses Applications

Endodontic

Oral dental and maxillofacial surgery

Orthodontics

Bleaching

In our Hospital, all kind of modern dentistry services are conducted by our highly experienced dentists in a fully sterile environment equipped with high-tech dental devices.
We provide to our patients a modern operating room and, digital panoramic (detailed radiographs of the oral cavity) and cephalometric x-ray film opportunities as well as 24/7, 365 days a year "on-call" patient service.
The treatment planning procedures are carried out precisely especially considering the period of stay of our foreign guests in order to complete any kind of dentistry services in shortest time including aesthetic tooth replacement using implants or denture prosthesis.
In case of any dissatisfaction, repeating the treatment is possible under warranty scope. This is why getting cheap dental implants in Turkey will be the best decision you ever took.
It is possible to pick up our foreign guests from the airport as our Hospital is only 10 minutes driving distance from there.
We also give help to our guests for hotel accommodation besides sightseeing tours and city guidance services.
Our Hospital is certified with ISO 9001:2000 quality management systems certificate.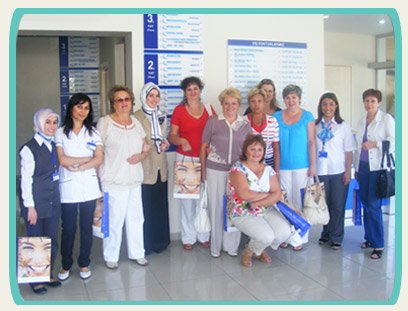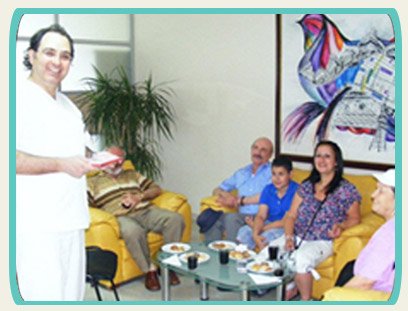 Turkey located in an important geothermal zone is among the first seven countries which are rich for natural springs. Therefore, Turkey is one of the first remembered countries when it comes to health tourism. Subsequently, Istanbul is among the most significant touristic places of Turkey. So if you are looking for the best dentist in Turkey, you have come to the right place.

We are proud of giving opportunity to our foreign guests to stay in Istanbul and visit the touristic places of this beatiful city during their treatment period. We are also aware of the high prices of dentistry services in other countries. Thus, we are ready to host the World People for their dental treatments in Turkey and touristic visits.
Dental Health Tourism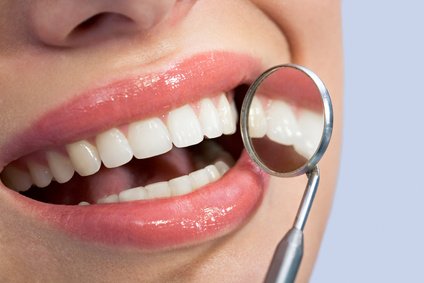 State of the art medical equipment and expert doctors, beautifully decorated hospitals and lower prices are the main tourist attractions; Turkey has been placed on tourism maps thanks to its beauty, history, historical sights, warm-hearted people and vivacious shopping.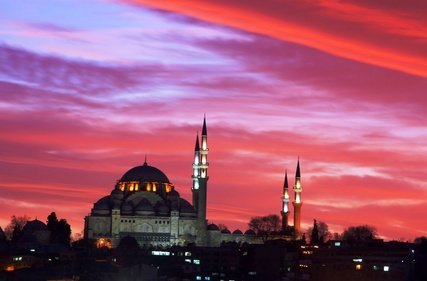 It seems that supreme health services will be added to that list, and with greatly lower prices than in Europe or America. Turkey has seen its opportunity in the fact that 5 million people travel to other countries to get medical treatments annually. Turkey has attracted 100,000 international patients, but the country has greater ambitions – it is hoped that Turkey will attract 1 million of international patients by year 2015. So imagine how great it would be to practice dental tourism in Turkey.

Turkey has state of the art private hospitals equipped with the most modern medical devices, educated experts-many of whom were educated in American and European universities-and new hospitals that have recently been built. Turkish hospitals have the certification which guarantees the highest customer service and many of these hospitals have established collaborations with other respected international hospitals. So contact us if you want to reach a great dentist in Turkey.

What truly makes Turkey attractive to international health tourists are low prices, service quality and great organization. The Turkish hospitals mainly those in Istanbul have been attracting more and more patients from overseas countries in recent years. Many people from European, North African, Middle Eastern and Central Asian
countries have been coming to Istanbul for their medical and healthcare needs, treatments and surgeries. So this is the destination, get your dental implants in Turkey.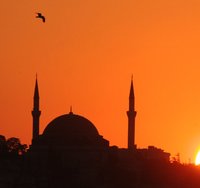 Turkey is a country with a fascinating culture and history, warm friendly people and a pleasant climate with refreshing breezes from the Aegean. Lying at a strategic meeting point of Europe and Asia, Turkey offers the traveler a harmonic blend of the exotic and the familiar. With its extraordinarily rich mixture of archaeology, history, culture and magnificent view, Turkey is a great setting to enjoy all kinds of holidays. And if you're considering dental treatment abroad you will find high quality facilities for almost lower prices in Turkey. Just like Hospitadent Dental Hospital in Istanbul.

Istanbul, historically known as Byzantium and also Constantinople, is the largest city in Turkey with a population about 14 million, which is nearly 18% of Turkey's population. Istanbul is also a megacity, as well as the cultural, economic, and financial centre of Turkey and of the World.

Istanbul is the capital with well served airlines. Istanbul is located on the Bosporus and encompasses the natural harbour known as the Golden Horn, in the northwest of the country. It extends both on the European and on the Asian sides of the Bosporus, and is thereby the only metropolis in the world that is situated on two continents. Istanbul is a designated alpha world city. During its long history, Istanbul has served as the capital of the Roman Empire (330–395), the Eastern Roman (Byzantine) Empire (395–1204 and 1261–1453), the Latin Empire (1204–1261), and the Ottoman Empire (1453– 1922). When the Republic of Turkey was proclaimed on 29 October 1923, Ankara, which had previously served as the headquarters of the Turkish national movement during the Turkish War of Independence, was chosen as the new Turkish State's capital. Istanbul was chosen as a joint European Capital of Culture for 2010 and the European Capital of Sports for 2012