Welcome to VIMED CELL

Just because you reached a certain age is no reason to settle with feeling a bit old or tired. New technology, therapies and treatments have already been available for half a century and VIMED CELL has them all!
In just three days, VIMED CELL's most innovative and effective therapies will make you feel younger and charge your body's batteries. You will feel rejuvenated, energetic and have a more optimistic look at life.

For more than 40 years experience, VIMED CELL experts have had successful results and our quest for the highest quality along with the required know-how enabled us to become the best in Laser and Cell Therapy and research. VIMED CELL is now Germany's excellence centre for high standard Cell and Blood Laser therapy.
Certified and experienced doctors with great credentials and feedback, along with the most advanced technique provide real results. The best results allowed VIMED CELL experts to carry on treating people from around the world with no interruptions, whatsoever.

Here is what we do:

Preventive medicine by means of extensive preventive diagnostics means first and foremost an integrated view of the individual. At the VIMED CELL Health Centers we want to form an informative picture of you and your health. We shall take much time with you to achieve this.
In the '70s, Cell therapy was one of the most thrilling and fashionable trends. Now, in the XXI century, Cell therapy has evolved and patients with serious illnesses, some of which considered until recently incurable, are going for this therapy and making great progress.
Cells are the best alternative in medical therapeutic treatments, with more than half a century of convincing results.
Cells help you stay fit, mobile and witty! It is no wonder that, ever since its discovery, it has been popular with notorious personalities like Charlie Chaplin, Pope Pius XII, Emperor Hirohito, Emperor Haile Selassi, King Ibn Saud, Konrad Adenauer and many more.

Unique anti-aging treatment by VIMED CELL! Combining Cells with the IV laser therapy.
Today, we understand the aging of organs, that is essentially mitochondrial degeneration, since the unprotected DNA is exposed to various mutations in the mitochondria, which decreases the energy reception and lead to the aging of the cells.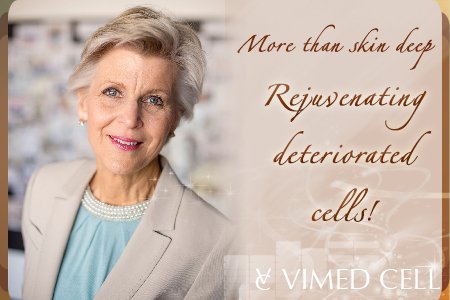 Our life develops under the spectral colors. Our energy sources are the mitochondria and the various complexes of the mitochondrial respiratory chain, where the ATP - our life energy is produced. They absorb the spectral colors and are stimulated, leading to an increased production of ATP, improving energy levels. This is where the intravenous laser therapy is most effective - as it provides energy to the body directly through the bloodstream instead of only from the outside.
Furthermore, through the increased serotonin release, an extremely strong antidepressant effect occurs, which is crucial for Burnout or CFS or fibromyalgia syndrome.
Our customers feel better, sleep better and have more energy.

The intravenous laser blood irradiation has been with us for 25 years. This type of laser beam goes directly into the blood flow through a one-way-catheter. It has a general energizing effect, immune enhancing and metabolic optimization, thus offering a very successful way to treat a variety of intractable diseases such as: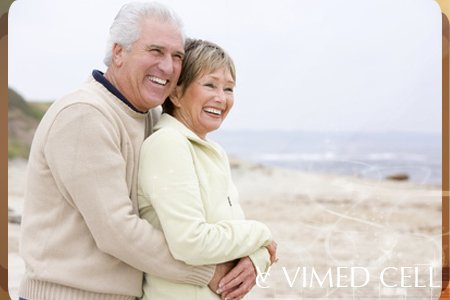 Diabetes

Cardiovascular diseases

The immune system

Depression and burn-out

The hormone system
Further research is also underway to treat fatigue syndrome and sensomotor functions in patients with multiple sclerosis.


You can find our great credentials, flattering testimonials and extensive experience for over 40 years in rejuvenation therapies to be real.
VIMED CELL Germany is the best option to make you feel younger. Laser Systems are FDA approved.
More than 75% of our patients come back to ensure their health with this therapy. You can join them at the touch of a button.

Feel better now!
Contact us to see how
the ancient "Mens sana in corpore sano" saying
can be a reality for you
with VimedCell's knowledge and medical equipment!