Welcome to Dentart!
Implant and Aesthetic Dentistry in Istanbul, Turkey

Dentart Implant and Aesthetic Dentistry is catering to international customers with high precision diagnostic equipment, in a friendly and spotless environment using a wide range of techniques perfected over the years by the top Dentart dentists.

More confident smiles, every time!

By using a mix of modern technology, innovative methods and materials, professionalism and care, at Dentart we help our patients smile more often and be confident.
Dentart specializes in dental implants and aesthetic dentistry, and that is why Dentart Dental Implants will be the highest quality work you could ever benefit from in Turkey and even throughout Europe and Asia.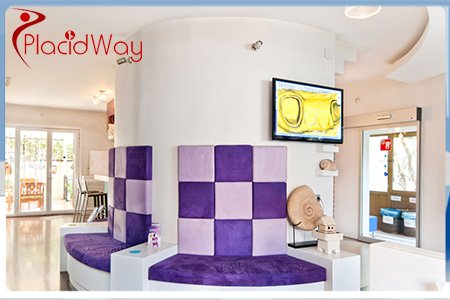 To be able to provide such quality work, Dentart's dentists are countinuously training to be up-to-date with the latest technologies and developments in the dentistry and specifically in dental implants.
The multi speciality dental polyclinic and specialized in implant & aesthetic dentistry, is very important for patients because having their perfect smile here, at Dentart is not only a pleasant experience, but it is also the high quality dental work that is making our patients always smile from ear to ear!
Treatments at Dentart Implant and Aesthetic Dentistry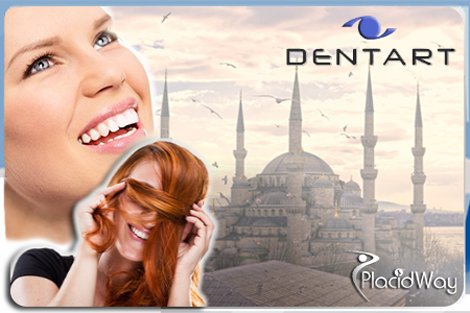 General Dental Treatments
All dental treatments are guaranteed, for your convenience and safety!

Dentart Implant and Aesthetic Dentistry can
handle easily very complex dental works!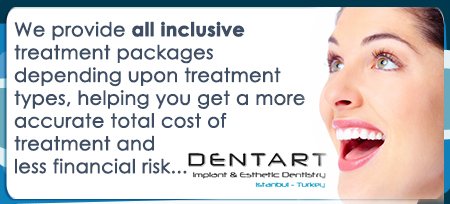 Why Dentart in Istanbul, Turkey?
Extensive range of dental treatments, complete diagnosis and all dental services in one place

Highly trained dentists focused and specialized on aesthetics (smile design), implant dentistry and facial rejuvenation

Dental treatments and surgery under total anesthesia and sedation for nervous patients

A friendly approach to patients with consultation

Highest hygiene standards in equipments and all appliances

Highest quality in dental diagnosis and treatment technologies

End to end travel assistance (Appointments, Accommodation and Leisure Services)

24 Hours emergency assistance during your treatment and visit in Turkey

Use of certified materials and high quality dental materials only

End to end integrated workflow in the best dental laboratory for the most qualified output

Competitive fee structure compared to your own country.
A journey in Istanbul, Turkey...
For most, a trip in the bizantium era, yet Istanbul is also a romantic destination where the east meets the west.
Being the only city in the world that is part of two continents, Europe and Asia, it will amaze and make you come back again and again.
Dentart is a part of this wonderful metropolis where your dentaltreatment will give a new meaning to caring quality!

Use the button below to ask for a free quote and see how Dentart can make you smile more often!