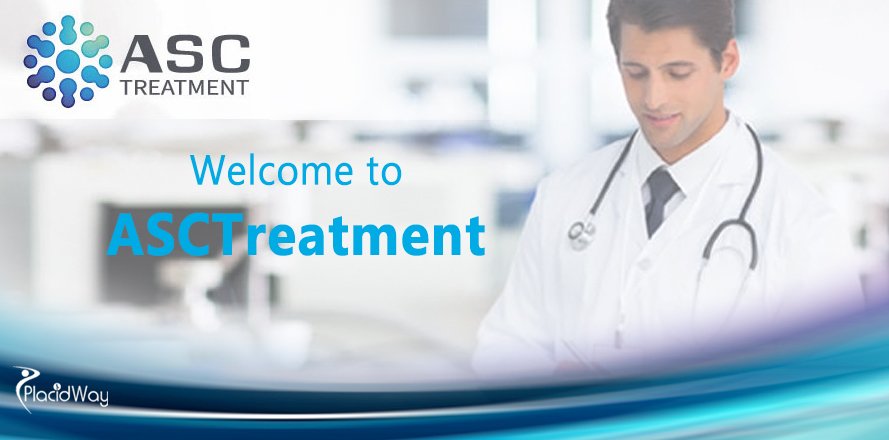 Welcome to ASCTreatment
ASCTreatment is a clinic which specializes in Autologous Stem Cell Treatment (ASCT), offering patients the opportunity to repair the damage done to their bodies by trauma, diseases, aging or congenital defects.
The Autologous Stem Cell Treatment helps the body undergo the process of repair, regeneration and replacement of the damaged cells in organs and tissues, restoring and re-establishing normal bodily functions. The clinic is dedicated to offering the finest quality and highest quantity stem cell based products available. The medical team is continuously exploring new ways to apply stem cell therapy for various medical conditions.
What are Autologous Pluripotent Stem Cells?
ASCTreatment specialises in using the one-of-a-kind product, autologous pluripotent stem cells, in administering stem cell therapy. Unlike most stem cell therapy and transplants, our stem cell therapy is quick, easy, and relatively painless. This is an innovative new product that promises effective therapy as they occur in large numbers and have powerful transformative abilities. The complicated and painstaking donor-matching process of stem cell transplants is forgone for simple blood extractions and injections. This eliminates the risks and lengthy process of getting stem cell transplants.
ASCTreatment has administered cell therapy in over 300 instances to the clients' safety and satisfaction. Experience the revolutionary form of stem cell therapy with ASCTreatment that thrives in providing treatments that are a cut above the others.
Pluripotent stem cells set ASCTreatment apart from other forms of stem cell therapy. Our stem cell treatments are safe, effective, quick, and simple.
Simple and minimally invasive
Pluripotent stem cell therapy uses blood extractions and injections to extract and reintroduce stem cells into your body. No lengthy donor-matching processes or painful extraction procedures are required. This simple and minimally invasive method of administration streamlines your therapy so that it can easily be integrated into your life.
Quick and streamlined
Our stem cell culture process can be completed within 3 to 4 days. Your treatment will begin with a blood extraction, followed by cell culture, and reinfusion. Your presence is only required for the first and last step of extraction and reinfusion, leaving you minimal disruption to your life.
Safe
Our stem cells are administered in over 300 instances and were proven to be safe and effective in treatment. All our clients have reported only beneficial effects, and no significant side effects were observed in any of these cases.
Effective
Our stem cell culture process produces incredibly high stem cell counts of approximately 500 million to over 1 billion cells(8 to 10 times more stem cell than any competitors) without any genetic manipulation. Our unique stem cells are also able to transform into all types of body cells, thus repairing and regenerating multiple types of cells in your body. Rest assured that you will observe beneficial effects in some form when the stem cells are reintegrated into your body.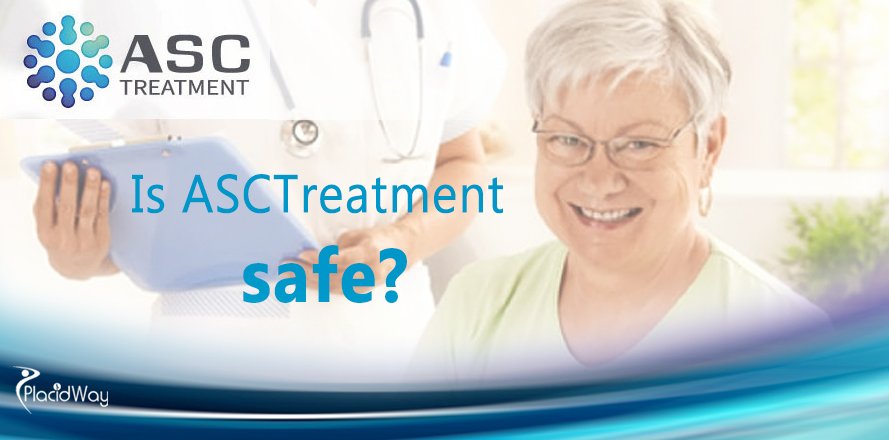 Is Autologous Pluripotent Cell Therapy Safe?
The very nature of our stem cells makes it safe for use in your body. Add that to the multiple safety measures adopted by ASCTreatment and you will find yourself receiving cell therapy of unrivalled safety.
Our stem cells are autologous, meaning they are sourced from your own body, thus making it unlikely that you body will reject the subsequently reinfused stem cells.
The stem cells are cultured in a closed-loop system. The culture process is done without the extracted blood leaving the sterile container that it was collected in. This ensures that the handling of cells is free of contamination, and will not cause infection when reinfused into your body.
Our culture process yields a high stem cell count through unique laboratory processes that are free of genetic manipulation and animal culture serum. This eliminates the risk of mutation and tumour mutation.
Most importantly, every stem cell procedure conducted at ASCTreatment is automatically insured with one of Australia's largest insurers, Vero. This covers for up to AUD 20 million should any loses occur, and ASCTreatment is the only stem cell therapy firm to provide this advantage.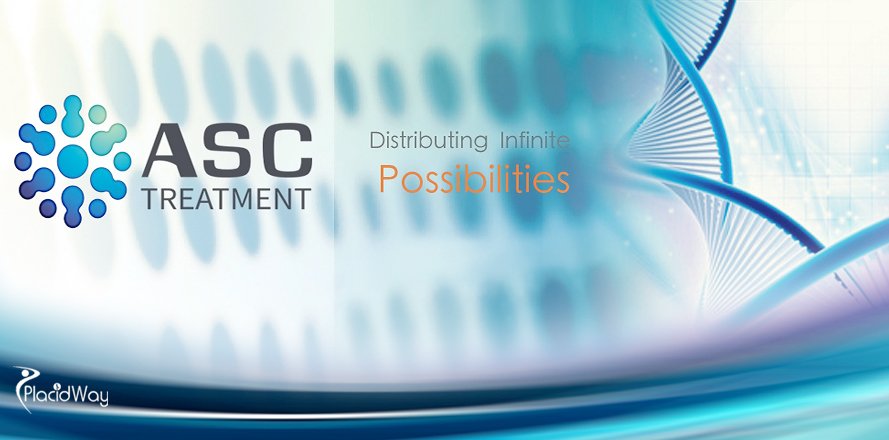 What Kind of Therapy Can I Get?
ASCTreatment has a versatile form of stem cell therapy. In particular, we offer stem cell therapy for joint pain alleviation, facial cosmetic rejuvenation, and a general intravenous treatment that promotes wellness and reinforces the immune system. These treatments offer the most comprehensive stem cell treatment to our clients.
Joint pain is a common complaint that we get from our clients. Fortunately, our stem cell therapy provides a strong and therapeutic effect for joint pain alleviation. The pluripotent stem cells seek out the joint, muscle, or bone that requires repairs, and form new structural support cells. This is akin to lubricating a rusty hinge. It offers pain relief so that clients can regain optimal motor function.
Stem cells may also be reintroduced to your body through joint injections. This is an effective method for alleviating any joint pains you may experience such as sport injury and arthritis. Your own stem cells are directly injected into the ailing joint(s) through this process that takes only several minutes to complete. However, you are advised to stay rested after the injection to avoid pain or discomfort.
Facial cosmetic procedures
ASCTreatment is also a prominent provider of cosmetic-enhancing stem cell therapies. This provides an effective alternative to those who are sick of investing in costly face creams to no avail. Our stem cell therapy provides cosmetic rejuvenation properties, allowing clients to restore their skin to its youthful prime. This treatment involves a number of facial injections that deliver regenerative stem cells to eliminate wrinkles, frown lines, and other imperfections.
Dermal injections for cosmetic rejuvenation
The dermal layer (middle layer) of the skin is the prime target for stem cell introduction as it allows the cells to carry out their functions optimally. Facial cosmetic rejuvenation takes the form of an injection of stem cells into this layer of the skin to reduce wrinkles or other imperfections. This method is best complemented with skin needling due to the limitation of uneven stem cell spread.
Skin needling for cosmetic rejuvenation
Skin needling creates microscopic injections on the facial skin that stimulates growth factors and collagen production to promote healing. This method of stem cell introduction provides more extensive coverage for even cell spread. The microscopic channels allow stem cells to penetrate the dermal layer of the skin to carry out their regenerative effects. Scarred or worn tissue are then able to be replaced with the newly differentiated skin cells.
Additionally, ASCTreatment also provides a general intravenous treatment for those who want a holistic approach to improving their health. This treatment takes the form of an IV drip that funnels stem cells into the clients' bodies. The stem cells travel along the blood stream in the body and take root wherever repairs need to be made. This treatment is beneficial not only for those recovering form disease, but also to able-bodied individuals. In healthy clients, these stem cells will strengthen the immune system, and provide immediate rejuvenation to any imminent damage that could be done to the body.
Intravenous reinfusion is the most common form of reinfusion, and is conducted for those seeking whole body rejuvenation. This process takes the form of an injection in the veins of the arm, where the stem cells will be reintroduced and circulated within the body. Reinfusion may take 1.5 to 3 hours, after which the stem cells will seek out the parts of your body that would benefit from repair and maintenance.
What Does My Treatment Entail?
Once you decide to undergo ASCTreatment's stem cell therapy, you will be required to provide some medical information so that your suitability can be determined. This information includes your:
Medical records
Filled patient registration form
Filled health assessment form
Pathology test 3 months prior to treatment for:
1. Liver function
2. Full blood count
3. Hepatitis B and C
4. Human T-lymphotropic virus types I and II (HTLV-I/II)
5. HIV 1/2
6. Syphilis Serology
7. Mycoplasma Serology
We will then determine your suitability for stem cell therapy. Once you are cleared, you will undergo the treatment procedure, and reinfusion will take place soon after. The entire process is seamless and can easily be incorporated into your life.

ASCTreatment takes only 4 steps and 5 days!
ASC Treatment's stem cell therapy can be completed in four easy steps. After all your medical information has been checked, your four-step therapy will commence. You are only required to be present for two of these steps, giving you more time to spend at your leisure.
1. Blood extraction
The therapy procedure begins with blood extraction from your body. At this stage, 300mL to 400mL of blood will be extracted from the patient into a sterile blood bag to be used for stem cell culture. This process is quick, and minimally invasive; much like the process of blood donation.
2. Blood separation
The blood is separated so that only white blood cells are collected.
3. Conversion and incubation
The white blood cells now undergo a conversion process and are cultured into pluripotent stem cells. At this stage, a sample of the cultured stem cellsis sent for testing to determine if it is safe for use. This takes approximately 72 hours for confirmation, and treatment can only proceed if the samples are safe.
4. Reinfusion or cryopreservation
Reinfusion usually takes place at this point. The freshly cultured stem cells will be reintroduced into your body intravenously using a drip set, leaving you invigorated.
How Much Will Stem Cell Therapy Cost?
To get a better idea of the cost of the procedure you are seeking, we advise you to contact us to get closer price estimate to your treatment needs.
ASCTreatment understands the heavy financial burden that this might incur on some clients. For those seeking financial alternatives, Medicredit is an option for financing this treatment. Medicredit is Australia's premier patient financing service, and may provide some relief for those determined to conduct their stem cell therapy with ASCTreatment.

Medical team
ASC Treatment work strategically with some of best physicians in Australia who are passionate about stem cells and regenerative medicine. They strive to provide the best quality care to our clients. Their passion and dedication ensures that your cell therapy experience will be the best.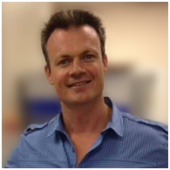 Dr Michael Belich, MBBS, FRACGP
Dr Michael Belich leads the group of doctors at Integrative Medical Clinics in Queensland, Australia. On top of having obtained a Bachelor of Medicine and Bachelor of Surgery from the University of New South Wales, Dr Belich is also a Fellow at the prestigious Royal Australian College of General Practitioners.
Dr Belich is also a member of the Australian Academy A5M of Anti-ageing Medicine, and as such, holds vast knowledge to the theories and application of anti-ageing medicine. His interest in utilising stem cells had him working with regenerative medicine, and led to his extensive training with Dr Joe Purita—one of the world leaders in stem cell regenerative medicine.
Dr Belich's dedication to health and medicine is unwavering. He believes in building a good relationship between doctors and patients, on top stressing the importance of holistic health. Dr Belich uses all the resources at his disposal to provide his patients with the best in improving the mind, body, and spirit.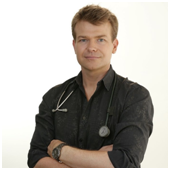 Dr Tom Goyer, MBBS, CPSA
Dr Tom Goyer's medical career took off with a specialisation in general surgery and emergency medicine. Despite his success, his career pathway altered dramatically when he was struck by a realisation that nearly every patient in his ward was ill of poor lifestyle or diet choices.
Disheartened by a seemingly losing battle against man-made diseases, Dr Goyer redoubled his efforts and focussed his attention solely on preventative and anti-ageing medicine. He works now with diet plans instead of surgical knives, supplements instead of chemicals; and in doing so, has now helped more of his patients achieve better health. Dr Goyer takes pride in his work and in helping his patients live longer, more prosperous lives.
Dr Goyer now attends trainings and conferences regularly to stay up-to-date on the latest advancement in anti-ageing and preventative medicine. He has also become members of a plethora of medical associations, such as the Cosmetic Physicians Society of Australia to share his knowledge.
Why choose ASC Treatment?
Highly trained medical team
ASCTreatment has a versatile form of stem cell therapy for joint pain alleviation, facial cosmetic rejuvenation and immune system reinforcement
The treatment takes only 5 days
Every stem cell procedure conducted at ASCTreatment is automatically insured with one of Australia's largest insurers
If you have any questions or concerns regarding the ASCTreatment, please do not hesitate to contact us.