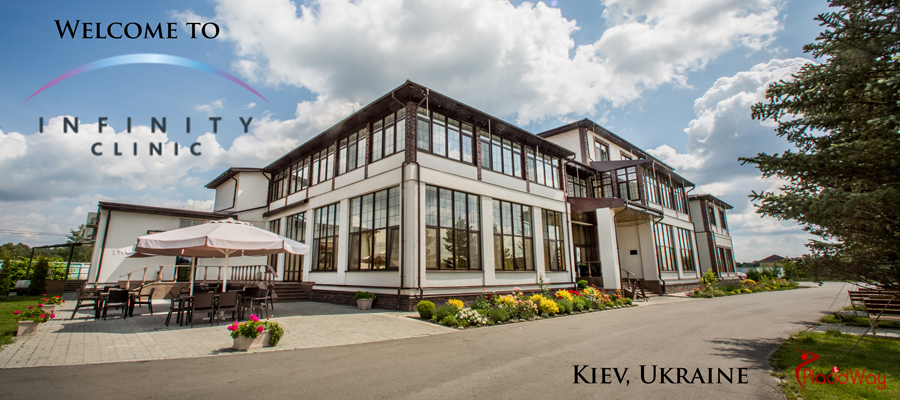 Welcome to Infinity Clinic
Infinity Clinic, located in Kyiv, Ukraine, is a modern regenerative clinic, specializing in preventive and regenerative medicine through a holistic approach. For 15 years, patients coming here benefit from advances and achievements of fetal stem cell therapy, which is fully approved and licensed by the Ukrainian government.
The founders of Infinity Clinic worked with stem cell pioneers and carried out their own unique research in collaboration with many different scientific institutions. Through this research, they proved that natural rejuvenation and healing is possible through administration of the high doses of allogenic stem cells together with immune system reprogramming. They also determined the optimal age of fetal stem cells for treatment of different diseases and conditions.
Infinity Clinic is the only stem cell center in the world which is applying its own immunologic tolerance induction method, which ensures long-term engraftment of the transplanted cells and outstanding clinical results in thousands of patients.
Accommodation
Infinity has 25 rooms with Wi-Fi Internet connection, TV, bathroom amenities, etc. The entire facility and all the rooms are wheelchair-friendly. Our premises occupy 12 hectares of secured private area, and our building is on the lake.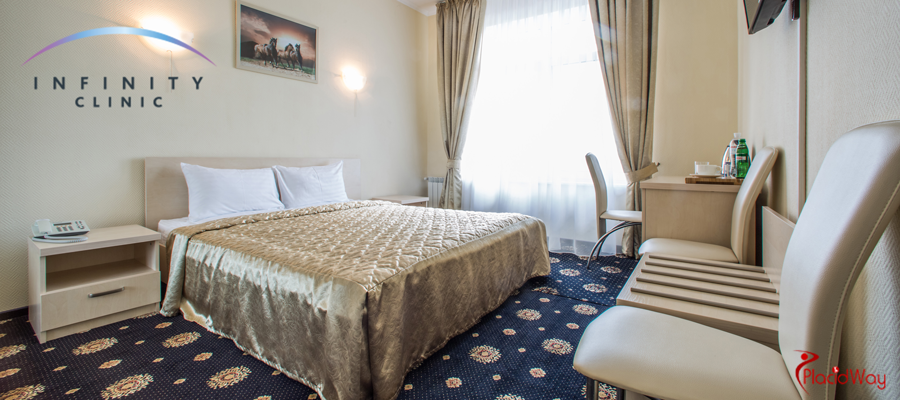 Dining experience
Infinity has its own kitchen. Well-trained chefs prepare the meals for the guests and patients using only fresh ingredients available locally. Outdoor section of the restaurant invites you to enjoy your meals at the lakeside.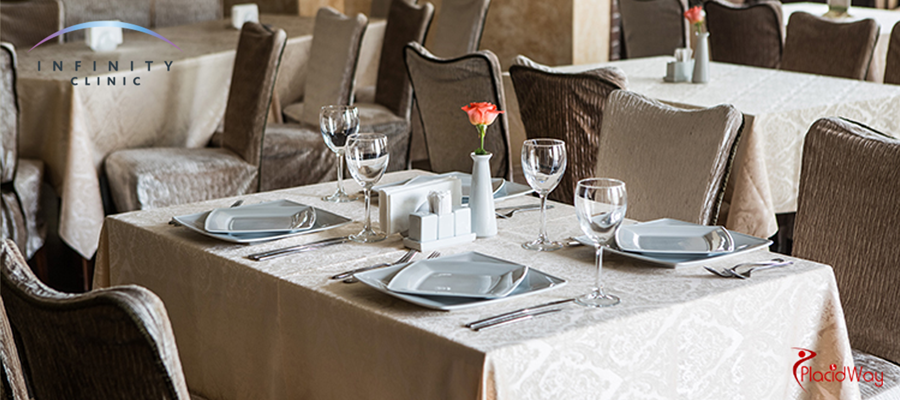 Recreation and Leisure
Infinity is fitted with a sauna, heated pool and gym. Patients can also enjoy a boat ride on the lake, enjoy professional massage and cosmetic procedures.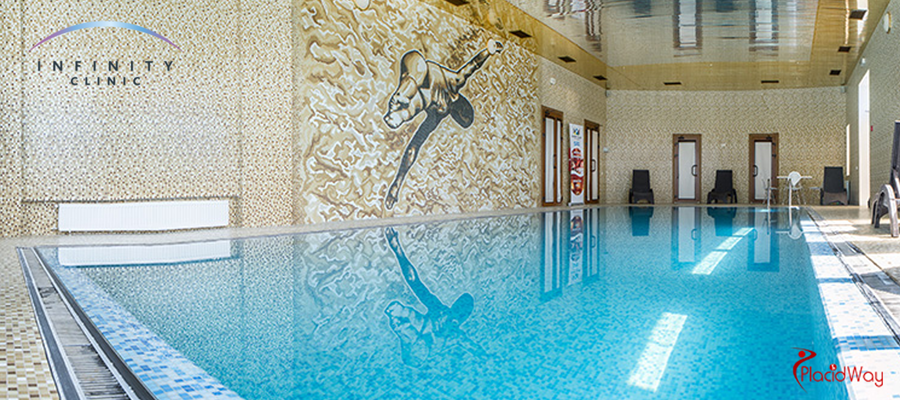 Treatments and Procedures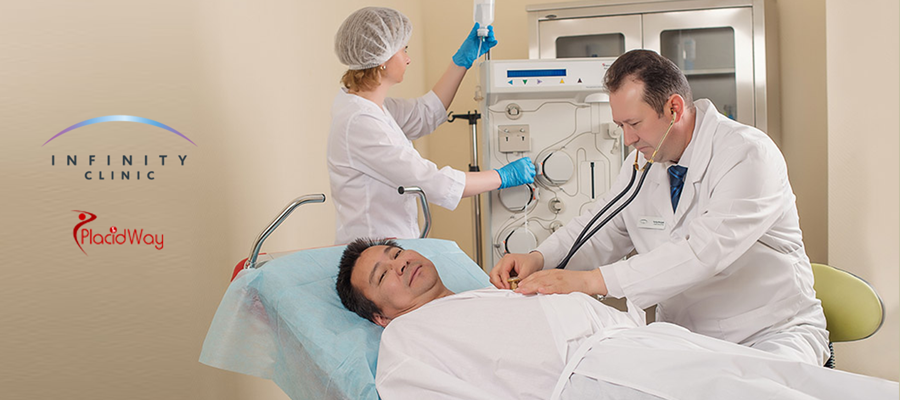 Medical
Diagnostics
Massages
Stem Cell Therapy for Treatment of a Wide Range of Diseases and Conditions
Anti-Aging Programs
Unique Sport Rehabilitation
Aesthetics
Non-medical
Transfers
24-hour care
Translation
Concierge
Sightseeing Tours
Recreation and Leisure
Sauna
Heated swimming pool
Playground for children
Pool room
Fishing
Boating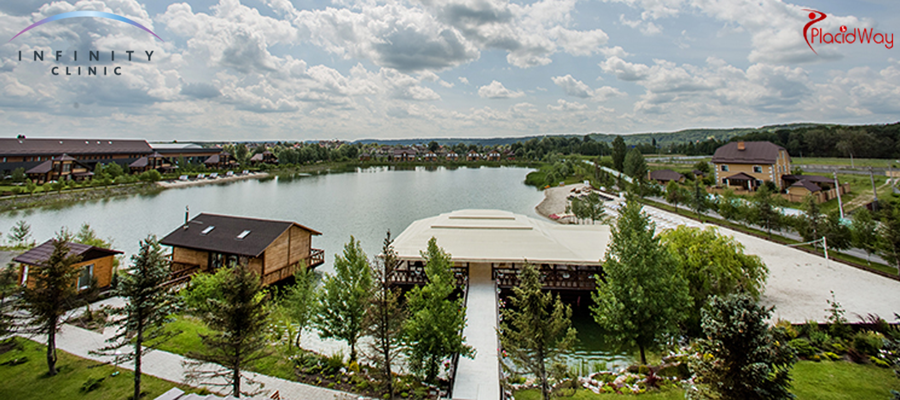 Our Unique Patented Method
At Infinity Clinic, we offer organ-specific fetal progenitor cell therapy, which means that the cells to be used for a patient with a certain disease or condition are harvested from those organs and tissues of human fetus that are affected in a patient.
Treatments For Diseases And Conditions
Aging
Age-related diseases (hypertension, arthritis, atherosclerosis etc.)
Cardiac diseases
Neurologic diseases
Autoimmune diseases
Lung diseases
Liver diseases
Kidney diseases
Endocrine diseases
Hematologic diseases
Erectile dysfunction
Autism
Injuries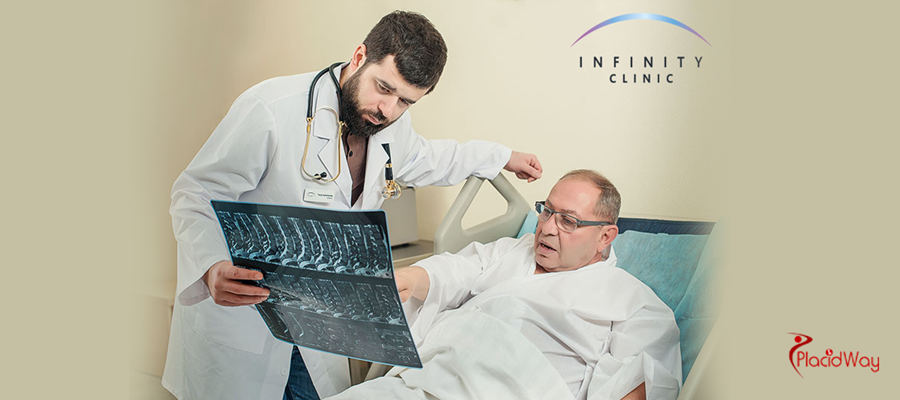 Our Laboratories
Preliminary Anatomical Material Processing Laboratory
Biotechnological Laboratory
Biological Safety Control Laboratory
R&D Laboratory
All laboratories are state-of-the-art and GLP-certified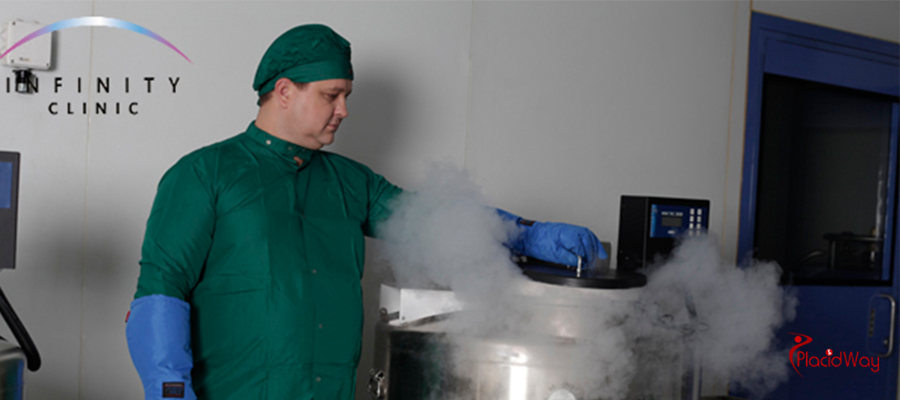 Cryobank
Our ultramodern CryoBank equipped at the state-of-the-art level allows for
programed freezing of different cell suspension types
guarantied preservation of stem cells in liquid nitrogen for a long time
Medical team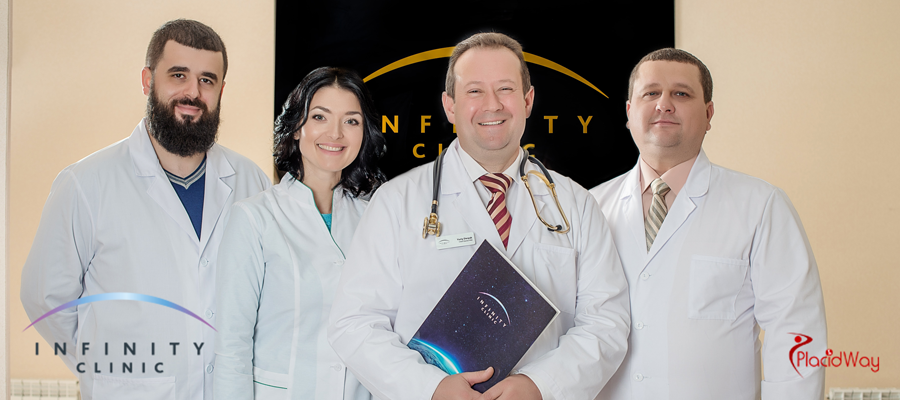 The team consists of highly trained doctors specializing in different fields of medicine, with more than 10 years of experience with fetal stem cells in Ukraine and abroad. The main goal of the entire medical staff is to deliver world-class treatment exceeding expectations of patients.
Why choose us?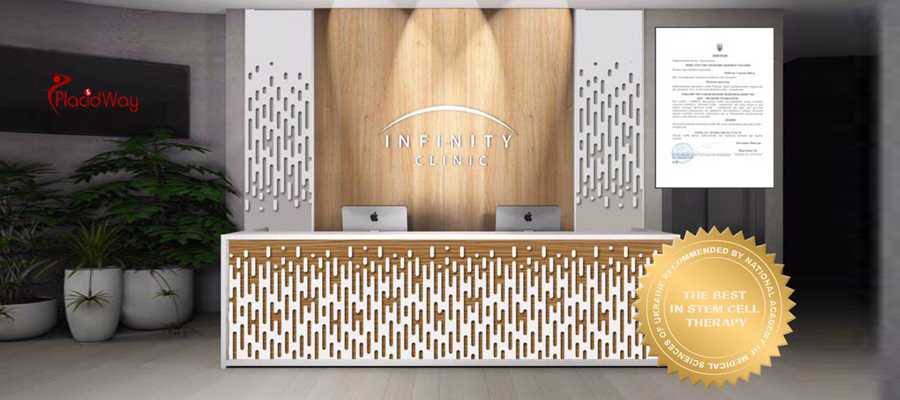 We strive to set the standard for quality, safety and value in the discovery, development and delivery of preventive and regenerative medicine.
We offer the world's largest variety of fetal stem cell types
In-house process of testing, processing, storage and application of stem cell therapy
We guarantee excellent quality of stem cell transplants.
We implement the principle of an integrated holistic approach, treating the health issue at the root case
Patients benefit from personalized care customized to their needs
Why Ukraine?
Over the past years Ukraine has quickly developed becoming one of the top options for medical tourists. Today's healthcare tourist can expect the highest standards of equipment and expertise, as Ukraine aims to attract an increasing number of international patients. People coming here benefit from high-standard plastic surgery, fertility treatments, orthopedic procedures, as well as stem cell therapy for a variety of medical conditions.
If you need more information about the treatments and procedures offered by Infinity Clinic, please contact us!