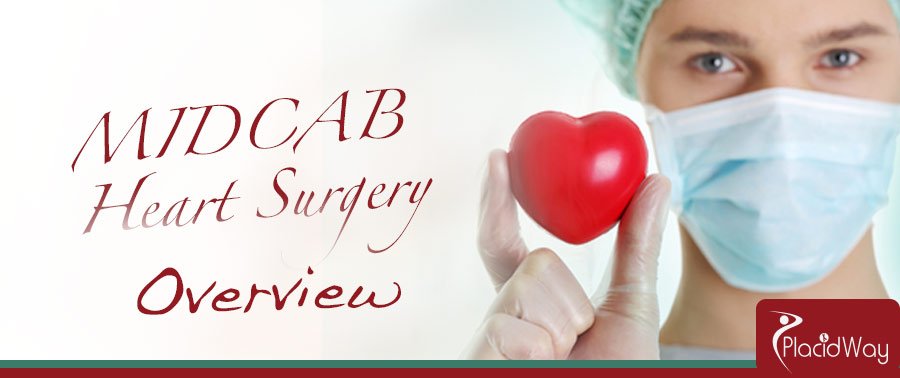 MIDCAB Surgery Overview
Your doctor may recommend a minimally invasive coronary artery bypass if you have a blockage in one or two coronary arteries, usually in the front of the heart. When one or more of the coronary arteries become partly or totally blocked, your heart does not get enough blood. This is called ischemic heart disease or coronary artery disease. It can cause chest pain
Minimally Invasive Direct Coronary Artery Bypass (MIDCAB) is a minimally invasive approach to conventional Coronary Artery Bypass Graft (CABG) surgery. MIDCAB is beating heart surgery, which means that stopping the heart (cardioplegia) is not necessary and a heart-lung machine is not required. Heart bypass surgery creates a new route, called a bypass, for blood and oxygen to reach your heart.

Who is a Candidate for MIDCAB Surgery?
It is indicated for use when bypassing one or two coronary arteries. For bypassing three or more arteries, a conventional CABG is indicated. The MIDCAB procedure is only suitable for those at low risk of complications, and those with blocked arteries towards the front of the heart which can be reached by a small opening from the ribs.
Potential candidates for Minimally Invasive Coronary Artery Bypass
1. Patients with poor heart function
2. Patients with severe lung disease
3. Patients with acute or chronic kidney disease.
4. Patients at high risk for stroke.
5. Patients with a calcified aorta.
The MIDCAB Heart Surgery Procedure
The surgeon makes a keyhole opening to access the heart by making a small incision on the left side of the chest and opening a small area between the ribs. While the heart is still beating, the surgeon delicately grafts the bypass. The surgeon uses a stabilization device to still the small area of the beating heart where the bypass is being grafted.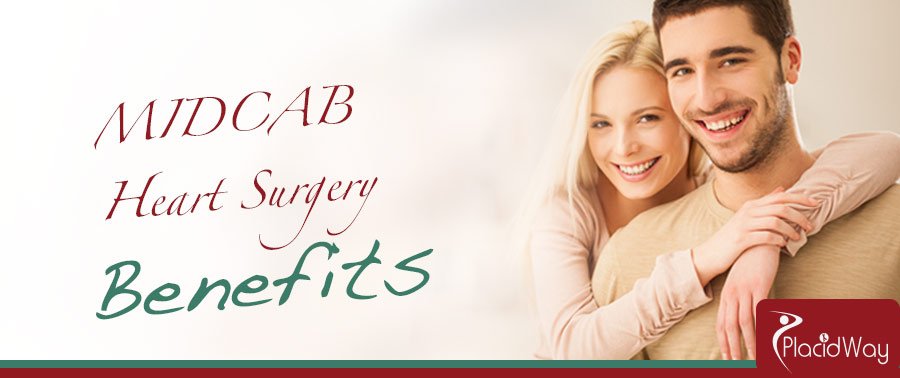 Benefits of MIDCAB Heart Surgery
Minimally invasive direct CAB (MIDCAB) surgery reduces the risks associated with the use of the heart-lung machine—cardiopulmonary bypass (CPB).
Patients undergoing MIDCAB Surgery:
May be discharged in 2-3 days
Can Return to normal activities including driving in 2 weeks
MIDCAB surgery results in:
faster recovery.
fewer complications.
less pain after surgery.
lower risk of infection.
smaller scar.
decreased procedure costs.
reduced morbidity.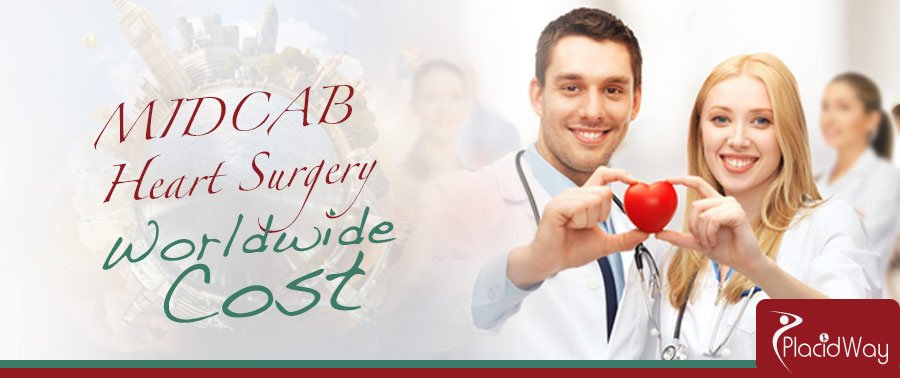 Cost of MIDCAB Heart Surgical Procedures
The cost of MIDCAB will depend on how many arteries are being grafted, as well as the type of procedure the patient undergoes to repair damage to coronary vessels. The cost of minimally invasive cardiac surgery may be approximately 25% less than the cost of conventional surgery. Heart bypass surgery average price in the U.S. is $100,000 USD, depending on the amount of damage and the number of graphs being placed.
Many patients choose medical destinations like Asia or Eastern Europe where the same procedure is less pricey and at the same high standards. For example, the all inclusive cost for MIDCAB surgery in India starts from around $7,000 USD and in Poland is around $20,000 USD and it varies depending on the skill and expertise of surgeon, the medical condition, category of room chosen, facility and the city where you will get the procedure done.

Choosing the right treatment for your heart condition
MIDCAB is believed to have the same beneficial results as conventional bypass surgery-restoring adequate blood flow and normal delivery of oxygen and nutrients to the heart. Minimally invasive bypass surgery, however, has additional advantages related to the ability of the surgeon to work on a beating heart or through smaller incisions. Each patient's diagnosis and treatment is unique and your physician will recommend the best approach for you.
Cardiac medical centers all over the world are trying to help all patients to have a pain-free life!
For more information about their minimally invasive heart treatments and procedures, click the button below!
, Heart surgery, also known as cardiac or cardiothoracic surgery, includes many different types of surgical procedures to correct various conditions and damage caused by disease, heart attack, and strokes. Procedures designed to widen narrowed arteries, or pacemakers that are used to help control abnormal heart rhythms as well as procedures that help to insure adequate supply of blood and oxygen to the heart muscle all fall under the scope of cardiac surgery.