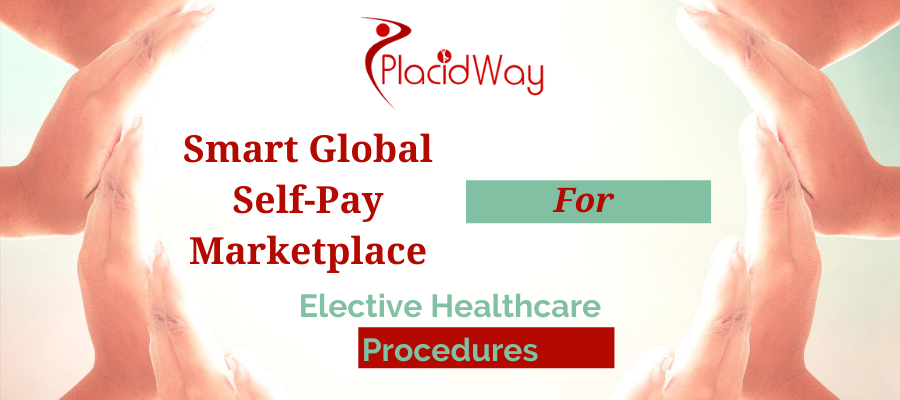 The Importance of Smart Global Self-Pay Marketplace for Elective Healthcare Procedures
Insurance policies or socialized medicine rarely cover elective procedures such as dental, cosmetic surgery, fertility, eye, regenerative medicine/stem cells, alternative medicine, wellness, etc. Mostly, when a patient searches for such an elective procedure, he/she must pay the total service cost directly to the provider. Such customers are expecting a retail type buying experience based on cost, service, peer reviews, among other criteria.
The self-pay market continues to grow as new procedures and technologies not covered by a third-party payor continue to become competitive in the marketplace. The benefits are clear for the patients, as they can get advice from the providers directly and make their own healthcare decisions with full knowledge of the treatment cost and risks involved. That is why building a smart self-pay marketplace is essential for elective healthcare procedures where the patients can attain unbiased, personalized care without being tainted by the demand of insurance companies.
Importance of Global Self-Pay Platform
One of the first things that patients do while opting for an elective procedure is price shopping. They search for different mediums where they can get information about the cost of the procedures by different providers. Another thing they consider is the safety and trust with a specific provider. Thus, consumer demand is integrated with provider availability at the desired price point in the region/country of their choice.
Moreover, there is a widespread reliance on the recommendation of word of mouth in these key self-pay markets. When consumers can check patient reviews, testimonials, videos or before and after images, they will be in the best position to make decisions. Thus, for the providers, it is important to have a presence on a multi-sided global self-pay platform that can help consumers review, compare and make their preferred choice.
Behavioral Marketing
In healthcare, medical branding and medical marketing start with a well-defined behavior of the consumers.
What are the wants and needs of the patients?

What are their information sources?

What is their level of knowledge?

What is their response or pattern to the healthcare service?
Finding answers to these questions is very important for the providers to offer proper self-pay healthcare experience. That is why behavioral marketing is very useful in the healthcare industry. It helps to focus on a patient's engagement patterns on a website and then study that behavior to suggest relevant solutions.
This is possible by providing the patients access to the global smart self-pay healthcare marketplace. The patients will be able to find everything in that marketplace that they need to choose a suitable solution at the right price in their preferred destination. Based on their browsing and actions of the marketplace, their behavior can be analyzed and thus relevant solutions can be offered to them. This increases the chances of conversion by increasing their intent of booking treatments.
Artificial Intelligence-based Omnichannel Communications
Customer omnichannel experience is very important nowadays. It helps them connect with the providers using all channels of communication such as emails, text messages, instant messengers, apps and phone calls. As Artificial Intelligence (AI) is integrated into these communication channels, patients can directly receive the support they want from the provider.
Integrating AI omnichannel communication has a big impact on self-pay healthcare. As consumers can directly get answers to their queries related to price and everything almost instantly, it boosts interaction, care, transparency and speed. This ensures flexibility and faster response to the patients, improves customer support and outreach of patients like bookings, appointments, healthcare instructions and follow-up.
Customer Relationship Management
One of the important foundations of successful self-pay healthcare is the relationship providers build with the patients. Trust is a crucial factor in self-pay healthcare procedures and it can be achieved only with efficient customer relationship management.
In the healthcare industry, it is extremely important to handle data correctly and securely, as this ensures how a provider takes care of patients and deliver their services. Having a proper customer relationship management model helps to deliver the best possible results through optimized patient acquisition measures. It also helps to maintain transparency using clear and common communication platforms.
Hybrid Customer Care
This is the era of hybrid customer care, especially after the global impact of the COVID-19 pandemic. The complex patient journey of researching for healthcare solutions, entering personal information and generating requests, which is then getting assessed by the provider followed by sending quotes and then further getting evaluated the by patient takes a lot of time and not relevant in the present scenario. Hybrid customer care is the new normal in the healthcare industry, which involves
Marketing services and educating patients effectively

Providing online consultations directly to the patients

Completing the treatment procedures

Post-treatment care services or aftercare via online consultation
Such hybrid experience involves reliance on communications via digital channels to boost transparency, reliability and trust, which are the pillars of a successful self-pay healthcare model.
Integrated Social Care
Joining a range of social and healthcare services should be seamless so that the patients receive the right support and care in the right place at the right time. Transparency, education and direct communication play an important role to provide such integrated care to the patients. This is even more important in self-pay healthcare because patients are going to choose their treatment and care. When the patients are educated with the right information about the service, safety, cost and other factors like clarification of doubts through direct communication, it will improve trust factors and result in generating sales.
The size of the self-pay global healthcare market is enormous as there is a huge demand for elective and other procedures such as plastic surgery, dental, obesity, fertility, regenerative medicine/stem cell, orthopedics, alternative medicines, wellness, etc. Thus, providers must use the power of a smart self-pay marketplace. PlacidWay is building such a next-generation global self-pay platform that will empower the patients to make well –informed healthcare choices with complete price comparison and transparency. The healthcare providers using the marketplace will get the best advantages of hybrid marketing, omnichannel communication and efficient customer care management to establish their brand.
For more information about PlacidWay's Global Self Pay Marketplace, click the button below: