When - Determining the Time or Timing of the Medical Travel Process
Part 6 of Series: Answering the Top 100 Questions of International Patients in Medical Tourism
Medical tourism is an increasingly popular option for patients who seek medical care outside of their home countries. However, planning and coordinating a medical travel process can be overwhelming and confusing, especially for patients who are unfamiliar with the process. One of the most common challenges that patients face is determining the "when" of the medical travel process. In this article, we will address the 10 "when" questions related to medical tourism that healthcare providers and other medical professionals should consider helping their patients overcome this challenge.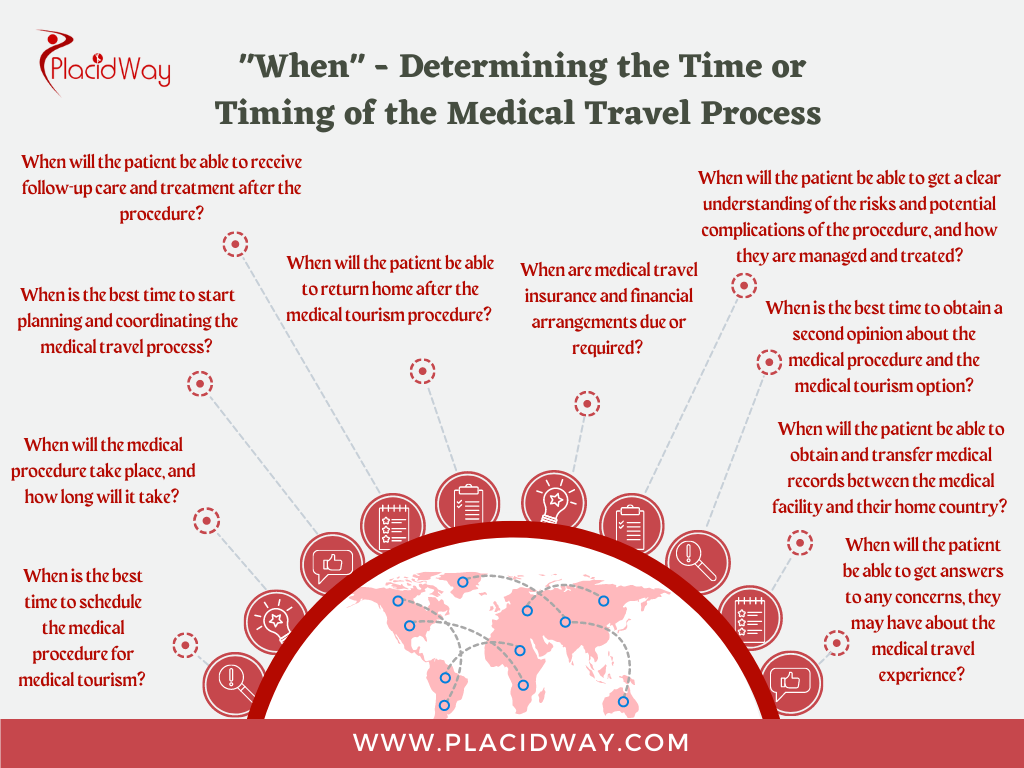 Determining the timing of the medical travel process involves several factors that need to be considered, such as the availability of the medical treatment or procedure, the patient's health condition, and travel logistics. 
When is the best time to schedule the medical procedure for medical tourism? 
Patients may struggle to determine the best time to schedule their medical procedure due to various factors such as their medical condition, funds, and the availability of medical facilities. 
Healthcare providers or medical professionals should work closely with patients to evaluate their medical needs and determine the best time for the procedure. They should consider factors such as the patient's medical history, current condition, and the availability of medical facilities to determine the optimal timing for the procedure. 
When will the medical procedure take place, and how long will it take? 
Patients may lack clarity about the timing and duration of their medical procedure, making it challenging to plan their medical travel process. 
Healthcare providers and medical professionals should provide patients with a detailed timeline of the procedure, including the expected duration of the procedure, and detailed timings from virtual consultation to aftercare. This information will enable patients to plan their travel and accommodation accordingly. 
When is the best time to start planning and coordinating the medical travel process? 
The optimal timing for initiating the medical travel planning and coordination process hinges on several factors, including the intricacy of the medical procedure, the destination country, and the accessibility of transportation and lodging options. On average, it is advisable to plan for 90 days (about 3 months) for medical tourism purposes. The service provider should be equipped to assist the customer in customizing their itinerary based on their specific needs and preferences. 
For particularly intricate medical procedures or ones requiring specialized equipment, it may be necessary to begin planning even earlier. Additionally, it is essential to factor in any visa or vaccination prerequisites for the intended country of visit, as these may require some lead time to arrange. 
Apart from the medical-related logistics, travel arrangements such as flight and lodging reservations must also be considered. It is advisable to make these arrangements well ahead of time to secure availability and take advantage of any available discounts or promotional offers. 
When will the patient be able to receive follow-up care and treatment after the procedure? 
Patients may be unsure about when and where they should receive follow-up care and treatment after their medical procedure. The timing of these appointments can vary depending on the nature of the procedure and the patient's individual situation. Typically, the healthcare provider who performed the procedure will provide instructions on how and when to schedule follow-up appointments, which could involve in-person check-ups or remote consultations via telemedicine. 
As a healthcare provider, it is crucial to thoroughly discuss the specifics of the patient's post-procedure care and treatment. This will enable patients to prepare adequately and make any necessary arrangements for their recovery. Medical professionals should provide patients with comprehensive information regarding aftercare, such as medication, physical therapy, follow-up appointments, and potential complications. These discussions will help ensure that patients have a seamless and successful recovery process. 
When will the patient be able to return home after the medical tourism procedure? 
Patients may not have a clear understanding of when they can return home after undergoing a medical tourism procedure. The length of time for a patient's return can differ depending on various factors, such as the type of procedure and the patient's unique circumstances. Typically, patients are advised to remain in the destination country for a period of time following the procedure to allow for proper healing and necessary follow-up care. 
The duration of stay for a patient in the destination country can vary depending on the type of procedure and the patient's recovery progress. Some patients may be able to return home soon after the procedure, while others may require several days or even weeks to heal. The medical tourism provider should provide guidance to patients in determining the appropriate length of stay. 
Patients and providers should also consider any travel restrictions or requirements that may be in place, such as the duration of the flight, travel advisories. It is important to stay up-to-date on any travel restrictions for both the destination country and the patient's home country to ensure a safe return journey. 
When are medical travel insurance and financial arrangements due or required? 
Medical travel insurance and financial arrangements are typically required before a patient embarks on a medical tourism journey. Providers should advise patients to purchase medical travel insurance that covers the cost of any unexpected medical expenses or complications that may arise during their trip. This insurance coverage may also include coverage for trip cancellation, trip interruption, and emergency medical evacuation. 
In addition to medical travel insurance, patients may also need to arrange for financing to cover the cost of the medical procedure, travel expenses, and accommodations. Providers should work with patients to define the total cost of the procedure and associated expenses and to arrange for financing or payment. 
Patients should plan to secure medical travel insurance and arrange for financing well in advance of their planned trip to ensure that all necessary arrangements are in place before they depart. By taking care of these details early on, providers can ensure patients can enjoy a smoother and more stress-free medical tourism experience. 
When will the patient be able to obtain and transfer medical records between the medical facility and their home country? 
It is critical that medical providers provide medical records of the procedure to the patient to maintain transparency and assist in aftercare. Some providers may have electronic medical records systems that allow for easy sharing and transfer of records, while others may still rely on paper records that are more difficult to transfer. 
The timeline for a patient to obtain and transfer their medical records from the provider should be clearly discussed before the procedure. 
When is the best time to obtain a second opinion about the medical procedure and the medical tourism option? 
Seeking a second opinion before undergoing a medical procedure or considering medical tourism is highly recommended. It is advisable for patients to seek a second opinion at the earliest possible stage before making any final decisions or commitments. 
Medical tourism providers should be aware that patients will always seek second opinions to compare factors such as clinic credentials, doctor experience, costs, and location. To address this, providers should offer a formalized virtual consultation and second opinion process that enables them to answer detailed patient queries, educate patients about the differences between various procedures, and recommend the best procedure based on their individual needs. 
When will the patient be able to get a clear understanding of the risks and potential complications of the procedure, and how they are managed and treated? 
During the informed consent process, which usually happens before the procedure, the patient should be informed about the potential risks and complications associated with it. In the virtual consultation, the healthcare provider should clearly explain the procedure, its possible benefits and risks, and also present any alternative treatment options. The provider should be transparent and discuss how any potential complications will be managed and treated. 
If the patient has additional questions or concerns after the virtual consultation and informed consent process, the provider should assist the patient by offering reliable medical studies and other authentic resources to demonstrate how similar procedures are typically managed and treated. 
When will the patient be able to get answers to any concerns, they may have about the medical travel experience? 
The patient should be able to get answers to any concerns they may have about the medical travel experience before, during, and after their trip. The healthcare provider should be available to answer any questions or address any concerns the patient may have during the planning phase, which typically takes place before the patient travels. During the trip, the patient should have access to a dedicated point of contact who can assist with any issues that may arise. 
After returning home, the patient may also have additional questions or concerns about their medical travel experience. The healthcare provider or medical travel facilitator should be available to provide follow-up care and address any post-travel concerns the patient may have. In short, the patient should be able to get answers to their concerns at every stage of the medical travel experience. 
Timing and When of Medical tourism 
To sum up, the timing-related concerns that arise with medical tourism can be a hurdle for patients seeking healthcare overseas. It is essential for healthcare providers to address these questions to assist patients in effectively planning and coordinating their medical travel. By providing transparent and timely information and support, healthcare providers and medical professionals can enable patients to make informed decisions, prepare appropriately, and attain successful outcomes from their medical tourism endeavor. 
Join PlacidWay Now and experience world-class medical care abroad!