---
How to use doctor experience for marketing purpose?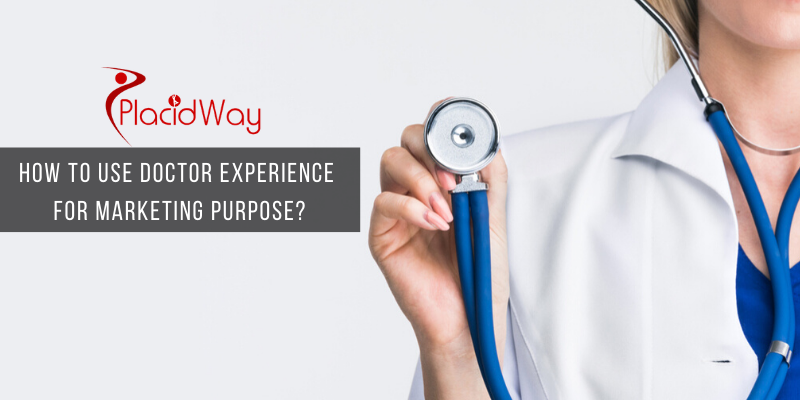 As we have said on several occasions, the medical sector is a sector with many opportunities to increase revenue through digital media today. In medical tourism the competition grows. Little by little new medical professionals, clinics or medical centers are gradually being incorporated into the online world. This means that professionals who have already joined the new technologies achieve greater visibility and better search engine positioning.
Clinics have great potential in advertising doctor experience, because it is important for patients. Doctors should state their education, work experience and all relevant membership and certifications – the more the merrier. In that way you assure the patient of the qualifications, and that is what patient like to see. Clinics should put themselves into patients shoes and realize that this is the most important factor that will help them choose a clinic.
Using Your Experience to Advertise Yourself
Who will better speak about all your achievements but yourself? When patients decide to undergo a procedure outside their country, they research the doctor who will perform the surgery. Yes, people read reviews from your previous patients, but it is way better if they can hear about your experience by yourself. In that way, you make your patients rely on you, which is very important. In medical tourism, people sometimes go thousand miles away from home to get the best medical attention. If they choose you, it means they trust you. So, don't be afraid to let people know about your success rates.
Share Your Wisdom
A good trick is to share advice about certain treatment online, so you can grow your patient's community. For example, if you are an expert in plastic surgery, you can share with your patients, both present and future ones, some tips on how to maintain elasticity of our skin. Or, if you are a bariatric surgeon, you can tell your patients your experience with bariatric surgeries and perhaps promote this procedure as a solution.
Website is Important
The basis of any online project must be a website of its own, as it will allow you to be independent of third parties and decisions that are not in our own hands. On the other hand, in our own Web page, you can publish and give greater importance to your own content, which guarantees flexibility in making decisions about what you want to do to improve our online reputation, and to attract new patients to our inquiry . You cannot have this independence and flexibility if you depend on specialized portals, media, reviews on other websites or Google, etc.
If you are a renowned doctor, you want to have a website that will demonstrate all your skills and show your experience. Like we said, people like to do a research online. Internet is available to everyone, so you must stay up to date with this new trend. Showing the world who you are and where you work now is the message to the world, as well as everything that you communicate and do.

Since we have been in the business for over a decade, we were able to learn something really important about the industry overtime. We are as strong as our partners are. It would be perfect to have a secret weapon that can help us to build up a strong brand about the clinic, the truth is the opposite. The main weapon that the clinic can use is their doctor experience and expertise, this is what patients are craving for. At the end of the day, we are as strong as our partners are.
That's why one of the most important areas of our educational ecosystem is focused on Doctors and highlighting their profiles. At the end of the day, patients will love to meet you and learn how you can solve their problems. We are paying a high attention toward the patient needs, therefore as a part of our free marketing package, we are offering unlimited doctor promotion as well. Highlight your name in a crowd and let the patients see how you can make the change.