---
Main Stream Market in Medical Tourism: How Would you like to know them?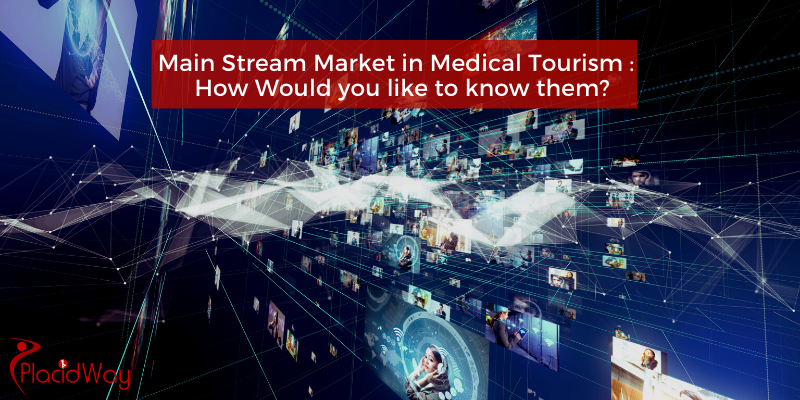 Main Stream Market in Medical Tourism: How Would you like to know them?
A mature global healthcare market demands a perfect solution, not a broken system, not an 80% solution. It requires medical providers to offer globally competitive price points so that a consumer has the ability to buy that product anywhere. This type of market would require:
Global Brands

: An established brand recognition which projects trust

Complete Solution

: a solution that addresses all treatment related information

Transparency

: no hidden costs, no hidden unethical techniques

Price

: price estimates - this will be a key factor

Quality

: proven and demonstrable quality through customer experience

Review

: based on peer-to-peer reviews
In order to compete in the future global healthcare market, we must think differently. The ideal solution for ultimate success has not yet been discovered, nevertheless, we all need to think about a new era that provides more insights on the supply chain of what we're working towards. This applies to clinic-seeking patients from abroad to facilitators wanting to coordinate patients from one country to another, to medical equipment manufacturers looking into wider distribution channels.
We must be innovative and rethink the industry. We need to understand where it has been, but more importantly, where we can take this industry. Doing so can only be achieved by clearly understanding some basic fundamentals such as your own supply chain and distribution strategy.
As an example, let's try to understand a "Main Stream Market Consumer".
Suzanne, aged 64, is a conservative buyer. Although she has limited funds and no insurance, she wants, and is willing, to take time to understand solutions to her problems that she is seeking. She's cautious and careful. She'll think long and hard before making any decision. She's looking for a perfect solution that meets her specific needs and desires. Her cautious buying behavior is looking for a "proven" solution. She does not live on the edge. She needs to be fully convinced before she decides to go abroad for surgical reasons.
Her buying characteristics include:
Needs 100% or complete solution

Looking for turn-key solutions

Price is a big issue

Seeking brand recognition

Buy based on case studies

Complete transparency
Suzanne is a typical consumer for the mainstream market.
Main Stream Marketing Characteristics
People like Suzanne offer the following characteristics when looking for their medical solutions. They're:
Practical people

Do not follow fads

Make cautious buying decisions

Buy based on well-established references

Follow established purchasing standards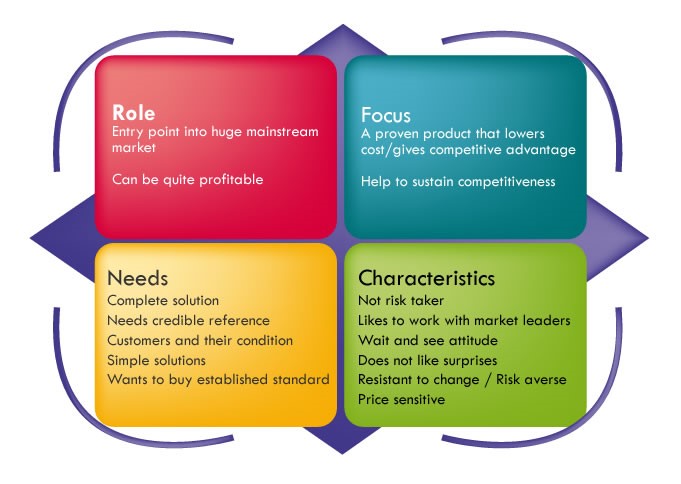 Characteristics of Medical Tourism Main Stream Market Buyer
It's important to understand the characteristics of your potential customers. If you don't know them, you don't know which marketing approach to use that best meets their needs. Understanding the differences of approach, from an early-market adopter to a mainstream buyer, of a 30-year-old to a 65-year-old when it comes to marketing your services can make all the difference in the world.
Learning to recognize and acknowledge the main stream consumer can help differentiate providers from one another. Yes, they're both looking for solutions, but they're going at it in different ways. Your ability to cater to such different approaches will distinguish you in this competitive field.
Mainstream Market and Delivered Values
In order to achieve the medical tourism true acceptance, we need to move from early adopter market to mainstream markets, we must:
Focus on product/services centric values

We must think about what distinguishes us from the rest.

Do our products and/or services offer a unique value proposition?

Are we addressing the characteristics of the mainstream market
Meeting the needs of the "main street" market and aligning the solutions around their specific needs and characteristics of the market allow us to distinguish ourselves in the marketplace and provide us a cutting-edge solution.
Remember, you must be able to identify and recognize the "mainstream consumer". As mentioned earlier, we should able to identify differences between an "early adopter" type of customer market and a "mainstream" customer market. Don't worry so much about making that 'quick buck', but focus on your profits and growth over the long haul through market leadership.
If you want to know more, you can always contact us and ask for more information