---
Remote Customer Service in Medical Tourism- How to Achieve Effective Patient Engagement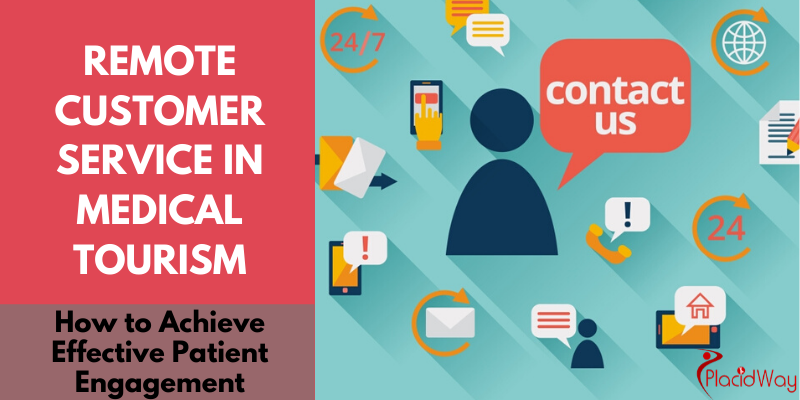 Remote Customer Service in Medical Tourism- How to Achieve Effective Patient Engagement
Remote customer service is significantly rising in the medical tourism industry. With patients wanting to do research prior to deciding on their medical treatment, they are inclined to go on the internet, look for information and contact the provider via phone, email or chat.
As a medical provider, you must be able to provide this service effectively to optimize time and effort in engaging with patients. Knowing how and which tools to use would help you achieve better conversion and patient engagement.
The Types of Remote Customer Service in Medical Tourism
Email Service
Email is still the most popular and reliable communication platform. Patients who would like to get detailed information about your services prefer this since they could easily do this while they attend their meetings, projects or browsing through the internet.
Live/ Interactive Chat Support Service
This platform allows your patients get instant access to customer service, they don't have to pick up the phone and can just send a message to which you can reply to. This is a highly recommended tool for converting leads because of its ability to provide service that's easy, accessible and prompt.
Phone Call Service
Anyone would want to speak to someone at some point of their inquiry. Being able to talk to your customer and discuss with them their treatment builds their confidence in your services and personalize the customer service experience.
Treatment Education Service
There's no better way to provide good customer service than helping them understand your services so they can make an informed decision. Providing relevant, useful and consistent information builds trust and makes up for a great customer relationship.
Understanding What Your Patients Need
The lack of understanding of your patients is perhaps the biggest barrier there is in achieving good patient engagement. You need to know or at least anticipate what their expectations are so you can tailor your service and approach to their liking.
Empathy- you need to be able to share their feelings and understanding so that you could establish your genuine connection with them.
Transparency- openness is important to gain trust. Letting them know what to expect in terms of cost, treatment plan, inclusions and exclusions, terms of payment, cancellation policy, etc. would make your service credible.
Information- Clear, accurate and useful information is always important. Consistent communication and education content would be helpful.
Accessibility- Patient should find it easy to communicate with you whenever they have questions or concerns. It paints a good picture of how reliable your service is as a whole. If patient is trying to chase you to get basic and complete information, then chances of a successful medical tourism program are low.
Benefits of Remote Customer Service in Medical Tourism
Increase patient satisfaction through solid patient engagement
With the boost of digital health, customer expectations to instant access to services is growing. Having the flexibility to chat, the capability to call for a true human interaction and to allow the patients to fully describe their needs via email would all result to happy customers.
Improve patient conversion rate through better remote customer service practices
Improved conversion rate means more leads, more sales and increase list of customers. With remote customer service you can increase care management, which is a crucial factor to determine the best outcome for a medical tourist. You will be able to guide and accommodate the needs of the international patient even before he or she travels abroad.
Create rich customer experiences that lead to loyalty, word-of-mouth and referrals
If the patient is satisfied with the service, they will talk about it with their friends, recommend your clinic and will go back to you for a repeat treatment. The quality of the support you provide will be remembered and preferred.
Tools to Help You Provide Effective Remote Customer Service in Medical Tourism
Live Chat Support- this is an effective way of providing positive online experience to patients. Patients can ask questions and "consult" with you that will drive them to prefer your service over others.
Medical Provider Portal- this will allow you to securely log in to your account and directly communicate with your patients easily.
Website Profile- This will help your patients find and read your information easily that may help them realize how your solutions would be a good fit for them.
Phone Support- Interactions via phone are considered by many to be more genuine and straightforward. You can use your soft communication skills to talk to patients and personalize the customer experience.
Remote customer service is extremely beneficial to Medical Tourism patients as this becomes their first means of getting the information they need to consider and understand prior to their medical treatment. Whether it's as simple as an answer to a question via chat or as complex as having to pick up the phone to go through the patient's case, you have the power to create that experience into something valuable and life-changing. The greater the customer service you provide, the better the connection you have with your patients.
PlacidWay is a U.S-based global medical tourism marketplace with 1000s of renowned medical and wellness centers from over 45 countries and in over 250 cities worldwide. PlacidWay's global presence includes patient access from all continents including the Americas, Europe, Middle East, CIS, Africa, and Asia. PlacidWay offers a Medical Tourism platform that includes CRM at NO COST to its medical providers.
Click the button below for more information!