Stem Cell Therapy for Muscular Dystrophy in Kiev, Ukraine
Musculardystrophy (MD)is a genetic disease resulting in both muscle weakness and muscle wasting/loss due to defects in muscle proteins. Most MD types are multi-system disorders affecting not only the muscles, but also cardiovascular, gastrointestinal and nervous system, as well as endocrine glands, eyes and brain.
As with all the diseases, the earlier the treatment is started, the better results are to be expected.
For inhibition of MD progression (especially in cases of DMD), for improvement of life quality and prevention of MD-associated cardiovascular and respiratory complications, it is recommended to combine stem cell therapy with proper physical therapy, massages, and breathing exercises.
For effect maintenance and optimal results, MD patients are recommended to repeat stem cell treatment on regular basis as per doctors' recommendation.
Unique Integrated Muscular Dystrophy Treatment Approach
Having considered all aspects of the disease, Infinity Clinic professionals developed the unique integrated MD treatment by combination ofbothstem cell infusions and direct multi-point injections into the muscles ensuring integration of stem cells into the muscles in two ways.
The world's largest variety of fetal progenitor cell types and fetal tissue extracts available for use allows for customized treatments for any MD type and MD-associated complications.
The effect of this treatment is incomparable with such from either of the methods used separately or when lesser cell types are used.
Stem Cell Therapy Results in Muscular Dystrophy
Generally, our patients report the following results:
slower disease progression (longer ambulation etc.)
muscle power and bulk preservation
higher muscle/exercise power and stamina
improved gait quality (in ambulant patients)
amelioration or restoration of certain skills (climbing stairs, combing, raising from the floor or getting up from sitting position)
pseudohypotrophy and strain release
ALT, ACT, CPK and LHD decrease indicative of lesser muscle destruction
prevention and/or amelioration of MD-associated complications
improved functioning of internal organs and systems
mental and psycho-emotional amelioration, higher self-esteem
powerful immune boosting
ability to lead more active and independent life (life quality improvement and maintenance)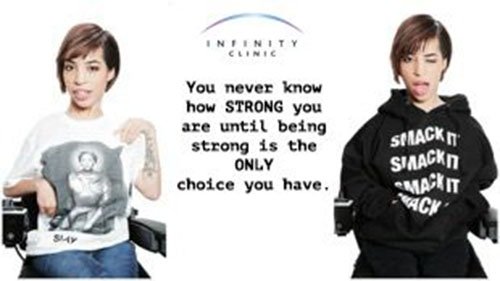 Treatment of MD-Associated Complications
The most common life-threatening complications of MD are respiratory and heart failure caused by the restrictive changes in the lungs and heart muscle weakening respectively.
Both mesenchymal stem cells and specific (lung-derived and cardiac) fetal progenitor cells used for MD treatment
migrate to the affected areas
regenerate alveoli
improve blood circulation in the lungs
restore population of cardiomyoblasts
restore connective tissue cells with the new and functional cardiomyocytes
The above results in
reduced severity of the respiratory failure (forced lung capacity improvement)
higher ejection fracture
higher contractile activity of myocardium
Advantages of the Stem Cell Therapy in the Infinity Clinic
optimal combination of fetal progenitor cell types and tissue extracts tailored for each case with regard to the main disease, its complications and co-morbidity
extensive experience
plasmapheresis (elimination of toxins, free radicals etc. from plasma, body preparation for better fetal progenitor cell engraftment)
advanced safety screening of the cells
no adverse effects
no rejection risk
no cancer risk
Muscular Dystrophy Treatment at the Infinity Clinic
Standard treatment program takes three days and includes the following:
Day 1
Blood/urine tests
Examination by Infinity Clinic doctors
Examinations by specialist doctors (if necessary)
ECG
Additional instrumental examinations (ultrasound etc., if necessary)
Plasmapheresis
Rehabilitation and revitalization procedures (special massage etc.)
Day 2
Pre-treatment examination by Infinity Clinic doctors
Administration of fetal progenitor cells (mode of administration depends on the case)
Rehabilitation and revitalization procedures (special massage etc.)
Day 3
Pre-treatment examination by Infinity Clinic doctors
Administration of fetal progenitor cells (mode of administration depends on the case)
Rehabilitation and revitalization procedures (special massage etc.)
Post-treatment session with the doctors (report, recommendations)

Inclusions
Airport-clinic-airport transfer.
High class accommodation for the patient and 1 attendant (double room or family room for parents and 1 child) for 4 nights.
Full board (individual menu).
Medical procedures provisioned by the program.
24-h nurse care.
Medical report.
Medications if necessary.
Interpreter service.
Use of leisure and recreation facilities (sauna, heated pool, gym, bicycles, lake beach access).
Follow-up after the treatment.
Why choose us?
Infinity Clinic offers the world's widest variety of fetal stem cell types
The clinic implements the principle of an integrated holistic approach, treating the health issue at its root case
All the patients benefit from personalized care customized to their needs
Guarantee of excellent quality of stem cell transplants
The medical center sets the quality, safety and value standards in the discovery, development and delivery of preventive and regenerative medicine
In-house process of testing, processing, storage and application of stem cell therapy
We are looking forward to welcoming you for treatment and help you in the best possible way. For more information about the Stem Cell Therapy for Muscular Dystrophy, please contact us!