Autism Stem Cell Therapy
Fetal Cells Regenerative Medicine in Kiev, Ukraine
Autism is a series of disorders that appear during the development of the child, mostly visible when analyzing communication and social interactions.
Fetal Stem cell therapy is a novel and effective approach based on the unique ability of stem cells to influence metabolism, immune system and restore damaged cells and tissues.
Stem Cell Therapy for autism at EmCell attempts to reverse these abnormalities through administration of fetal stem cells solution.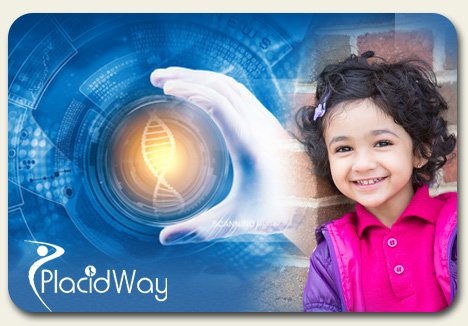 Fetal stem cells can stimulate the immune system and the regenerative capabilities within the brain. Through the administration of fetal stem cells, EmCell researchers and specialist doctors have observed improvement in patients treated.
EmCell's Fetal Stem cell therapy targets several aspects of concern:
Immunity (restoration)

Metabolism (normalization)

Communication ability (improvement through targeted and non-targeted correlation activation)

Learning capacity, memory, thinking (improvement through restoration of the lost (impaired) neuron connections and formation of the new neuron connections, speeding up brain reactions through improvement of synaptic transmission and development of the new neuron connections)
Stem cells positively affect all body systems, but the main goal is brain dysfunction improvement.
Expected improvements in autistic children:
1. Better tolerance of different foods.
2. Easier contact with the child (first of all, eye contact).
3. More adequate behavior.
4. Less or no fear of loud noises, strangers and bright colors (gradual improvement).
5. Improved verbal skills (if the child is non-verbal, s/he is very likely to start making sounds, syllables, and then pronounce words; bigger vocabulary in verbal children)
6. Improved self-care skills.
7. Improved attention span and concentration.
One of the main goals of fetal stem cell therapy is triggering brain development, and then the child's body will do its own work. Children should be happy, and the parents are to prepare them to happy adult life by developing skills they will need the most, such as communication, self-care, educational and professional skills.

Highest proliferative capacity and potential out of all stem cells
No need for matching – no rejection
No cancer risk
No side effects
Minimally invasive (IV infusions/injections)
Short term (2 days)
In-house process of making and using stem cell suspensions
Triple safety screening

Day 1
Blood/urine tests
Examination by EmCell doctors and neurologist
Additional examinations if necessary
Cardiac Exam
Treatment (IV infusions and/or injections of fetal stem cells)
Short rest
N.B. Outdoor activities are not recommended after the first day of treatment
Day 2
Pre-treatment examination by EmCell doctors
Treatment (IV infusions and/or injections of fetal stem cells)
Short rest
Post-treatment session with the doctors

Airport-hotel/apartment-airport transfer.
Everyday hotel/apartment-clinic-hotel/apartment transfer.
Examinations by specialists.
Tests.
Treatment itself (administration of stem cells).
Medical report.
Medications if necessary.
Follow-up after the treatment.
Though the degree of the above improvements varies, they were reported in all cases.
In order to be happy, autistic person should have:
1. Feeling that his life is well-planned.
2. Well adapted communication system.
3. Self-care skills.
4. Ability to study and work.
5. Leisure skills.
6. Communication skills (and be happy to communicate with people).
The earlier autism is diagnosed and the earlier parents start helping the child, including stem cell therapy, the more chance the child has to be happy!!
EmCell clinic practices individual approach to each patient. For case study, please, fill the form attached and send all your child's medical records available.
In our clinic we use fetal stem cells 5-8 weeks old.
Click the button below to contact us and learn more about
Fetal Stem Cell Therapy for Autism!