Tap search button to expand search options
Choose Medical Centers Worldwide
Filter your search by any combination: by Medical Center Name by Treatment by Specific Procedure by Country by City Click SEARCH
Get a FREE Quote
Free Service No Obligation Quick & Easy
---
Evaluate a vast array of Atharva Multispeciality Ayurveda Hospital
Atharva Multispeciality Ayurveda Hospital :
A Holistic Way Towards The Life.......
Home » India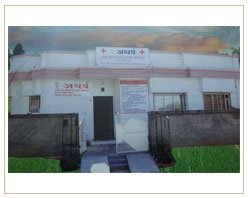 Contact Information:
www.atharvaayurveda.com
+1 (303) 500-3821
Location:
2, Paras Society,Nirmala Convent Road, Opp.Physio Therapy College
Rajkot, India
Panchkarma Centre | Skin Disease | Cancer Treatment | Arthritis | Bronchial Asthma | Infertility | Obesity | Ayurveda | Gujarat
An International Ayurveda Multispeciality Ayurveda Hospital providing the best Of Ayurveda treatment for all diseases under one roof.
Centres
Panchkarma Centre
Skin Disease Research Centre
Cancer Research Centre
Atharva has the unique Ayurveda Research Centre to Provide incredible Ayurveda Treatment in
Arthritis
Bronchial Asthma
Infertility
Obesity
Cancer Care
And alot more....
Special Treatments At Atharva Ayurveda

100% sucessfull treatment of Leucoderma(Vitiligo) and Psoriasis
State of the art Keralian Panchkarma treatment center.
Cancer Diagnostic, Treatment & Diet information center.
Special Ayurvedic Treatment in Cancer to combat the side effect of Radio Therapy and Chemotherapy.
Immuno Therapy for all immunodeficient disorders.
Skin Care : Leucoderma, Psoriasis, Eczema, Pimples and All Skin diseases.
Obesity center : Weight loss and gain.
Mental Care : Tension, Depression, Epilepsy, Mental Deformity care by Atharva's Special Ayurvedic Treatment.
Hair Care : Special Ayurvedic treatment for Alopecia, White Hair, Dandruff and other hair problems.
Ayurvedic Treatment for Chronic Cold, Asthama, Paralysis, Spondylytis, Osteo Rhematoid Arthritis,
Diabetis Malitas, Abdominal Disorders and Liver Disorders.
Special Ayurvedic Treatment for all types of Renal(Kidney) disorders including ARF(Acute Renal Failure), CRF(Chronic Renal Failure), Renal stones.
And alot more under one roof..
Well qualified and experienced team of Ayurvedic Doctors including a full time resident doctor and visiting Ayurvedic Consultants.
Please Click Here to request more information about Atharva Multispeciality Ayurveda Hospital.