Dr. Hermes Pelayo, MD, Plastic Surgeon - Tijuana, Mexico
Calle 5ta. Emiliano Zapata #7867 Zona Centro, C.P. 2200 Tijuana B.C. Tijuana Baja California
Tijuana, Mexico
Speciality:
Plastic Surgeon,
Focus Area:
Hermes Pelayo, MD | Plastic Surgeon | Tijuana
---
About - Dr. Hermes Pelayo, MD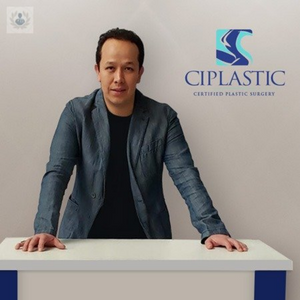 Dr. Hermes Avila Pelayo founder of CIPLASTIC Clinic is a top plastic surgeon in Tijuana. He is a Renewed Medical expert in Liposculpture, Tummy Tuck, Breast Augmentation, Rhinoplasty, Mommy Makeover, Post Bariatric Surgery, Rhytidectomy, Reduction Mammoplasty, Gynecomastia and Otoplasty.
Is Dr Hermes Pelayo board certified cosmetic surgeon?
Yes, Dr Hermes Pelayo is board certified cosmetic surgeon working at Ciplastic america in Tijuana, Mexico. His exceptional 16-year career and the more than 12,000 cosmetic treatments he has performed have allowed him to develop these skills, making him a recognized expert in Certified Plastic, Aesthetic and Reconstructive Surgery on a national and international level.
Dr. Hermes Pelayo has graduated as a surgeon from the National Polytechnic Institute. He has made significant contributions to plastic and reconstructive surgery, including body modeling and reconstruction after massive weight loss and venturing into advanced burn treatment, shortening the treatment time for superficial second and third-degree burns.
Dr. Pelayo specializes in general surgery at the General Hospital of Mexico and plastic and reconstructive surgery at the Central South Hospital of High Specialty PEMEX.
His expertise, dedication, and use of cutting-edge techniques and equipment led him to establish the first-level CIPLASTIC clinic. A place that provides personalized, high-quality care to each of its patients with the utmost commitment, giving them the peace of mind that they are in the hands of a certified specialist who is always concerned with their well-being.
The balance in his professional career has been achieved by leading a healthy lifestyle: he is a humanist, vegan, activist of the ecological movement, and defender of animal rights.
In keeping with his beliefs, he has conducted numerous studies and given lectures on the Vegan Diet as part of the medical treatment established in Plastic and Reconstructive Surgery, using the ecological vegan food model as a foundation.
Book a consultation with Dr. Hermes Pelayo for bariatric or plastic surgery in Tijuana. Mexico and improve your health and physical appearance.

Membership
He is an active member of the Mexican Association of Plastic, Aesthetic and Reconstructive Surgery, AMCPER.

Member of the International Society of Aesthetic Plastic Surgery, ISAPS.

Part of the specialized plastic surgery organization in the world American Society of Plastic Surgeons, ASPS.

Certification by the American Board of Surgical Assistants, ABSA.

Prices
| Cost of Plastic surgery in Mexico - CIPLASTIC Tijuana | Prices | Enquire |
| --- | --- | --- |
| Neck Lift in Tijuana, Mexico | $3220 | Enquire |
| Neck Lift in Tijuana, Mexico | $3220 | Enquire |
| Nose Surgery Rhinoplasty in Tijuana, Mexico | $4485 | Enquire |
| Mommy Makeover in Tijuana, Mexico | $12300 | Enquire |
| Brazilian Butt Lift in Tijuana, Mexico | $6785 | Enquire |
| Breast Lift in Tijuana, Mexico | $5865 | Enquire |
| Breast Lift in Tijuana, Mexico | $5865 | Enquire |
| Sleeve Gastrectomy in Tijuana, Mexico | $5200 | Enquire |
| Tummy Tuck Surgery in Tijuana, Mexico | $7000 | Enquire |
---
CIPLASTIC reviews
Randy P

"In the event that I could give it in excess of 5 stars I would. Really truly outstanding out there, the best client care, everybody in office is astounding, and most they will cause you to feel comfortable and safe. Energetically suggest!"

CIPLASTIC

Jul 23 2020

Aleana L D

"This has been an incredible encounter all along. The whole staff has been exceptionally useful and mindful. Indeed, even before the surgery I called a few times with questions and they generally called me back immediately. I felt truly comfortable going into the procedure and Dr. Hermes was so great and before the surgery addressed every one of my inquiries and was exceptionally consoling in light of the fact that I was somewhat restless. Up to this point I am truly content with my outcomes and thank you to all of the staff for being so magnificent!"

CIPLASTIC

Feb 16 2021

Bri

"My involvement in Dr. Hermes was astounding I knew from the day of my counsel that I needed him to be the one to perform my surgery, I've been taking a gander at different spots from LA, to Newport Beach, to Beverly Hills for years!! Yet, no one contrasted with his work, in Tijuana Mexico. Everyone is generally distrustful on the grounds that they say it's hazardous, and I was dependably that individual also however when I at long last chosen to make a counsel I was 100 percent persuaded he would be my doctor !!
This spot is so great, perfect, safe, will deal with you like you are at home! Very comfortable, my sister finished her surgery Monday and she's more than cheerful, I finished my surgery today and I love it as of now!! I'm certainly returning for some other work and I'm prescribing him to everybody! Medical attendants are awesome and Dr. Hermes has hands of craftsmanship!! Grain awakening and I feel incredible! Much thanks to you all for everything!!"


CIPLASTIC

Oct 01 2021

Grabiela B

"The staff was so astonishing and each and every one from security to the assistant work area to the doctors were exceptionally mindful and proficient. I strongly suggest this hospital if your thinking about any surgery. I love my outcome."

CIPLASTIC

Nov 23 2021

Donia R

"Barely a month prior I got a rhinoplasty at Ciplastic. I love my outcomes! My nose looks exceptionally normal and matches the remainder of my face so well. Recovery was extremely simple and I didn't encounter any inconveniences. "
"I'm from San Diego and don't talk any Spanish, but most of the staff is bilingual and there were no language hindrances. So assuming you are going from the US feel guaranteed that you'll be in extraordinary hands! "
"The whole staff is so cordial and inviting. The medical caretakers who gave me my IV were so delicate and patient with me (I normally drop with needles however this time I didn't haha). Nurture Claudia was a particularly darling, she ensured I was comfortable and performing admirably after surgery. "
"Dr. Pelayo paid attention to my interests with my nose preceding surgery and let me precisely know transforms he going to make. He performed a shut rhinoplasty (no outside scars). Much obliged to you Dr. Pelayo I love it! "
"Dr. Sebastian, Dr. Castro, and Dr. David were additionally very accommodating and addressed a great deal of my inquiries. Dr. David eliminated my cast and was exceptionally persistent with me since I was extremely anxious that it planned to hurt, however he was incredible!"


CIPLASTIC

Feb 08 2021
---
PlacidWay.com provides information and travel related services. We do not provide health care services. We provide information solely for informational purposes and do not endorse any particular health care provider or facility or any particular health care service or treatment. We are not affiliated with any health care provider or service and we are not responsible for any health care service. Please consult with your own domestic licensed health care provider before seeking the services of any health care provider you learn about via our site.
---