Dt. Ali Sefa Cali – Best Dentist in Turkey, Dentist - Antalya, Turkey
Bahçelievler Mahallesi Sorgun Bulvar? No:29 MAnavgat Side
Antalya, Turkey
Focus Area:
Dentist in Antalya Turkey | Denart Turkey Dental Centre | Dt. Ali Sefa Cali
---
About - Dt. Ali Sefa Cali – Best Dentist in Turkey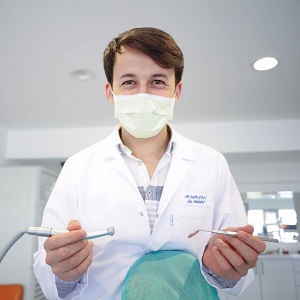 Dt. Ali Sefa Cali | Board Certified Dentist Antalya by Denart
Biography of Dt. Ali Sefa Cali
Dt. Ali Sefa Cali is the Best Dentist in Antalya Turkey by Denart. Book your consultation and talk with best doctor for Dentistry in Turkey at PlacidWay. When it comes to taking care of your teeth, you want the best possible care. Dr. Ali Sefa Cali is a general and aesthetic dental specialist who can provide you with the high-quality care you need.
He is also an expert in dental implants and dental aesthetics, so you can be sure that you're getting the best possible care for your smile. Make sure to schedule a consultation and learn more about how he can help you achieve the beautiful, healthy smile you deserve.
Dt. Ali Sefa Cali is a caring professional dentist who always puts his patients first and delivers the best care possible. He has a wealth of knowledge and experience, which he uses to provide top-quality dental care. It is very important to always choose top doctor will take great care of you, and Dt. Ali Sefa Cali is the answer.
He is licensed and experienced Dentist in Denart Turkey Dental Centre. Denart is a top-rated clinic that provides world-class dental care. They offer a wide range of services, including teeth whitening, veneers, crowns, and bridges. They also provide orthodontic treatments such as braces and Invisalign. Their team of skilled professionals is passionate about providing the best possible care for our patients. They always take pride in their work and are committed to providing the highest quality of care possible.
Feel free to contact us today to schedule a consultation!

Prices
| DentArt Dental Centre Turkey Price list | Prices | Enquire |
| --- | --- | --- |
| Dental Bridges in Antalya, Turkey | $200 | Enquire |
| Teeth Whitening in Antalya, Turkey | $180 | Enquire |
| Dental Veneers in Antalya, Turkey | $300 | Enquire |
| Dental Crowns in Antalya, Turkey | $250 | Enquire |
| Dental Crowns in Antalya, Turkey | $170 | Enquire |
| Dental Implants in Antalya, Turkey | $650 | Enquire |
| Dentures in Antalya, Turkey | $450 | Enquire |
---
Denart Turkey Dental Centre reviews
Andrew

What can I say, after just finished my 2nd visit. This clinic is absolutely amazing. Everything they do is better than 1st class, it is on another level. The technology, staff, surroundings, service, hotels, taxi service even the coffees n shakes. Big big thank you to everyone involved. Andy

Google

May 12 2022

Joanne

Everything about this place is amazing.
I had 20 zirconium crowns 10 top 10 bottom couldn't fault my dentist at all he made me feel at ease when having the injections he talked me all the way through what he was doing. All the clinic staff were amazing.
I can actually smile now without hiding my teeth so thank you dental centre Turkey.

Google

Jun 16 2022

Leah

If you're having any doubts about booking with dental centre turkey, I'm here to tell you to go for it. It's the best decision I've ever made and the service was absolutely amazing. You are well looked after throughout the whole process including private transfers and refreshments from the on-site cafe fresh pegs (the milkshakes are out of this world!). My dentist was so thorough and made sure every detail was perfect. He even added pink to the bottom of one of my crowns where my gum had receded, which I thought was incredible! If you're thinking of having any dental work done, you will not be disappointed with dental centre turkey (and getting a holiday out of it is an extra little bonus of course!)

Google

May 18 2022

Porchia

I can honestly say that the experience was perfect from beginning to end. From being collected and dropped off at my hotel for my appointments.

Everyone at the the clinic were very friendly and I was looked after so well.

It is so high tech - makes our dentists in the UK look prehistoric.

My teeth look beautiful and I can't stop smiling - get so many compliments.

Thank you so much to you all that made my experience so nice and also for my amazing smile.

Would highly recommend

Google

May 12 2022

Angela

I cannot fault this clinic. It is exceptionally clean and the staff are professional whilst demonstrating empathy. I was very nervous as I always am at the dentist, but I was put at ease and treated with respect. The reception staff were amazing. They provided drinks and if there was any delay, they kept me informed. Their English was very good. I would recommend this clinic to anyone who needs dental work and I will certainly return in the future.

Google

Apr 15 2022

Rita

The best dentist and service. Everything is awesome

Facebook

Jul 29 2017
---
Dentistry Related Packages
Dentistry Related Experiences
PlacidWay.com provides information and travel related services. We do not provide health care services. We provide information solely for informational purposes and do not endorse any particular health care provider or facility or any particular health care service or treatment. We are not affiliated with any health care provider or service and we are not responsible for any health care service. Please consult with your own domestic licensed health care provider before seeking the services of any health care provider you learn about via our site.
---