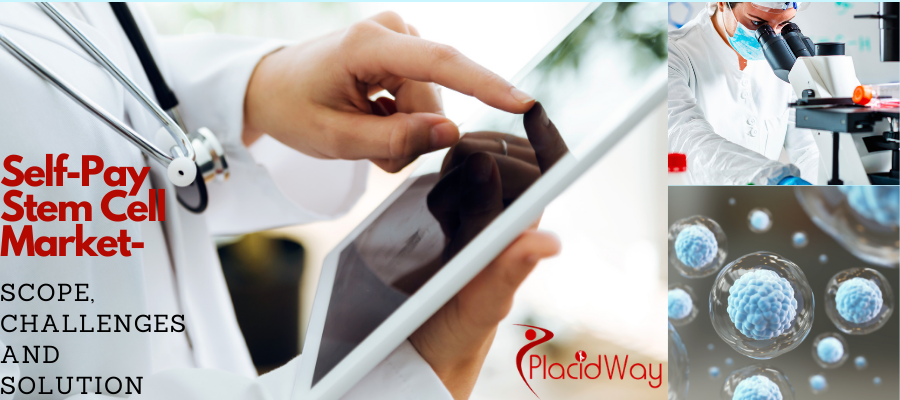 Self-Pay Stem Cell Market- Scope, Challenges and Solution
Regenerative medicine therapies or stem cell treatments are among the top high-demand procedures in the global self-pay healthcare market. The majority of this market belongs to the cash-paying patients who are willing to get treatments either locally or abroad. According to the experts, stem cells have great potential for tissue repair and regeneration and thus can be valuable for therapeutic uses. Over the years, the popularity of stem cell therapy is steadily rising as an alternative treatment option for various health conditions such as diabetes, orthopedics, cancer, Alzheimer's, cerebral palsy, neurological disorders, anti-aging and more.
How Big is Self-Pay Stem Cell Market
According to a report, the market for stem cell therapy in 2018 is valued at $9.32 billion and by 2025; it is expected to reach $16.51 billion. Biotech industries and research institutes are increasing spend on research and development, which is driving stem cell market's growth. Also, the prevalence of chronic diseases is increasing, which is resulting in stem cell treatment demand.
Characteristics of Stem Cell Market
The awareness of stem cell therapy benefits is rising all over the world. The market for stem cell treatment is growing due to the increasing awareness as well as rate of adoption, which is causing the growth of the market.
People are gradually opening up to the benefits of various sources of stem cells such as cord blood/embryonic, bone marrow, adipose tissue and others. These stem cell sources are applied to treat various health conditions and disorders such as:
Wounds and Injuries

Neurological Diseases

Musculoskeletal Disorders

Cardiovascular Diseases

Gastrointestinal Diseases

Chronic Diseases

Anti-Aging – Rejuvenation Procedures

Other applications
What do Stem Cell Consumers want?
As stem cell therapy is a cash-pay market, transparency is one of the most important things that consumers want. They want a clear idea about the treatment procedure, effectiveness, clinical data, peer reviews, case studies, price, recovery prospects and possible complications. As stem cells are research-based and not every treatment is approved, the consumers have several doubts in their mind before booking a procedure. The providers must ensure that they bring complete transparency through enough education and communication so that patients know everything before they decide to opt for the treatment.
Challenges for the Providers
It is known that the market of self-pay patients for stem cell therapy has big potential, but there are some challenges that healthcare providers need to overcome. The biggest challenge is the lack of enough education for such alternative and experimental treatments. The providers must strategize plans and take actions to educate the consumers about these treatments and their possible benefits.
Due to exponential growth in the market, the industry has lost transparency and ethics. The provider must provide data on the effectiveness of the procedure so that consumers can make an informed decision. This includes case studies, medical data from past cases, testimonials, and competitive price. The continuum of care post-procedure is extremely critical.
How Providers Can Address the Challenges
Considering the size of the stem cell market of cash-paying consumers and its prospects, the competition is soaring. To address the challenges, healthcare providers need to adopt the best of innovative marketing strategies and digital solutions.
Hybrid Experience-Incorporating hybrid experience in stem cell treatment can play a key role. The providers must take measures to inform patients about the best available stem cell treatment options supported by expert opinion via online consultation. They should also inform patients about the details of the treatment, cost, procedures and every related aspect via direct communication so that trust and transparency can be established. Apart from education, online consultation and care, the providers should also focus on aftercare solutions to complete the cycle. Such hybrid experience with educational resources and innovative technologies can help providers to overcome the challenges.
Retailing Healthcare-Providing retail-like experience in healthcare is the new normal to drive in new patients. Retailing healthcare creates a scenario where providers can offer high-quality stem cell treatments to patients with a wide range of convenient choices at competitive prices. Such a customer-centric service ensures interaction and engagement along with transparency, which lets patients choose suitable stem cell programs. Following the examples set by retail brands, the providers can give patients more power to make informed decisions.
Behavioral Marketing- It is a robust method that allows providers to effectively target and segment patients. It works by targeting audiences based on their behavior, geolocation, interests, intentions and other metrics using search history, cookies, web analytics and other insights. It focuses on the engagement patterns of a patient on a website and suggests relevant solutions based on that behavior. When healthcare providers segment patients finely based on particular behaviors, they can provide relevant solutions rather than general messages.
AI-Based Omnichannel Communication- Communication is the key to engage customers. Self-pay patients in the stem cell market seek direct communication with the provider in real-time. Omni-Channel experience connects customers through all interaction and communication methods such as emails, phone calls, texting, messaging and apps. That is why integrating artificial intelligence-based omnichannel communication can help providers improve, flexibility, transparency, reliability and speed-up sales closing rates.
To solve the challenges in the self-pay stem cell market, it is crucial to bring providers and patients together in a platform that integrates education, marketing, communication and consumer experience. As a leading self-pay healthcare marketplace, PlacidWay is helping the stem cell market with access and integration. This is helping numerous providers to offer consumer-centric care, customized services, price transparency and improved customer experience by focusing on direct patient-provider communication, AI-based omnichannel presence, behavioral marketing strategies and hybrid experience.
For more information about stem cell treatment market and PlacidWay's Global Self Pay Marketplace, click the button below: