---
How A Compelling Profile Can Boost Online Presence In The Medical Tourism Industry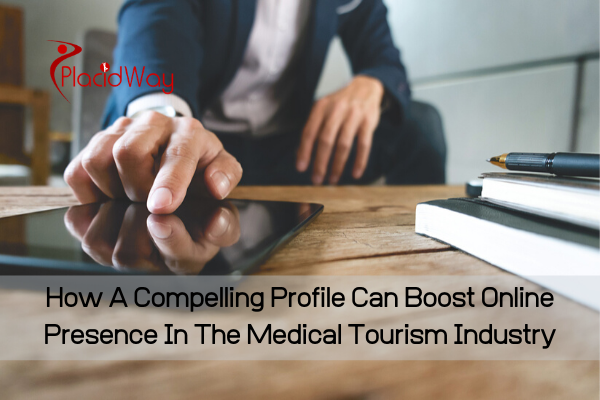 Medical tourism is gaining pace quickly like many other industries where the consumers are relying on online searching and inspection as the first step to make a purchasing decision. The international patients now depend more on the online profiles, review sites and other relevant platforms to make their medical travel-related decisions. Recent studies reveal that more than 76% of individuals reported going online for searching an individual provider. Whereas, 80% of patients use the internet for deciding anything related to healthcare. Thus, as a healthcare service provider in the medical tourism industry, it is now very important that you have a compelling profile to boost your online presence. This is where PlacidWay can help. We successfully create professional online profiles following the best standards in the industry.

Now, the obvious question that comes to your mind is what a professional online profile should include. Here is a list of 'must-haves' in your profile:

OVERVIEW OF TREATMENTS, PROCEDURES AND LOCATION

It is your specialty and expertise that must find a place in the first few lines describing your hospital, medical center or practice. You must be able to establish trust, hope and positive connection with the patient who is going through your profile online. Thus, it must mention clearly in which city and country you operate and how long you are providing excellent service within your healthcare niche. You can give an insight into the latest technology or the treatment advancements that are being used in your center to provide best-in-class solutions. Just like in PlacidWay, we create profiles that clearly feature the treatments and procedures that you provide (preferably in bullet points) so that it can easily educate, inform and attract the target customers.

RESONATE WHY PATIENTS SHOULD CHOOSE YOUR CLINIC

Your online profile should have a segment reasoning why the patients should opt for your treatments like "Why Choose Us" section in your website. Here, the profile should professionally provide all the essential details about your clinic/practice including vital information like since how long you are offering the treatments, experience, expertise, techniques and anything else that you think is important to convince the international patients to choose your clinic among the competitors in your location.

HIGHLIGHT MEDICAL TEAM/ DOCTORS' CREDENTIALS

An online profile is a great medium to inform medical travelers and patients about the awards, credentials and honors. This works effectively to build trust, which can further enhance the patient-provider relationship. A professional online profile will strategically highlight such important information, which will convince the customers further to book an appointment with your center.

USE PHOTOS AND VIDEOS

Visual evidence plays a big role to convince the customers and it is evident in the medical tourism industry as well. Do not shy away from making an investment to include good-quality photos and videos in your online profile, as it will pay off big in the long run. The profile with images performs better and also increases its SEO value. You can include images of your infrastructure, before and after pictures or video of a treatment procedure. This helps the patients know what they should expect when they arrive at your center, which also builds trust.

TESTIMONIALS

A happy customer can bring many new customers. This logic can be applied by adding patient testimonials to your online profile. Reading or watching about other patients' experience like how they have been benefitted by undergoing treatment procedures at your center works positively to influence the medical tourists.

KEEP INFORMATION UP TO DATE

It is one of the most frustrating experiences for a patient early in their healthcare journey to encounter conflicting, incorrect or incomplete information online. You might have different online profiles and listings but keeping track of them all can be tough. Thus, you can get a trusted medical tourism partner like PlacidWay that will ensure that your profile information is 100% accurate online. In case, you want to update information in your profile such as new procedures, change of address or anything else, the information must be kept up to date.

CALL TO ACTION

Increasingly, patients don't prefer switching channels to make an appointment. If they are impressed and convinced with what you are claiming through your profile, they would like to request online to book an appointment or get further information. Studies suggest that nearly 60% booking of appointments take place outside of regular business hours, which in a way shows the potential of a compelling online profile. Thus, your online profile must include an effective and clear call to action to allow the patients to send a request for more information.

USE PLACIDWAY

With the presence in more than 50 countries worldwide and association with over 1000 medical providers across the globe, PlacidWay maintains the most comprehensive medical tourism knowledge base online. We successfully create professional online profiles following the best standards in the industry. So, create an online profile at PlacidWay, and you don't miss a patient just because your office was closed.
Click the button to learn more about creating online profile for your center: