---
How Understanding Your Customer Needs Translates to Good Patient Conversion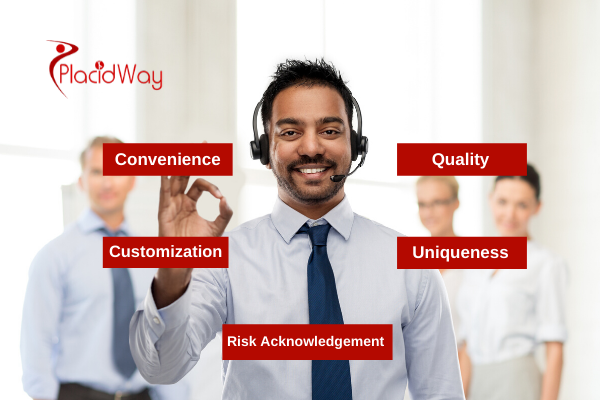 Understanding Your Customer Needs – The Key to Good Patient Conversion
Take a look at the graphic. What do you see? These are points that every customer wants when it comes to their healthcare services and products. It pays to learn and understand them as these will serve as the foundation of your ability to provide quality, customer-based services to your clients, now and in the future.
The Power to Nurture your Patients through Human Touch
Let's take a moment to talk about the human touch concept. What does it mean? The human touch personifies the services you offer your clients, through human contact. This is strategically important as the human element would be your most powerful tool in connecting with your patients that will bring them to trust you with their healthcare. This involves:
Convenience

–

readily accessible information: services, price, unique selling proposition, assurance & safety

Customization

–

customized treatment plans for each customer

Risk Acknowledgement

-

honesty and transparency - techniques, risks, benefits of any treatment

Uniqueness

–

leadership, customer service, cost/price

Quality

–

total customer experience reflects quality
Key Factors That Convince a Patient to Come to Your Facility
Are you providing the best services for your clients? Medical care providers need to be aware that consumers are looking for specific answers when they shop for anything, and that goes from a new car to clothes to medical services.
Medical tourism industry is growing on a daily basis, and becoming highly competitive. In order to develop confidence and trust healthcare service providers should be aware of six very important areas to be addressed. These areas include:
Convenience
Today's consumers literally have the world at their fingertips. Internet access has increased the ability of consumers to compare, explore, and access huge databases searching for a wide range of services and products. When it comes to health care, providers need to focus on a client's ability to access a wide range of information for their needs. For providing medical services abroad, you must able to clearly and easily provide the following information to the consumers proactively:
Pricing

Assurance & safety

Accommodations

Recovery support services

Accessibility
Whether through the Internet or the printed word, consumers prefer to have such questions answered easily and without being required to spend time researching themselves or pushing hard to obtain some basic understanding of the treatment options. Providing user-friendly access and information that will satisfy the initial curiosity of a consumer is essential for increasing your client base.
You have to make health-buying service processes convenient and easy for consumers. Mainstream customers do not want to spend time and energy in complex processes where they have to "translate" what you intend to say, whether due to language differences or technical medical terminology. The entire buying experience should be seamless and fully integrated and presented as easy step 1, 2, and 3. Learn from the experience of successful products in the world. When buying processes are complex, involve too many steps, too many people, too many forms, or too complex medical jargon, people walk away from it and move toward a simpler solution. Customer convenience is critical to a successful program.
Customized Service
Customizing services is also very important in any medical tourism field. Healthcare providers who are able to offer a variety of medical services, surgical techniques and treatments that are customizable according to every patient's individual needs will help to soothe worries and concerns. Customers are increasingly looking for personalized healthcare solutions, so if you can reassure customers that you are capable, willing, and trained to provide services or treatments on a one-on-one basis, your chances of success increase exponentially.
Customization of your services to meet specific patient needs also reinforces your reputation as a customer-oriented practice. The medical tourism industry can benefit from "mass customization" concepts where 80% of the solutions are designed for a market segmentation using industry standards and best practices and 20% is customized specific to customer's medical needs. The move of medical tourism industry providers toward mass customization of services will establish market leaders.
Risk Acknowledgement and Transparency
Consumers today want to be informed. In the past, people were hesitant to question physicians or surgeons about illnesses, treatment options, surgeries, recovery periods and the risks involved in any aspect of their healthcare. Transparency is essential for today's patients. The ability of a physician or practice to be open and up-front about techniques, risks, as well as benefits to any treatment or procedure is often the difference between a client choosing your services and those offered by someone else. Everyone appreciates honesty and transparency. Providing honest answers to any questions asked by a client will help to ensure them that they are your top priority.
The mainstream market will demand more transparency from everyone involved in the supply chain. Healthcare consumers in this new market will follow the trends of travel industry, which demand complete transparency in terms of pricing, treatment outcomes, credentials, certifications, peer customer reviews, and experiences, among many other factors that will propel the industry to a new level.
Uniqueness
Health-care providers and professionals who are able to provide unique solutions for a wide range of scenarios will prove to be more successful. For example, a client searching for information on a bariatric surgical procedure in South America may be concerned about travel details, arrangements, finding adequate room and board, in addition to undergoing the surgical procedure itself.
Healthcare providers who are able to relieve such concerns by offering specific travel packages, pre-and post-surgical care and accommodations for family members help reduce the anxiety a patient may experience when traveling outside of their home country.
Take the difference between hip resurfacing and hip replacement procedures. Do you offer enough information for your potential clients to understand the difference between the two procedures? Such information should also include expectations, differences, risks and benefits, recovery periods and support for the client's emotional and physical well-being both pre-surgery and post-surgery. This may include consultations and follow-up visits and interviews.
With everyone in the medical tourism industry stating they have the best product, best price, best quality, and best location, there is hardly any difference. You have to define your unique value proposition to differentiate yourself in this crowded market.
Enhancing your Brand Awareness
Any professional, and especially those in the medical field, know that reputation is a vital part of any practice. Without a positive reputation, both within the local community and outlying areas, even the best surgeons or physicians will find themselves struggling.
When it comes to medical tourism, reputation and branding are essential. Have you done all you can to increase awareness of your business or practice to the public at large? Advertising, web presence, technical publications, educational materials for general public, and ample opportunities for contact and customer service all serve to help increase global market branding and reputation.
Quality
Probably the most important aspect of any product or service is quality. Take a good look at the quality of services that you and your staff or facility provides to your customers. Do you keep up to date with the latest developments, techniques and equipment? Do you and your staff members treat every client with courtesy and respect and ensure that every client is offered the best in services, from care before surgery to recovery services and support offered post-surgery? What are your past customers saying about your quality of service?
Truly Seeing your Customers
Medical tourism is steadily increasing in numbers as well as popularity. To ensure the success of any health tourism business, providers must attract clients who come from a multitude of different countries, languages and cultures and socio-economic backgrounds. Approaching each client as a unique individual and increasing two-way communication between client and provider is one of the most positive aspects of growing any medical practice, whether it's found in New York City, Singapore or anywhere else in the world.
If you want to know more, you can always contact us and ask for more information