---
Influencers of Globalization in Medical Tourism Industry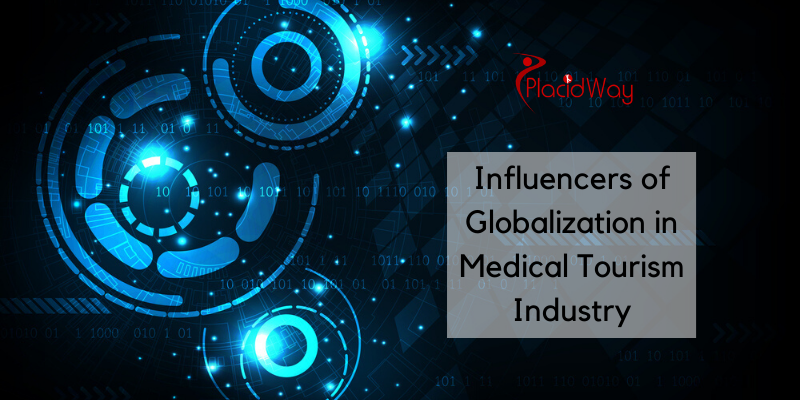 Influencers of Globalization in the Medical Tourism Industry
If you look into a definition of globalization, "merging formally separate national and international markets into one large global and interconnected marketplace". In our globalization era, we've seen boundaries crumbling. Borders that separate people, companies, and countries are dissolving, especially in relation to the use of the Internet for business and communication needs.
Where is the healthcare industry going from a globalization perspective? When we talk about medical tourism as a global phenomenon, we typically think about medical treatments such as cosmetic surgeries, dental treatment, organ transplants, cardiac care or spine surgeries. We don't tend to think about other potential opportunities that present equally big opportunities such as medical equipment, supplies, staffing, education, clinical trials, technology, pharmaceuticals, to name a few.
Medical Tourism Industry Globalization Influencers
The main influencers that are driving the globalization of the medical tourism industry include:
Tangible
Economics – The economics of a solution drives people to think differently. In the case of healthcare globalization, we consider economics one of the top reasons a consumer decides to go to another region/country for medical treatment. People are traveling for dental, cosmetic, obesity, fertility, orthopedics, and other such treatments to save money.
Specialization – Medical solutions today are increasingly specialized, which offers an increased depth of knowledge in one area and more tangible results. For example, a cancer specialization facility or doctor who sees thousands of cases of cancer a year can present better outcomes than a physician who sees only ten cases a year. As the globalization in healthcare flourishes, this field will increase and people will see a definite increase in specialized treatments.
Technology – The continuous evolution in technology has propelled the healthcare system into new heights. With the right technologies in place, the same solutions (and synchronization inpatient care processes) can be available anywhere in the world. Consumers will seek the clinic in a destination that offers the latest technological innovation.
Intangible
Cultures – We were previously bound by cultural boundaries, but as we move forward as a global society, these cultural boundaries are shrinking. As we say in America, cultures around the world today are a literal "melting pot". Different cultures are blending knowledge and awareness of each other, compelling people to integrate, adapt and accept different perceptions and approaches to life.
Destination Reputation – Certain destinations are emerging in their reputation for medical services e.g., Mexico is for cosmetic and dental, Costa Rica is famous for dental, Turkey is evolving as hair transplant mecca while India as orthopedic procedures and Thailand for its cosmetic procedures.
Social Media - In today's society, social media is one of those elements that has become a key factor of removing economic, cultural, religious barriers. This is a segment of any successful business that can't be ignored as they key influencer in driving globalization of the medical industry.

We must innovate and rethink on the medical tourism industry. We must realize where we have been and focus on where we want to go. Once we have a deeper understanding of these and other globalization of healthcare influencers, we will provide better care through more options to healthcare consumers around the world.
For more information on Medical Tourism Industry influencers, click below!