---
The Power of Digital Health in Medical Tourism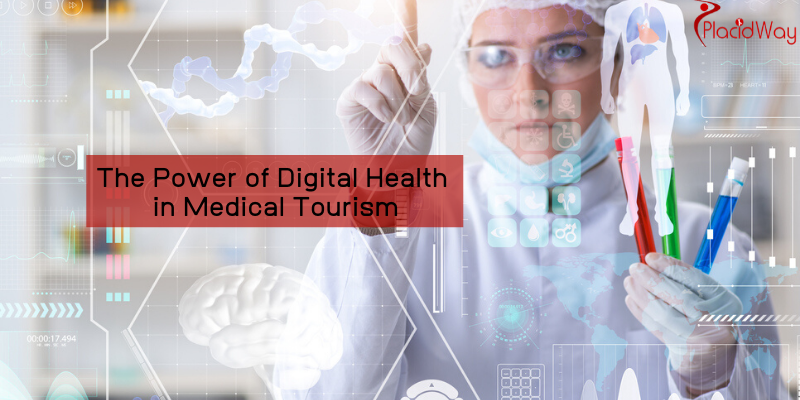 The Power of Digital Health in Medical Tourism
Digital Health Tools Enhancing the Consumer Experience in Medical Tourism
The medical tourism industry is entering a new era where consumers are demanding engagement through digital tools. These tools in healthcare have a few primary goals like enhancing communication and engagement between a health provider and patient, ensuring easy access to transparent information, make an informed decision and get safe treatment. Also, digital tools support the rehabilitation process when the patient returns home after the medical intervention is over.
Evolution of digital health continues to enforce transparency required in the healthcare industry. From patient acquisition to coordinating patient treatment to post-procedural care, digital health is becoming a driving force towards building trust between patient and provider. These tools help the patients and providers to have complete details in writing which avoids any confusion or miscommunication whether it is understanding patient needs, medical history collection, customer expectation management, price quotation with inclusions and exclusions and monitoring and providing aftercare to the patient even after he/she leaves the hospital or clinic.
Increasing Demand among Patients for Retail-Like Digital Shopping Convenience
Based on recent medical tourism consumer behavior analysis, over 70% of the patients want to see their medical tourism procurement experience as a reflection of those they have in the retail space. Patients are demanding to see more patient-centric digital tools to fill their needs. Healthcare consumers are looking to have a simple and effective experience similar to their online shopping, hotel booking, or procuring a service online experience.
Many retail players have designed digital tools with customers in mind such as Nike, Amazon, Booking.com, Airbnb, to name a few. Similarly, medical tourism digital tools must be designed with the patients in mind. They should focus to solve the pain point or help the patients gain a deeper understanding of how the tools will help them to find and secure the best treatment and help with aftercare which could be difficult in the medical tourism industry. Medical tourism patients want their providers to use technologies that would simplify the aspects of healthcare services, making exceptional patient experience.
Increase Transparency with Digital Health
A recent analysis reveals that 78% of patients felt the digital consumer experience needs improved technological support and 50% said they would rather deal with provider who can communicate effectively with them using technology. Majority of medical tourism patients are preferring providers who can provide digital transparency. Using digital tools, healthcare providers can provide better transparency on price, procedure details, success rates and credentials.
Patients want digital health or use digital tools to get transparent information about the clinics, online live communications with the providers, and arranging distant consultations for pre, during and post-procedure. Unfortunately, many medical tourism providers are currently lacking in this as the adoption of technology to acquire customers as well provide transparent information is still not the industry norm.

Benefits of Digital Health and Medical Tourism
Market Scalability-Digital health can improve market scalability by improving the healthcare providers' ability to grow and manage the increased demand of the patients.
Cost Reduction- Rapidly emerging digital tools can improve hospital/medical center operational efficiency resulting in cost reduction.
Process Transparency- Digital tools ensure process transparency as the patients know exactly how they will be treated, who will treat and what they have to pay.
Brand Establishment- Providing digital health service consistently will assure long term gains like brand awareness and loyalty, which will gradually result in the brand establishment.
Customer Education- Statistics reveals that people are more inclined to use digital tools for self-education on health. Thus, healthcare providers can genuinely benefit by providing easy access to vital information digitally.
Long-Term Trusted Relationship-With digital health, providers can give power to the patients to compare price, quality and benefits. This builds trust making way for long term provider-patient relationship.
Bring Retail Experience to Healthcare- Patients are demanding that their care experience resemble their experiences of shopping on Amazon or booking a flight online. Patients reportedly want options for their care and access to seamless, easy-to-use tools to manage their own health. With digital health, you can provide what the patients demand.
Consumer-centric solutions- Digital health will give access to the providers complete details about the patient's medical history, what they are looking for and at what price. Based on that, they can design consumer-centric solutions.
What is Digital Health in Medical Tourism?
A leaflet with healthcare facility descriptions was the only option for a patient a few years ago. Eventually, a phone call was made discussing all the details regarding the patient's visit to the healthcare facility. This is simply not enough today. Nowadays, patients want to be sure that they get support whenever needed. In the era of digital healthcare, distance is not so significant anymore. Patients can get telemedicine visits where doctors can evaluate, diagnose and offer treatment suggestion over smartphone or video conferencing eliminating the need of visiting doctor's chamber in person. They can use wearable technologies and measure biometrics.
There are healthcare tools to advise patients how to prepare for the treatment and what they should do after it. In some cases, health records can be shared electronically. Apart from doctors and nurses taking care of a patient, there are artificial intelligence algorithms for detecting potential health risk and suggest suitable treatment solutions. Digital healthcare is evolving in medical tourism and to sustain long-term in this competitive industry, they must make the best use of it.
How to Use Digital Health in Medical Tourism
The revolution of digital healthcare is going to set a new pace for medical tourism. It is important to know how to use digital health to gather maximum benefits in the coming years.
Marketing and Education
Make Website Responsive -Making the website responsive can significantly increase mobile traffic, improve load and installation speed, increase average conversion, increase engagement and lower bounce rates compared to standard websites.
Social Media-Social media marketing in healthcare enables more meaningful and deeper discussions addressing patients' interests, concerns and questions in real-time.
Content Distribution- Creating and distributing relevant, consistent and valuable content through various digital mediums is a strategic marketing approach to attract and retain customers.
Knowledge Management– Good knowledge management practices on authoritative content, diseases, symptoms and treatments have beneficial outcomes including increased use of information, efficiencies and ability of faster and better innovation.
Patient Communities-With the rapid change of how patients are engaging with the healthcare community, online patient communities are changing dramatically as well. Healthcare providers must keep on updating proper information and education for the patients while managing online patient communities.
Content Management-As digital healthcare is embracing the good experience for the patients, providers should efficiently manage a large volume of information in terms of reports, healthcare records, etc. using a good content management system. This will result in improved patient care, increased efficiency and satisfaction.
Patient Acquisition
Customer Relationship Management (CRM) - Good CRM solutions enable healthcare providers to engage patients across their healthcare journey increasing their acquisition and retention.
Communications - Providers should emphasize more on various communication mediums such as online chat, SMS, messengers, email, video, phone, etc. To push digital health further real-time online communication can play a big role to acquire and retain patients. For example, online chat can take patient-provider communication to a different level.
Messengers - Providing communication options with other popular online messaging tools like Facebook, WhatsApp, Skype and WeChat can boost patient acquisition in a big way.
Patient Portal - Healthcare providers should provide patient portal access to the patients. When patients can access their medical reports, lab results, physician notes and everything related to their health data, the transparency and trust factor increases, which leads to patient loyalty and retention.
Quotation Management- Online quotation management tool can help the providers be more responsive to their patients. Receiving quote requests, processing them and sending them direct to the patients gets faster and easier.
Process Automation- Process automation or digitization of process can streamline processes and improve healthcare operations. It successfully enables healthcare professionals to shift from error-prone and time-consuming manual work to machine. This improves the quality of healthcare offered, which ultimately leads to patient acquisition.
Appointment Management-Online appointment management improves the entire appointment scheduling process in a hassle-free manner. Apart from booking appointments online, providers can also integrate automated email and text message reminders to help the patients further.
Technologies
Telemedicine or Remote consultation - Telemedicine over online video call in pre-treatment diagnosis and assessment and post-treatment can be very beneficial. As the patients no longer need to visit the clinic in person, they feel the power and freedom of making informed decisions.
Data Analytics- Using data analytics tool can significantly improve patient care. It helps you to analyze available data to ascertain which practices are more effective for cost-saving and improving patient's health.
Business Intelligence- With the complexity of generated data and ever-increasing data sources within healthcare centers, advanced analytics is required to support your decision-making capabilities. This is where business intelligence tool can help. It can gain insights regarding daily practices of doctors and staff, patient care and satisfaction and management and administration, which helps you make value-based decisions.
Conclusion
Digital health and medical tourism are converging digital technologies with health, living and society to enhance consumer experience and make the process more personalized and transparent. The tools are increasing patient engagement through direct patient-provider communication tools, instant messaging apps, telemedicine, electronic records, AI-enabled technologies are just a few excellent examples of digital integration in the medical tourism supply chain processes. PlacidWay Medical Tourism marketplace is becoming an industry leader in digital convergence of technology, promoting process transparency and direct patient and provider interactions. Join medical tourism digital health innovation!
For more information on how you can use the power of digital tools in your medical tourism program, click below!