Affordable Facelift Package in Tijuana, Mexico by Medica Siluet
Package price starting from:
$5100
Treatment:
Cosmetic/Plastic Surgery, S Mini Face Lift, Face Lift
Location:
Calle Cristobal colon #930 col. Centro Codigo postal 22000, Tijuana, Mexico, Mexico
Focus Area:
Medica Siluet | Tijuana | Mexico | Facelift Surgery
---
Revitalize Your Look with Facelift Surgery in Tijuana, Mexico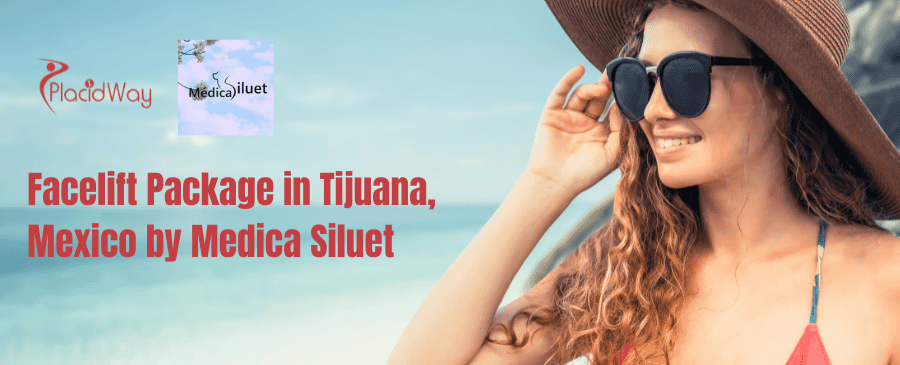 When it comes to enhancing one's appearance and regaining youthful confidence, a facelift is a popular choice. Medica Siluet, located in Tijuana, Mexico, offers a remarkable facelift package that combines affordability with exceptional results. With their expertise and state-of-the-art facilities, Medica Siluet ensures a transformative experience for patients seeking facial rejuvenation.
Tijuana, Mexico, is renowned for its world-class medical tourism industry, attracting patients from all over the globe. With its close proximity to the United States and a reputation for quality healthcare services, Tijuana has become a hub for cosmetic procedures like facelifts. Medica Siluet stands out among the myriad of options, providing outstanding care and an unbeatable package for those seeking a fresh, youthful look. Check our package details below for more information.
You can get facelift package in Tijuana, Mexico by Medica Siluet with the price starts at $5,100. Check our price list detail below to learn more:
| | |
| --- | --- |
| City, Country | Cost in USD |
| Tijuana, Mexico | $5,100 |
| United States | $13,000 |
| Canada | $8,500 |
Note: price may change and vary depends on complexity of procedures and patient conditions. Click free quote button below to learn more:

Affordability: Medica Siluet's facelift package in Tijuana offers an affordable alternative to expensive procedures in other countries. Patients can save a significant amount of money without compromising on quality or safety.
Experienced Surgeons: Medica Siluet's team of skilled and experienced surgeons ensures that each patient receives top-notch care and achieves their desired results. These professionals are renowned for their expertise in facial rejuvenation and have a track record of successful outcomes.
State-of-the-Art Facilities: Medica Siluet boasts modern facilities equipped with cutting-edge technology. From advanced surgical suites to comfortable recovery areas, the clinic provides a safe and comfortable environment for patients throughout their facelift journey.
Personalized Care: The team at Medica Siluet understands that every patient is unique and has specific aesthetic goals. They take the time to listen, assess, and develop personalized treatment plans tailored to each individual's needs, ensuring optimal outcomes.
Seamless Travel Experience: Tijuana is easily accessible from the United States, with a range of transportation options available. The clinic's staff assists patients with travel arrangements, ensuring a smooth and stress-free experience from the moment they arrive until their departure.
Surgeon's Fee

Anesthesia Fee

Operating Room

Nursing Care

1 night in the hospital

4 post operative follow ups
Airfare

Hotel/Accommodations

Post op medications

Garment

Pre laboratories tests

Cardiologist
Facelift Surgery Pre-Op Tests:
Blood Tests: A complete blood count and coagulation profile are typically conducted to assess the patient's overall health and determine their candidacy for surgery.
EKG: An electrocardiogram (EKG) helps evaluate the patient's heart function and identify any underlying cardiac conditions that may affect the surgical procedure.
Chest X-Ray: A chest X-ray provides a clear view of the patient's lungs and chest cavity, ensuring there are no underlying respiratory issues that could complicate the surgery.
Medical History Review: The surgeon reviews the patient's medical history, including any pre-existing conditions, allergies, or previous surgeries, to customize the surgical plan and mitigate potential risks.
Physical Examination: A comprehensive physical examination is conducted to evaluate the patient's facial structure, skin quality, and overall health, enabling the surgeon to plan and execute the facelift procedure effectively.
Dr. Enrique Pantaleon is a highly qualified plastic surgeon in Tijuana, Mexico, specializing in face lift surgery. With a medical degree from UNAM and extensive training in gynecology, oncology, and cosmetic surgery, Dr. Pantaleon brings a wealth of knowledge and experience to provide exceptional care and deliver remarkable results for his patients.
Cosmetic Surgeon in Tijuana, Mexico for Face Lift Surgery

• Begin his medical studies at UNAM and thus finish his degree in 1986.

• In 1987 he began the specialty of gynecology and oncology ending in 1992

• Later in the year 2012 to 2014 she completed a postgraduate course in cosmetic surgery
Tijuana, Mexico, offers numerous advantages as a destination for facelift surgery. Apart from the affordability and exceptional quality of care provided by Medica Siluet, the city itself offers a unique blend of culture, hospitality, and vibrant surroundings. Patients can enjoy a peaceful recovery in a welcoming environment, and if desired, explore the rich Mexican heritage and scenic attractions the city has to offer.
Q1: Is facelift surgery in Tijuana, Mexico safe?
A1: Yes, facelift surgery in Tijuana is safe. Medica Siluet maintains high standards of safety and employs experienced surgeons who prioritize patient well-being.
Q2: How long does the facelift procedure typically take?
A2: The duration of a facelift procedure can vary depending on individual needs, but it generally takes around 2 to 4 hours to complete.
Q3: What is the expected recovery time after a facelift?
A3: The recovery period after a facelift surgery typically lasts about 1 to 2 weeks. However, it is essential to follow post-operative instructions provided by the surgeon for optimal healing.
Q4: Will there be noticeable scarring after a facelift?
A4: While incisions are made during the facelift procedure, skilled surgeons at Medica Siluet take great care to minimize scarring. Over time, scars usually fade and become less visible.
Q5: How long do the results of a facelift last?
A5: The results of a facelift are long-lasting, providing a more youthful appearance for many years. However, it is important to follow a healthy lifestyle and practice good skincare to maintain the results over time. Regular consultations with the surgeon can also help monitor and address any changes that may occur.
Ready to embark on your facelift journey in Tijuana, Mexico? Take the first step by booking your consultation with Medica Siluet through PlacidWay Medical Tourism. Their dedicated team will guide you through the process, answering any questions and ensuring a seamless experience. Don't miss out on the opportunity to transform your appearance and boost your confidence – schedule your consultation today!

Related Experiences:
Facelift in Tijuana, Mexico
Facelift in Guadalajara, Mexico
Facelift in Mexico City, Mexico
Facelift Surgery in Mexicali, Mexico
Facelift in Mexico - Restore Your Youthful Look
Facelift in Merida, Mexico
---