Tummy Tuck with BBL Package in Tijuana, Mexico by Medica Siluet
Package price starting from:
$4300
Treatment:
Cosmetic/Plastic Surgery, Brazilian Butt Lift, Tummy Tuck Surgery
Location:
Calle Cristobal colon #930 col. Centro Codigo postal 22000, Tijuana, Mexico, Mexico
Focus Area:
Medica Siluet | Tijuana | Mexico | Tummy Tuck | Brazilian Butt Lift
---
Revitalize Your Figure with Tummy Tuck + BBL in Tijuana, Mexico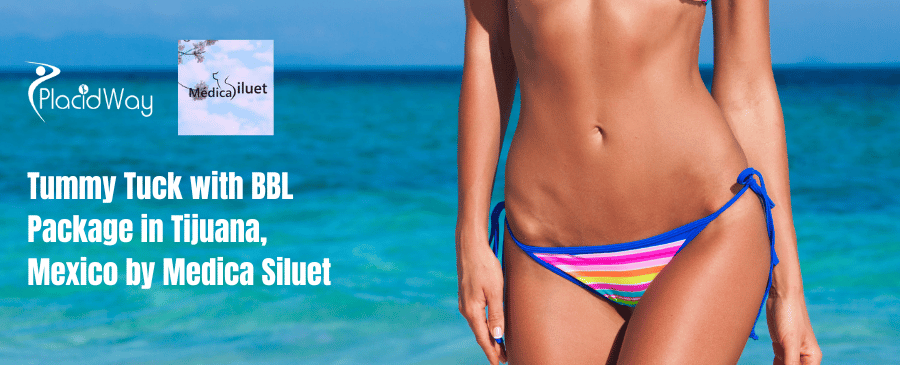 When it comes to achieving the body of your dreams, a combination of procedures like Tummy Tuck with Brazilian Butt Lift (BBL) can provide remarkable results. Medica Siluet, located in Tijuana, Mexico, offers an all-inclusive package that combines these two popular cosmetic surgeries. Tijuana has emerged as a leading destination for medical tourism, attracting patients from around the world seeking high-quality and affordable treatments.
The Tummy Tuck with BBL package by Medica Siluet not only ensures exceptional results but also provides a safe and comfortable experience. The skilled surgeons and state-of-the-art facilities at Medica Siluet guarantee that patients receive top-notch care throughout their journey. Check our tummy tuck package details below to learn more.
You can get tummy tuck with BBL package in Tijuana, Mexico by Medica Siluet with the price starts at $4,300. Check our price list table below to learn more:
| | |
| --- | --- |
| City, Country | Cost in USD |
| Tijuana, Mexico | $4,300 |
| United States | $8,000 |
| Canada | $13,000 |
Note: price may change and vary depends on complexity of procedures and patient conditions. Click free quote button below to learn more:

Cost-effectiveness: Tijuana offers highly competitive pricing for cosmetic procedures compared to other countries. Patients can save up to 60% on their Tummy Tuck with BBL package at Medica Siluet without compromising on quality or safety.
Expertise and Accreditation: Tijuana boasts a pool of experienced surgeons who have received training from prestigious institutions. Medica Siluet is a reputable clinic with internationally recognized certifications, ensuring that patients receive exceptional medical care.
State-of-the-art Facilities: Medica Siluet is equipped with modern technology and adheres to international standards. The clinic's advanced facilities contribute to successful surgeries and a comfortable recovery process.
Short Travel Distance: Tijuana is conveniently located near the United States, making it easily accessible for patients from North America. Its proximity reduces travel time and expenses, making it an ideal choice for individuals seeking a convenient medical tourism destination.
Cultural Experience: Choosing Tijuana as a treatment destination allows patients to explore the rich cultural heritage of Mexico. From historical sites to vibrant cuisine, patients can indulge in a memorable vacation while undergoing their transformative procedures.
Surgeon's Fee

Anesthesia Fee

Operating Room

Nursing Care

1 night in the hospital

4 post operative follow ups
Airfare

Hotel/Accommodations

Post op medications

Garment

Pre laboratories tests

Cardiologist
Tummy Tuck Surgery  Pre-op Tests
Blood Tests: These tests determine the patient's overall health status and identify any potential risk factors before the surgery.
EKG/ECG: An electrocardiogram is conducted to evaluate the patient's heart health and ensure they are fit for surgery.
Chest X-ray: A chest X-ray is performed to assess the patient's lung health and identify any abnormalities that may affect the surgery.
BMI Evaluation: Evaluating the patient's Body Mass Index helps determine their suitability for the Tummy Tuck and BBL procedures.
Medical Consultation: A comprehensive consultation with the surgeon is conducted to discuss the patient's expectations, address any concerns, and finalize the treatment plan.
Dr. Enrique Pantaleon is a highly skilled plastic surgeon in Tijuana, Mexico, specializing in Tummy Tuck and BBL procedures. With extensive medical training, including a degree from UNAM and specialization in gynecology and oncology, Dr. Pantaleon brings a wealth of knowledge and expertise to his cosmetic surgery practice. He further enhanced his skills by completing a postgraduate course in cosmetic surgery from 2012 to 2014, ensuring that his patients receive exceptional care and achieve their desired aesthetic goals.
Cosmetic Surgeon in Tijuana, Mexico for Tummy Tuck

• Begin his medical studies at UNAM and thus finish his degree in 1986.

• In 1987 he began the specialty of gynecology and oncology ending in 1992

• Later in the year 2012 to 2014 she completed a postgraduate course in cosmetic surgery
Choosing Tijuana, Mexico for your Tummy Tuck with BBL package offers a myriad of benefits. The city provides an ideal blend of cost-effective procedures, world-class medical expertise, modern facilities, and a unique cultural experience. With its proximity to the United States and the expertise of Medica Siluet, patients can achieve their desired body transformations while enjoying a comfortable and affordable medical journey.
Q1: Is it safe to undergo a Tummy Tuck with BBL in Tijuana, Mexico?
A1: Yes, it is safe to undergo these procedures in Tijuana, Mexico, especially when performed by experienced surgeons at reputable clinics like Medica Siluet. The clinic adheres to international standards and prioritizes patient safety.
Q2: How long is the recovery period after a Tummy Tuck with BBL?
A2: The recovery period can vary depending on individual factors and the extent of the procedures. Generally, patients can expect a recovery period of around 2-3 weeks before returning to normal daily activities, with more strenuous activities gradually resumed over time.
Q3: Will I have visible scars after a Tummy Tuck with BBL?
A3: While some scarring is inevitable, skilled surgeons in Tijuana use advanced techniques to minimize scarring. Incisions are typically placed strategically to be discreet and easily hidden by clothing or swimwear.
Q4: Can I combine other procedures with a Tummy Tuck and BBL?
A4: Yes, it is possible to combine additional procedures with a Tummy Tuck and BBL, depending on your specific needs and the recommendations of your surgeon. Common combinations include breast augmentation, liposuction, or arm lift, among others.
Q5: How long will the results of a Tummy Tuck with BBL last?
A5: The results of a Tummy Tuck with BBL can be long-lasting, especially with proper post-operative care and a healthy lifestyle. However, it's important to note that natural aging and lifestyle factors can affect the longevity of the results. Maintaining a stable weight and following a healthy diet and exercise routine can help prolong the outcome.
Ready to embark on your transformative journey? Book your consultation today at PlacidWay Medical Tourism to explore the Tummy Tuck with BBL package in Tijuana, Mexico. Our dedicated team will guide you through the process, ensuring a seamless experience and helping you achieve the body of your dreams. Don't miss out on this life-changing opportunity!

Related Experiences:
Tummy Tuck in Tijuana Mexico – Improve Your Body Shape!
Brazilian Butt Lift in Tijuana, Mexico - Your Butt Lift Solution
Tummy Tuck in Mexico City
Brazilian Butt Lift in Guadalajara, Mexico
Brazilian Butt Lift in Mexico City, Mexico
Brazilian Butt Lift in Mexicali, Mexico
---